by Dave Hodges, The Common Sense Show: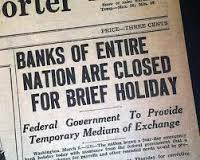 It would appear that your bank is preparing to go on a bank holiday. No, not a vacation, but a holiday. After reading this article, you may find it prudent to check on the liquidity of your bank accounts and investment monies. Why? Because bank bail-ins appear to be commencing.
The Banks Are Not Our Friends
We are all concerned that one day we will attempt to gain access to our money in our bank accounts and and the banks will refuse to honor the request and keep the money. From an anecdotal perspective, it appears that the day that we cannot gain access to our money is now here. There are two instances that I am personally aware of, that the banks are failing to give their customers full access to THEIR money.
Read More @ Thecommonsenseshow.com
by Tess Pennington, Ready Nutrition:
2014 has been one long year of economic yo-yoing. Many are breathing a sigh of relief knowing that another year has come to pass, and a better one will be replacing it.
In fact, half of the U.S. population feel confident that 2015 will be better than it's predecessor. The
Gallup's economic confidence index
has hit the highest level since the last recession.
That said, Michael Snyder, writer for the
Economic Collapse Blog
says, "not so fast." He warns that everyone should stop looking to the machine-driven media for false hopes in 2015. Snyder believes that we are in store for a much more dismal year than the media is letting on.
Read More @ ReadyNutrition.com
Submitted by Tyler Durden on 12/31/2014 - 14:16
Submitted by Tyler Durden on 12/31/2014 - 14:43 "Every brick we can make has already been sold up to three months in advance – the UK brickmakers can't supply demand at the moment," exclaims the CEO of one of Britain's largest brickmakers. With The UK's housing bubble spreading from London, The Telegraph reports that stocks of bricks have reached the lowest levels on record as homebuilders rush to take advantage of the surging demand for British property (which has seen realtors and economists worry is getting out of hand).

Submitted by Tyler Durden on 12/31/2014 - 16:04
Submitted by Tyler Durden on 12/31/2014 - 15:47 "The Greek political turmoil is likely to complicate matters for the ECB's preparation of a sovereign QE programme. The prospect of the ECB potentially incurring severe losses is likely to intensify the debate within the Governing Council, where sovereign QE remains controversial. It could also make the start of a buying programme already on January 22 even more ambitious. In addition, the spectre of default could create new limitations on any sovereign QE design."

Submitted by Tyler Durden on 12/31/2014 - 13:32
Ouch! 80% government-owned Royal Bank of Scotland is daring to go there... In the wake of a comprehensive review of more than 50 current and former traders who worked at the bank (and a $634 million fine), Bloomberg reports that
RBS is suspending the bonuses of 18 FX traders
.
"We are undertaking a robust and thorough review into the actions of the traders that caused this wrongdoing and the management that oversaw it,"
Jon Pain, RBS's head of conduct and regulatory affairs, said, adding
"no further bonus payments will be made or unvested bonus awards released to those in scope of the review until it has concluded."
Submitted by Tyler Durden on 12/31/2014 - 15:28 Hugh Hendry's Eclectica Fund has had a great Q4 (up 3.3%, 4.0%, and 5.0% in the last 3 months) despite portfolio risk being quadruple his 'old normal'. How did he achieve this? He begins... "There are times when an investor has no choice but to behave as though he believes in things that don't necessarily exist. For us, that means being willing to be long risk assets in the full knowledge of two things: that those assets may have no qualitative support; and second, that this is all going to end painfully. The good news is that mankind clearly has the ability to suspend rational judgment long and often... He who hangs on to truth has lost. The economic truth of today no longer offers me much solace; I am taking the blue pills now."