Submitted by Tyler Durden on 01/31/2016 - 18:28
"The intrinsic contradiction of policy response to the crisis –
suspend the laws of the market in order to save it
– is resolved only by understanding that suspension is temporary. Stimulus will have to be unwound.
But, and here lies the problem, accommodation has been in place for a very long time and this has had a profound impact on investors behavior, market functioning and its dynamics."
by Jeffrey P. Snider, Contra Corner: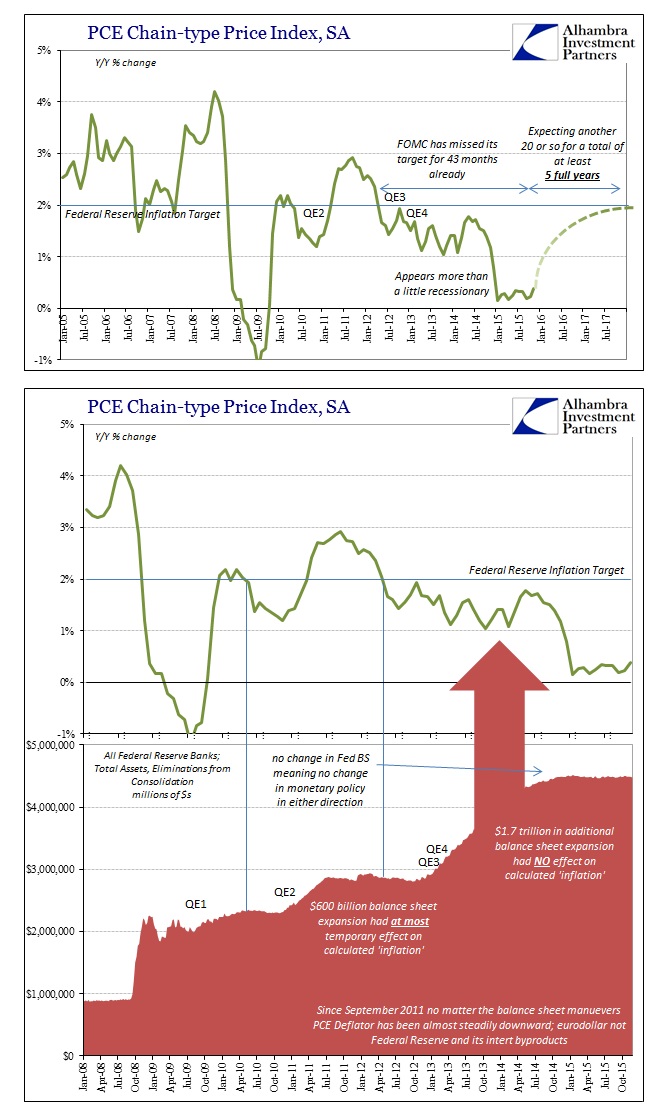 It wasn't in any way magnanimous for the FOMC to state clearly what everyone already knew without any need for aid of GDP calculations. The policy statement for its January 2016 meeting included language that mitigated, if not fully than significantly, the continued reliance on labor indications alone. The Fed says the labor market continues to point in the right direction, even if the economy in all the wrong places slowed just as it judged recovery conditions met.
Information received since the Federal Open Market Committee met in December suggests that labor market conditions improved further even as economic growth slowed late last year. Household spending and business fixed investment have been increasing at moderate rates in recent months, and the housing sector has improved further; however, net exports have been soft and inventory investment slowed.
Read More…
Submitted by Tyler Durden on 01/31/2016 - 14:30
Having urged "don't panic" just 4 short months ago,
it appears Nigeria just did just that as the global dollar short squeeze forces the eight-month-old government of President Muhammadu Buhari to beg The World Bank and African Development Bank for
$3.5bn in emergency loans to help fund a $15bn deficit in a budget heavy on public spending amid collapsing oil revenues
.
Just as we warned in December, the dollar shortage has arrived
, perhaps now is time to panic after all.
Submitted by Tyler Durden on 01/31/2016 - 13:31
"You have a problem with me?" the youth then asks, getting closer, before he begins shrieking, "fight me! fight me! fight me!" and then breaks down screaming and sobbing uncontrollably on the floor.
Submitted by Tyler Durden on 01/31/2016 - 18:00
The conservative movement is
starting to look a lot like Syria
.
Submitted by Tyler Durden on 01/31/2016 - 17:30
"If I were mayor, I'd get on a plane and go to Bentonville," Gray said. "We have absolutely been shafted. They should be held accountable."
Submitted by Tyler Durden on 01/31/2016 - 17:00
Did the BOJ's out-of-the-blue reversal on its monetary stance which was refuted just weeks prior by Mr. Kuroda himself take place because after listening to the arguments, suggestions, as well as concerns, from the participants at Davos he concluded much like what the movie "Margin Call" depicted:
It was all about to unravel?
And if so:
is this him deciding to be "first" and considered it his only choice?
Submitted by Tyler Durden on 01/31/2016 - 16:28 "... if interest rates go negative, the incentives reverse: people receiving payments will prefer checks (which can be held back from collection) to electronic transfers

. Such a reversal could impose novel burdens on payment systems that have evolved in an environment of positive interest rates.... that if interest rates go negative,

we may see an epochal outburst of socially unproductive

—even if individually beneficial—financial innovation."
Submitted by Tyler Durden on 01/31/2016 - 16:27
Calls by various mainstream economists to ban cash transactions seem to be getting ever louder, while central bankers have unleashed
negative interest rates on economies
accounting for 25% of global GDP, with $5.5 trillion in government bonds yielding less than zero. The two policies are rapidly converging. This is what the resulting cashless society would look like.
Submitted by Tyler Durden on 01/31/2016 - 15:58
November-January is the strongest consecutive 3-month period of the year. During this period, the S&P 500 is up 66.7% of the time with an average return of 3.35% going back to 1929. However, not this year. Both the November-January & the January Barometer are flashing bearish signals for 2016.
What must the rest of the world think?
Submitted by Tyler Durden on 01/31/2016 - 14:00
Markets these days have every reason to question the efficacy of global monetary management.
Last week saw dovish crisis management vociferation from the ECB's Draghi. Now the BOJ adopts a crisis management stance. The week also had talk of some deal to reduce global crude supply. Meanwhile, the PBOC injected a weekly record $105 billion of new liquidity. Nonetheless, the Shanghai Composite sank 6.1% to a 13-month low.
There was desperation in the air – along with a heck of a short squeeze and general market mayhem.
Submitted by Tyler Durden on 01/31/2016 - 13:01
Submitted by Tyler Durden on 01/31/2016 - 12:38
America is inching ever closer to putting itself in a position of having to choose between an avowed socialist and what the Des Moines Register calls "a smash-mouth game show host" as Trump and Sanders poll strongly in Iowa ahead of caucus.
/