A very noisy gappy day with much larger volume than in recent days (which all dried up in the afternoon session until the close - for the heaviest volume day in a month) in US equities. European comments lifted us early in a correlated-risk-on manner until Bernanke's speech which hit markets like a meteor - stops were run up and down - but by the close
equities and the USD ended fractionally lower from pre-Ben (notably up on the day to save the month for the Dow), Gold considerably up from pre-Ben, Treasury yields down notably from pre-Ben
.
Near six-month highs in Gold and five-month highs in Silver were the real movers today - with their largest gains in two months
. VIX ended marginally lower at 17.5% (-0.3vols); credit was very thin today and tracked stocks in general (though less volatile); USD ended the week -0.5% which matches Oil's +0.5% on the week as Copper underperformed.
Silver has overtaken Stocks as the Year-to-Date winner once again...
from Silver Doctors: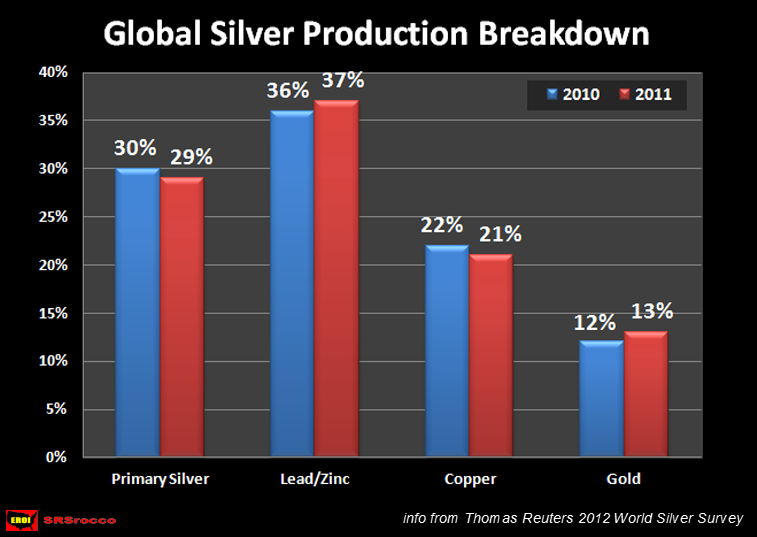 The world doesn't yet realize it, but the forces coming down on the gold and silver markets are truly unbelievable
. These forces can't be comprehended by any type of charting.
Presently, much of the focus in the gold and silver community is in the MANIPULATION & FINANCIAL SYSTEM.
However the physical forces coming down on the market are MUCH GREATER!!
NO ONE HAS A CLUE HOW TO PRICE GOLD AND SILVER IN A PEAK ENERGY ENVIRONMENT….ZIP…NADA….ZILCH!
According to the 2012 World Silver Survey, primary silver production declined compared to 2010:
Read More @ Silver Doctors
With Bernanke leaving the door open, but not pre-committing, in a check-raise to Draghi next week, market focus remains almost exclusively on the bond-buying program to support Spain.
Credit Suisse expects markets to be mildly disappointed by Draghi's words and deeds as they question how far he can go
, and in terms of near-term market moves, how much is said at next week's meeting versus said at later occasions or indicated through actions (e.g. once Spain asks for help). Draghi has already started to manage expectations with his Die Zeit comments (pitched at the German populous) but in order to get a handle on what the various scenarios are - and
what the implications could be
- here is Credit Suisse's matrix of compromise.
This Tuesday,
we gave the podium
to Credit Suisse's rates group with "
How To Make $500,000 With Credit Suisse Betting On A Big Jackson Hole Disappointment
" who in turn suggested that one of the best risk return opportunities heading into J-Hole, was to go short the 10 Year betting on disappointment by Bernanke (as a reminder earlier today
we showed
that virtually 100% of QE was already priced in). Well, Bernanke came and went, and although our personal take on the speech was broadly negative, which highlighted the adverse side effects of what would happen if there is another big QE round, and substantially toning the exuberant language from the latest FOMC minutes, which had previously made it seem that the majority of Fed presidents thought more easing should be imminent resulting in another centrally-planned market rip, the stock market did not agree with our take. At least not initially. As for Credit Suisse, it said to
"put on a $50K DV01 short at 1.64% and expect a steep selloff when the Fed disappoints, with a 1.75% target.
If all works out according to plan, everyone involved should be $500,000 richer at market close on Friday with Bollingers all around." Turns out nothing worked out quite as expected. In fact, as a result of the J-Hole remarks, we have had another stock buying spree of anything that is not nailed down, with gold popping the most, the DJIA soaring as much as 150 (although rapidly taking on water), and the 10 year... well, let's just say anyone who was on the other side of the CS prop traders, sometimes called "flow" for Volcker Rule purposes,
is now down -$400,000 on a trade that was supposed to be a +$500,000 meatpacking extravaganza.
For nearly the last year and a half, silver has been in a sustained downtrend in price although it has managed to find a floor of support near the $26 level. This week it has finally broken that downtrend. If this metal is going to begin a sustained rally, any setback in price should find buying emerge near the downsloping blue line shown on the chart. Failure to hold this level and particularly now the $30 level, will see the metal fall back into that triangle formation with support then coming in down closer to $28. Note that the metal is now trading above the 50 week moving avera...
more »
If you read between the lines of Bernanke's headline comments, he essentially is saying that he's ready to print a lot of money if "necessary." That's why the metals where ambushed hard yesterday, it's why the dollar dropped like a rock on no other news overnight, it's why they took the metals down as the headlines hit and it's why the metals spiked hard after the initial hit today. We actually removed all hedges from our fund yesterday after the ambush because I suspected this would be the case. This is highly orchestrated at this point and frighteningly Orwellian. The metals are...
more »
Check out the following chart of the Continuous Commodity Index or CCI and note that it has managed to put in a weekly close above the 38.2% Fibonacci Retracement Level of the move lower from its all time recent high made last year. If the market pysche remains the same, look for this index to now make an eventual run back towards the 597-600 level. We can look at these charts as subjects of interest to us as traders/investors but what this particular stock represents is increasing pain for consumers and the hard-pressed middle class in one of the worst, if not the worst "recovery" ...
more »
The long awaited speech from Fed Chairman Ben Bernanke at the Jackson Hole Summit has come and gone without any definitive action being announced. However, the Helicopter Man let it be known that he believes the first two rounds of QE were a rousing success. Once again he promised that the Fed stands ready to act if the economic conditions or data warrant it. As usual, the markets, hungry for more of the spiked punch bowl, wasted no time in casting off their initial disappointment with a huge round of indiscriminate buying directed at the risk asset categories. Gold blew through to...
more »
In Asia we have a lot of takeover activity and much more will happen. - *in Bloomberg* *Marc Faber is an international investor known for his uncanny predictions of the stock market and futures markets around the world.*
I don`t believe you can fix economies by printing money. - *in Bloomberg * *Marc Faber is an international investor known for his uncanny predictions of the stock market and futures markets around the world.*
Listen up, debt-serfs, you have it good here on the manor estate.
You get three squares of greasy fast-food or heavily processed faux-food a day, and if Reverse Robin Hood and his Merry Band of Thieves is ripping you off it's for a good reason: the predatory Neofeudalist Financial Lords need the money more than you do, as they have a lot of political bribes to pay: it's an election year, and the bribes are getting increasingly costly. Poor things, we're sure you understand.
Now go back to work or watching entertainment (or "news," heh) and leave the Lords alone - but answer these 11 questions first, before hailing the new hero.
"My Doctor's an idiot. A few years ago, he started expressing concerns about my weight, pointing at this chart supposedly showing how much a man of my height should weigh. One glance at his stupid chart and it was clear to me that he had completely misdiagnosed my condition. There was nothing wrong with my weight, I just wasn't tall enough. Clearly I needed to grow my way out of this.

So I went home and googled "how to stimulate growth."

Once I got past the all the baldness cures and penis pumps (it's not my bag, baby), I found hundreds of papers so incredibly boring I knew they had to be true. In no time, I was able to design and implement my own stimulus plan based on the irrefutable scientificky principles of Nobel prize winners and other people so smart they never had to do an honest day's work in their lives. Despite the difficulty climbing stairs, I was feeling pretty good about things until my last check-up..."


Is the reality of different time-horizons and event discounting really starting to tell on markets? Equities have now sagged back lower while Treasury yields are accelerating lower and Gold higher. It seems that stocks fully comprehend that QE does not come without more pain in the short-term and are starting to price for that - while given the low/no cost of carry for Treasuries and Gold, the eventual reality of further financial repression and money-printing can be discounted in from longer maturities. It seems somewhat in-the-stars that the Fed will do more as they have convinced themselves that all is well with their extreme policies and short-term benefits outweigh ultimate costs, but this afternoon's disconnect between the QE-to-the-moon feeling in Gold and Treasuries and the QE-not-so-soon feeling in Stocks may well be a trend to watch as the only sure thing is when not if The Fed acts.




Have no fear; Europe closed and equities leaked so a quick series of European comments are more than required... Bankia, check! Bank backstops, check! ECB Bond-Buying Plan...

*ECB SAID TO PLAN TO GIVE GOVERNORS BOND PROPOSALS ON SEPT. 4
*ECB SAID TO HAVE

NO PREFERRED OPTION FOR BOND PURCHASE PLAN YET
So no real idea what they are actually going to do. However!

*ECB SAID TO GIVE CENTRAL BANKS 24 HOURS TO DIGEST BOND PLAN
With Spain's new-found belief in its own
incompetence
omnipotence, they are now throwing bad money after bad in advance of the European bailout by pre-bailing out (bridge recap?) Bankia via the FROB (and it seems like they are in a hurry):
*SPAIN'S FROB SAYS TO INJECT CAPITAL IN BFA-BANKIA IMMEDIATELY
which makes sense given that:
*BANKIA GROUP BAD LOANS RATIO 11% IN JUNE VS 7.63% IN DEC.

(a 44% rise!!)

*BANKIA 1H NET LOSS EU4.45 BLN VS EU201 MLN PROFIT A YR AGO
The bottomless pit will all be 'fixed' though by October (just like Dexia was?)
*BANKIA CHAIRMAN SAYS SPAIN, EU COMMENTS ARE `GREAT SUPPORT'
Perhaps it is the weight that is lifted from having to tow the propaganda life while under the influence of the Fed, but Robert Heller (ex Fed Governor) just laid out the 'translated' version of Bernanke's speech this morning.
"I don't think the Federal Reserve will take any action, certainly not until the fiscal cliff, the fiscal uncertainties are actually addressed,"
which is similar to our interpretation of Bernanke's comments as he added
"if they're not addressed and the economy falls off the cliff; yes, then you may get QE3,"
but
"I don't see that happening before the election!"
This great interview - somewhat stunningly truthy for CNBC - is well worth five minutes of your time (on this ever-so-hectic Friday before Labor Day) as Heller discusses teh fading impact of QE, the risk of enormous losses for the Fed, and the danger of believing in a 'safe' exit strategy.
Donations will help maintain and defray the operational costs. Paypal, a leading provider of secure online money transfers, will handle the donations. Thank you for your contribution.
I'm PayPal Verified
Sigh.
Spain's IBEX gained over 3%; Italy's MIB gained over 2%
; and all but the UK's FTSE equity index ended very nicely green today (all jerked higher by Spain's comments on their bad-bank and then Bernanke's cover). However, European Government Bonds (EGBs) failed dismally.
Spain's 10Y spread to bunds ended the week 46bps wider and Italy 15bps wider and while some point to the short-end as evidence that all is well, Spain saw modest weakness in the 2Y today post Bernanke
(though Italy rallied). The curve steepening was dramatic to say the least as the market appearsd to be increasingly assuming the ECB will monetize short-dated govvies - our own view - consider what the implied forward financing costs are given these steep curves as clearly noone trusts this as a solution and will merely subordinate the entire market.
Spain 2s10s curve is now at its steepest on record at 328bps
! and this is not helping:
*SPAIN'S CATALONIA REGION CUT TO JUNK BY S&P, OUTLOOK NEGATIVE
But buy stocks...
The market is indeed a discounting mechanism it appears. In a mere 20 milliseconds, the world's 'traders' had managed to read Bernanke's 4549-word script, interpret it (as bearish in this case - which apparently is wrong now?) and start to sell down the major equity indices. As
Nanex points out
, not only was the reaction lightning fast (actually faster than lightning) but it
occurred in their newly created 'fantaseconds' as trades were timestamped 'before' the bids and offers were even seen in the data-feed
. How long until the machines can interpret Bernanke's 'pre-QErimes' and really front-run reality?
In the immortal words of the Jackson 5: "I'll Be There" seems to be the meme du jour - which appears to us to be the same message that Bernanke (and his proxy Hilsenrath) have been on for a few years now. However, in case you hadn't had enough sycophantic central-bank-fellating 'hope', the
WSJ's front-man just reiterated
for one and all that Ben's our man. In our subtle opinion, it seems however that perhaps Bernanke was a little disingenuous with his talk of 'policy tool effectiveness' - as clearly his efforts have not had the desired economic effect so far (or he would not need to reiterate the ability to do more of the same).
by Simon Black, Sovereign Man :
A few weeks ago, western governments' war on productive people took an interesting twist when US immigration authorities detained two teenage children of an asset manager based here in Switzerland.
The kids were traveling through the United States by themselves to visit extended family, and they were interrogated for six hours about their father's business and whereabouts.
During the six-hour ordeal, the children were not allowed to contact family members who were waiting for them, nor any sort of attorney or advisor. You can just imagine grandma and grandpa waiting in the arrivals hall for six hours, petrified that something terrible had
happened to the children.
Read More @ SovereignMan.com
from KingWorldNews:
Today acclaimed money manager Stephen Leeb told King World News that he expects the Fed will in fact ease at their September meeting. Leeb also discussed the strong move in gold and silver, but first, here is what Leeb had to say regarding Bernanke and the Fed: "
I think what investors clearly wanted to hear from Bernanke is that he's ready to ease on monetary policy, and that he's ready to open the floodgates again. That, combined with a much more docile Merkel, and news today that China's copper demand might be a lot stronger than people think, and you really had a trifecta here today.
The Bernanke story is right in front of us. What he said, and he made this crystal clear, is the economy is very disappointing to him. He also used a very strong adjective to describe unemployment, and he stated he's going to do whatever he can about it. The language he used, the adjectives he used, suggested he's ready to do something, Eric.
"
Leeb continues @ KingWorldNews.com
by Frank Suess, The Daily Bell:
THE ECB SLOWLY BUT SURELY BECOMING A TWIN BROTHER OF THE FED: POSITIVE IMPLICATIONS FOR THE SHORT-TERM?
"We are in danger of being overwhelmed with irredeemable paper, mere paper, representing not gold nor silver; no sir, representing nothing but broken promises, bad faith, bankrupt corporations, cheated creditors and a ruined people."
~ Daniel Webster, speech in the American Senate, 1833
Increasingly,
Mario Draghi
, the European Central Bank President, is showing his true colors. He is clearly on the road to becoming Europe´s clone of
Ben Bernanke
. That said, Draghi is pushing hard against Germany´s (Merkel´s) resistance of running full-speed down the
Keynesian
road of
monetary inflation
.
In this context, our regular Mountain Vision contributor, Fredrik Boe-Hanssen, as you'll see following my introduction today, has written another insightful article on Europe's fiscal and monetary conundrum: "How The ECB Became Intertwined in Politics and Fiscal Bailout Facilities."
Read More @ TheDailyBell.com
by Frank Tang, Reuters:
Gold surged to a five-month high in heavy trade on Friday after Federal Reserve Chairman Ben Bernanke's key speech fuelled speculation of new U.S. stimulus in the near future.
At the economic symposium in Jackson Hole, Wyoming, Bernanke said that progress reducing unemployment was too slow and the U.S. economy faced "daunting" challenges but he stopped short of providing a clear signal of further monetary policy easing.
The metal fell immediately following the release of Bernanke's speech as markets were disappointed that the Fed chief did not send a strong message about a new round of bond-buyback known as quantitative easing (QE). However, bullion quickly rebounded $35 per ounce, or 1.5 percent, from the low as markets later interpreted his comments as stimulus friendly.
Read More @ Reuters
from matlarson10:
by Jeff Nielson, Silver Gold Bull:
Following the solid gains in the price of gold
last week
and the much more explosive rise in the price of silver, all expectations (even among normally bearish commentators) were that bullion prices would continue rising this week. That all changed Monday morning, however.
At that point the Corporate Media released their
Script for this week
(written by the banking cabal itself). They "predicted" that B.S. Bernanke would "disappoint the market" when his prepared remarks would be released to the world on August 31
st
.
Experienced commentators and investors alike immediately understood the
game
being played, since it's been played on countless occasions in the past.
Read More @ SilverGoldBull.com
by David McWilliams, David McWilliams:
IF you want to know where the classic 1980s power ballads (the theme from 'Dirty Dancing', Laura Branigan's 'Self Control', Heaven 17 numbers and assorted gems from the New Romantic era) ended up, look no further than German radio. While I was driving through the northern bit of the Rhine yesterday, the car radio offered up an eclectic mix, ranging from the reasonably nostalgic to the God-awful, in a display of Catholic music tastes befitting a journey that concluded just outside Cologne cathedral, Europe's biggest.
The other noticeable thing about driving in Germany on a weekday is the sheer amount of commerce on the roads. The inside lane of the autobahn is an uninterrupted convoy of trucks shipping Germany's exports all over the continent.
Read More @ DavidMcWilliams.ie
by Christopher Manion, Lew Rockwell:
The Mitt Romney nomination reminds me of the 1976 convention that nominated Gerald Ford. Back then, Ford's fixers (Dick Cheney and James Baker III) did everything they could to eviscerate Governor Reagan's supporters at the 1976 RNC – and then tried to "reunite" the GOP and try to recoup the Reagan supporters they had alienated, all to no avail.
It failed because it was sheer pretense, disingenuous on its face. Baker and his sidekick, David Gergen, hated conservatives as much as Ford hated Reagan. They hated especially the millions of "blue collar" Democrats who came to provide the backbone of the "social conservatives" that supplied Reagan's winning margins in 1980 and 1984.
Ford was adamant and unrepentant about his loyalty to the Rockefeller-Bush establishment. He bragged in the 1990s that his proudest accomplishment was the appointment of Supreme Court Justice Stevens, who quickly became a left-wing stalwart on the court, to be joined there by George H.W. Bush appointee David Souter in 1990. Time after time, the GOP Hot-Tubbers have lied to traditional conservatives, gotten their votes, and then betrayed them.
Read More @ LewRockwell.com
from KingWorldNews:
Today Peter Schiff stunned King World News when he said the US will be back on a gold standard "… in a year or two." Schiff also said, "I would have expected a (financial) collapse to have already happened." Schiff went on to warn, "… at this point I'm going to assume there is no more stay of execution and we are going to have our crisis coming up right after Europe."
But first, Schiff had this to say regarding Bernanke and his Jackson Hole speech: "QE3 is coming. He's got that card up his sleeve. It's been hidden up there for a long time. He's reluctant to admit it, but he will play it eventually. He's going to be coy about it because he doesn't want to actually come out and reveal his hand."
"You know we've got a phony recovery, so it's going to fail. So we are going to get more QE. It's not that we need it, but if we don't have QE3, then we are back in recession. The Fed is going to try to stop that, even though the recession is part of the cure.
Peter Schiff continues @ KingWorldNews.com
Donations will help maintain and defray the operational costs. Paypal, a leading provider of secure online money transfers, will handle the donations. Thank you for your contribution.
I'm PayPal Verified