Dear CIGAs,
The following is a summary of key statistics gathered from FDIC press releases regarding bank failures during 2011. The numbers are as follows:
Total Bank Failures: 92
Combined Assets: $35.97 billion
Combined Deposits: $32.06 billion
Total Estimated Cost: $ 7.18 billion (approx. 22% of deposits).
Loss Sharing Remains Prevalent
Throughout 2011, the FDIC continued to enter into loss sharing agreements as a means of resolving the majority of failures involving larger institutions, and continued to agree to share losses on a high percentage of the assets taken over.
Of the 92 failures in 2011, 58 were resolved by way of the FDIC entering into loss sharing agreements with the acquiring banks.
The total asset value of the 58 failures resolved by way of loss sharing was $27.13 billion, approximately $468 million per bank on average.
The total asset value of the 34 failures resolved without loss sharing was $8.84 billion, approximately $276 million per bank on average.
In the 58 resolutions in which the FDIC employed loss sharing, the acquiring banks took on $26.82 billion of the failed banks assets and the FDIC agreed to share losses on $18 billion, approximately 67% of the value of the assets taken over. That means the FDIC continues to take on the lions' share of the risk that the failed banks' hardest-to-value assets will turn out to be worth less over time than originally estimated.
The total value of assets under FDIC loss sharing agreements since 2008 is now approximately $202 billion.
Failures Continue To Show Dramatic Asset Overvaluations
The FDIC's press releases regarding each bank failure provide a means to approximate the extent to which bank management has overstated the value of the failed bank's assets. Combining the statistics from many different failures over time, we can get a sense of what has become the "permissible" level of overvaluation in the wake of the Financial Accounting Standards Board ("FASB") having rolled back fair value requirements in April 2009.
The level of FASB-blessed overvaluation is determined by comparing the asset values reported by management to the actual, present market value of a given bank's assets. In the case of banks that have just failed, a realistic estimate of the actual, present market value of their assets can be obtained by subtracting the FDIC's estimated cost of protecting depositors from the amount of deposits reported at the time of the failure.
For all of 2011, the FDIC estimated it would cost $7.18 billion to protect the combined $32.06 billion in deposits at the 92 failed banks. That means the FDIC estimated the market value of all the failed banks' assets to be about $24.88 billion. Comparing this number to the reported asset values, the indication is that bank management overstated asset values by $11.09 billion, or 45%.
There is every reason to believe that over-valuations of this degree prevail throughout the banking sector and are not limited to this group of failed institutions. Almost all of the banks that failed in 2011 had been under close scrutiny by their federal regulators for a significant amount of time prior to their failures. It is reasonable to infer that under such close scrutiny, bank management would not have been emboldened to value assets more than permissible under current FASB standards.
If we assume that overvaluations of even half this level – say 20% — prevail throughout the banking sector, there is barely a single institution that would remain solvent were its assets valued at market. This is one more reason to believe what we read constantly on this site, that QE to infinity is the only option for Western Central Banks and there will be no end to the flood of liquidity any time in the foreseeable future.
Sincerely yours,
CIGA Richard Belfanti
Dear Jim,
I thought you might be interested in my article published by Forbes today.
Also, I understand from Elizabeth Currier that the Committee for Monetary Research and Education has invited you to speak at the next dinner in New York on May 17th. I am on the board of that organization and, of course, it would be a great honor to have you participate.
Best,
CIGA Dan
Dear Dan,
I will be there.
Jim
Jump the Creek for Silver
CIGA Eric
I agree with Jim,
silver more a game than monetary solution, but it's still one heck of a game
.
Paper silver keeps chewing through resistance (swing highs) on increasing volume. The absorption of supply, i.e. the breach of resistance on increasing volume, illustrates what
Richard Wyckoff
described as a technical sign of strength (SOS). The 9/22/11 gap from 36.22 to 38.34 represents one of the last point of supply for silver before the test of $50. Silver's trading action in and around the gap will help establish a time frame for the retest.
Silver ETF (SLV)
More…
Good evening Ladies and Gentlemen; The bankers used the cover of Bernanke's speech to congress in that he was "taking the punchbowl" away. This again is complete balderdash as somebody has to finance the big USA deficit of 1.2 trillion dollars.The USA is continually engaging in QEIII and you could tell by the rising M2 levels and the increase in the Fed balance sheet. Yesterday I remarked that

Here's a chart you won't see anywhere in the mainstream media - not the right, and certainly not the left. According to Rasmussen's 2012 Presidential Election Matchups, which pit Obama against any of the four GOP presidential candidates, while the balance of challengers certainly appear to have no chance of defeating the incumbent (something we touched upon yesterday), today, for the first time, Ron Paul has managed to unseat the standing president, by a thin margin of 43 to 41, for the first time in this series.




Unless February 29th is the new April Fool's Day, I'm pretty sure Alan Dlugash locked up DOTY with this remark:

People who don't have money don't understand the stress. Could you imagine what it's like to say I got three kids in private school, I have to think about pulling them out? How do you do that?"
Dluglash is describing the horror of scraping by on $350,000 a year.
Really.
How could you lucky bastards ever understand?
There are those who voraciously, and blindly, read any and all hedge fund reports, allowing the already useless information to enter one brain hemisphere and exit the other, just so they can brag that they read such and such's monthly or year end letter. Frankly, we pity them, especially when in their attempt to ape success they confuse luck (which is responsible for 99% of hedge fund outliers) for skill, and in doing so constrain their minds even more. At least hopefully they don't spend money on self-improvement books. As for trading recommendations, by the time an idea is in writing, the time to implement it is long gone. Anyway, for precisely this subet of people we provide the Paulson 2011 year end letter. Which is 102 pages. It is amazing how when one is printing money, one can get away with two paragraphs of year end ruminations and the LPs will be delighted. When, however one has brought AUM from $32 billion to under $20 billion net of redemptions, much more reading material is required to justify the 2 and 20, especially if the proceeds are used to invest in AAPL (and speaking of Apple, we wonder how long before the company starts charging a fee of 2 and 20 from all of its shareholders). We won't spend much time dissecting the letter of a fund which blindly invested nearly half a billion in a company that two kids with an office exposed as fraud, suffice to copy and paste the following gem: "We believe this outperformance demonstrates our superior security analysis and selection due to our research edge." Yup, mmmhmmm. All this and much more in the enclosed paperweight.




While hardly needing a full-on onslaught by an Austrian thinker, when even some fairly simplistic reductio ad abusrdum thought experiments should suffice (boosting global GDP by a few million percent simply by building a death star comes to mind), Diapason's Sean Corrigan has decided to take MMT, also known as "Modern Monetary Theory", to the woodshed in his latest missive in a grammatical, syntaxic (replete with the usual 200+ word multi-clause sentences) and stylistic juggernaut, that only Corrigan is capable of. So sit back in that easy chair, grab your favorite bottle of rehypothecated Ouzo, and let the monetary hate wash through you.






A month ago, Zero Hedge readers were stunned to learn that unemployment among Europe's young adults has exploded as a result of the European financial crisis, and peaking anywhere between 46% in the case of Greece all they way to 51% for Spain. Which makes us wonder what the reaction will be to the discovery that when it comes to young adults (18-24) in the US, the employment rate is just barely above half, or 54%, which just happens to be the lowest in 64 years, and 7% worse than when Obama took office promising a whole lot of change 3 years ago.




[Ed. Note: Part 1. Part 2. Part 3. Part 4. Part 5. Part 6. Part 7. Part 8. Part 9. Part 10. Part 11. Part 12. Part 13. Part 14. Part 15. Part 16.]
from TruthNeverTold:
from The Financial Survival Network:
Leap Day, February 29, 2012 was a momentous day for the precious metals markets. Gold and silver were slammed from 10am EST onward. Millions of ounces of unbacked paper gold and silver stampeded into the markets, destroying all weak holders in the process. But one must wonder how many real weak metals holders are left. Federal Reserve Chairman, Ben Bernanke testified before Congress today, and coincidentally, precious metals raids often occur before, during, and after his testimony.
It's interesting to note the purchasing power of silver has been increasing over the past 50 years. In the early 1960′s one silver dollar bought about four gallons of gasoline. Today, the same silver dollar buys around 8 gallons, but it has gone as high as 12 gallons. So much for paper based "assets."
Click Here to Listen to the Podcast
by Jeffrey Tucker, Whiskey and Gun Powder:
You have probably seen Peter Schiff on television, not once but many times. Among the legions of indistinguishable talking heads out there, he stands out. He makes sense. He draws attention to reality. He is disregarding of the opinion conventions that prevail on the financial news networks and just comes right out and says what few others are willing to say.
He gets away with it because he makes sense, is super articulate, and is aggressive in getting his message out. Even if you don't watch television (I don't, not much), he has his own radio show, Youtube network, blog, social media accounts, and much more. You could probably spend a good part of your day living alongside the mind of Schiff and still not hear it all.
He is also the author of
How an Economy Grows and Why It Crashes
. I assure you that there is nothing else like this on the market today. In many ways, it is a work of genius. Imagine learning the complexities of macroeconomics and the business cycle through a series of cleverly drawn cartoons that illustrate a kind of economic parable.
Read More @ WhiskeyAndGunPowder.com
The European Central Bank has taken action to stave off a potentially disastrous credit crunch by lending €530bn (£444bn) to 800 banks.
by Angela Monaghan, Telegraph.co.uk:
The ECB intervened to ease credit conditions in the European banking system by offering cheap three-year loans to banks to boost liquidity.
It takes the total of the ECB's funding "Bazooka" under its long-term refinancing operation (LTRO) to more than €1 trillion, after the Bank provided €489bn of money in late December. Mario Draghi, president of the ECB, has said that the first round averted a "major, major credit crunch".
Sir Mervyn King, governor of the Bank of England, on Wednesday
told the Treasury Select Committee
that the ECB's scheme had provided a crucial source of funding to banks, particularly in southern member countries of the eurozone, which had experienced a bank run in the second half of last year.
Ratings agency Standard & Poor's said the ECB's move had limited the risk of a bank failure.
Read More @ Telegraph.co.uk
by Gary Kinghorn, DollarVigilante.com:
You cannot make this stuff up.
The Cheyenne, Wyoming Star-Tribune reported
last week that state representatives advanced legislation to launch a study into what Wyoming should do in the event of a complete economic or political collapse of the United States. The task force would look at the feasibility of Wyoming issuing its own alternative currency (
OK, good so far
), and "examine conditions under which Wyoming would need to implement its own military draft (
Really?
), raise a standing army (
to fend off looters from Idaho, no doubt
), and acquire strike aircraft and (
wait for it
…) an aircraft carrier".
Now, folks, there are some pretty bizarre hypothetical scenarios where you could see, maybe, California thinking about buying an aircraft carrier, but one of the last states that needs one is Wyoming. I know Cheney is from Wyoming and all, but, it's a land-locked Rocky Mountain state that doesn't even have a decent-sized lake!
And perhaps it goes without saying, but, one of the reasons the U.S. economy will eventually collapse is because they bought too many aircraft carriers and stuff like that, as opposed to letting people spend their money in more profitable ventures. So, how do Wyoming state legislators justify this?
Read More @ DollarVigilante.com
from End of The American Dream: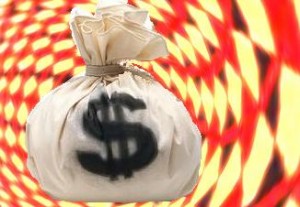 If you want to get paid for doing something stupid, just turn to the U.S. government. The U.S. government is paying researchers to play video games, it is paying researchers to study the effects of cocaine on Japanese quail and it has spent millions of dollars to train Chinese prostitutes to drink responsibly. The amount of money that the government wastes is absolutely horrifying. Do you remember all of that political wrangling over the debt ceiling deal last year? Do you remember how our politicians told us that there were cutting spending as much as they possibly could? Well, it was all a giant lie. As you will see below, the U.S. government is spending money on some of the most stupid things imaginable. What makes all of this even worse is that we are going into enormous amounts of debt in order to pay for all of this. We are borrowing billions of dollars a day in order to pay for stupid stuff that no government on earth should ever be paying for. Trust me, you are going to find it hard to believe some of the stuff in this list. It is almost inconceivable what our politicians are doing with our tax dollars.
The following are 30 incredibly stupid things that the federal government is spending money on….
Read More @ EndOfTheAmericanDream.com
Please consider making a small donation, to help cover some of the labor and costs to run this blog.
Thank You
I'm PayPal Verified