Today 40 year veteran, Robert Fitzwilson, wrote the following piece exclusively for King World News. Fitzwilson, who is founder of The Portola Group, warned, "Changes are coming, but it doesn't mean the world will come to an end. But financial regime changes do result in a massive transfer of wealth from those who own paper assets, to those that own real assets."

"Reflecting upon the news and the current state of affairs, it is striking how events are playing out according to script, as history and strategists have predicted. In the beginning of our journey, it was focused on discovery, historical context and understanding as to what had changed about markets, governments and people. The answer is almost everything if one looks just at our lifetimes.
On the other hand, nothing has really changed if one takes a longer view. One of our favorite sayings is, "The only thing new is the history you have not read"
Robert Fitzwilson continues @ KingWorldNews.com
by David McWilliams, David McWilliams:
WELL that didn't last long, did it? The financial market euphoria, which greeted the announcement that the ECB would buy bonds in unlimited quantities, has melted away. In its place, the realisation that Europe's economy is weakening quickly is puncturing short-lived optimisms.
Yesterday, we had more evidence from Germany that business confidence is ebbing more quickly than anyone anticipated. The IFO index of businesspeople's expectations about the future has now fallen for the fifth consecutive month.
The rolling recession, which started with the collapse of Lehman, initially affected highly leveraged countries like Ireland, Iceland and Greece, then mutated into a slump in Spain and Italy and it is now moving in a crashing wave to the core of Europe. Affecting France at the beginning of this year, it is now being felt in the industrial powerhouse of Europe, Germany.
Until recently, China's demand for German exports — particularly heavy machinery, which Germany excels at — kept order books healthy. But now Chinese demand is not there any more as its exports and economy weaken. The real fear in China is that it will prove to be the mother of all property bubbles, which will burst.
Read More @ DavidMcWilliams.ie
Did you see this on the MSM?...I didn't think so...But then again... you don't see 99% of the News covered here on the MSM...
Protests against biting spending cuts continue throughout Europe, as people vent their anger over bailout sponsored austerity. Mass demonstrations in Madrid turned to violence earlier this week, as police were forced to fire rubber bullets to calm the fury of the public. There've been dozens of injuries and arrests.
The world's largest hedge fund is not located in the top floor of some shiny, floor-to-ceiling glass clad skyscraper in New York, London, Hong Kong or Shanghai. It isn't in some sprawling mansion in Greenwich or Stamford which houses a state of the art trading desk behind a crocodile-filled moat. Instead it can be found in tiny, nondescript office in Suite 225 located on

730 Sandhill Road in Reno, Nevada.



Chinese local governments are facing the prospect of major unemployment problems should the swathe of solar panel makers, that have been subsidized from birth to now-near-death, continue to suffer from US and European tariffs (as well as simple gross mis-allocation of capital amid massive over-capacity). However, as is the way of the mal-investing world today, no barrier to rational economic theory is too low for government status-quo maintenance as it would appear that local banks have been strong-armed into extending loans to keep them alive. As Reuters reports, debt-laden (NYSE-traded) SunTech Power Holdings - which is close to removal from the exchange due to its dismal equity price - has just received new 'bailout' loans. First, it was a race to debase. Now, we have the race to bailout the world's most worthless companies (especially in channel-stuffed industries) as the New Normal trade wars continue.
If we look at what's skyrocketed in price (healthcare, college tuition), we find they are government funded and supported. This is not a coincidence.
Inflation is generally viewed as a monetary phenomenon (print money excessively and you get inflation), but let's use a very simple definition: any loss of purchasing power. If your income buys fewer goods and services, for whatever mix of reasons (geopolitical, weather, monetary, fiscal, etc.), that's inflation "on the ground." Government spending and intervention fuel inflation, and the Federal Reserve enables that spending and inflation by monetizing Federal deficits. Eventually, declining wages lead to demand destruction, as households consume fewer goods and services. But inflation that is being driven by government spending will not decrease, as the demand is being supported by a borrow-and-spend Central State supported by a monetize-Federal-debt-til-Doomsday Federal Reserve.
We have in the past attempted to take on the gargantuan task of exposing the multi-trillion Chinese Shadow Banking system (not to be confused with its deposit-free, rehypothecation-full Western equivalent), most
recently here
. Alas, it is has consistently proven to be virtually impossible to coherently explain something as decentralized and as pervasive as an entire country's underground economy, especially when the country in question is the riddle, wrapped in a mystery, inside an enigma known as China. Today, however, courtesy of AsiaFinanceNews we get a report as close as possible to the most comprehensive overview of what may soon be (especially if rumors of tumbling Chinese municipal dominoes are correct) the most talked about subject in the financial world: China's Shadow Banking empire.
While it is just as perplexing that Goldman still has clients, what is most surprising in this week's David Kostin "weekly kickstart" is that Goldman's clients have shown a surprising lack of stupidity (this time around) when it comes to the impact of QEtc. Shockingly, and quite accurately, said clients appear to be far more worried about the inflationary shock that endless easing may bring (picture that), than what level the S&P closes for the year. Incidentally with Q3 now over, and just 3 months left until the end of the year, Goldman's chief equity strategist refuses to budge on his year end S&P forecast, which has been at 1250 since the beginning of the year, and remains firmly there. From Goldman: "
QE has succeeded in increasing asset prices and inflation expectations but has not convinced investors to raise their US growth expectations. Instead, equity investors have expressed concern about inflation risks while both gold prices and implied inflation rates show similar shifts."
In February, five of the nation's largest banks agreed on a
$25 billion settlement
over widespread, systemic mortgage fraud and related issues.
The $25 Billion Deal, announced with huge fanfare, was supposed to help up to a million struggling homeowners, primarily via debt forgiveness.
Let's flash forward a few months to see how debt forgiveness is working out in practice.
Today, the New York Times notes
Banks Forgive Debt That Isn't There
.
Read More @ GlobalEconomicAnalysis.blogspot.com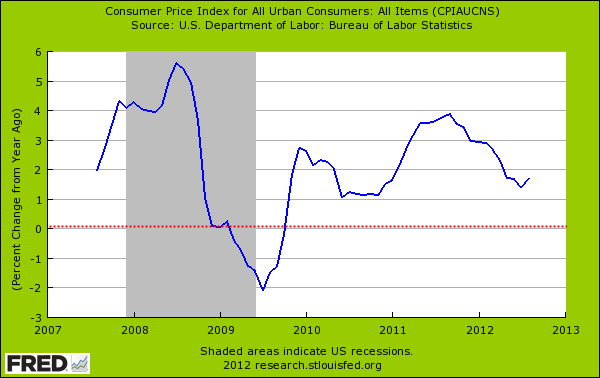 Inflation has been picking up since the recession ended in 2009. The problem with the CPI increasing year over year with no rise in household incomes is that the standard of living for most Americans erodes every year that incomes do not keep up. Household incomes are back to levels last seen in the mid-1990s while the cost of necessities has gone up. This brings us to our article today that examines the nuts and bolts of what constitutes the Consumer Price Index (CPI). The CPI attempts to measure the changes in price for consumer goods and services. Overall it did a very poor job of measuring the housing bubble because of the owner's equivalent of rent metric. Today, it is understating inflation because of the excess spending on "wants" that occurred in the 2000s has now shifted to spending on "needs" but is being dragged down by the amount of family spending on needed goods. We will dig deep into this data but suffice it to say that the Fed is creating inflation in items most Americans actually need to live their daily lives and the burden on the poor is actually increasing.
Read More @ MyBudget360.com
ntroduction: G. Edward Griffin is a film producer, author and political lecturer. He is the founder of
Freedom Force International
, a libertarian-oriented activist network focused on advancing individual freedom. First released in 1994, Mr. Griffin's best-selling financial book, The Creature from Jekyll Island, is a no-holds-barred look into the inner workings of the
Federal Reserve
banking system, or cartel if you will. Mr. Griffin's literary contributions are especially noteworthy given the validity of his vision and the exciting and troublesome nature of the times in which we live.
Daily Bell:
Let's jump right in. Are we seeing significant price inflation now?
G. Edward Griffin:
It depends on how you define significant, I suppose. I think it's significant. My personal feeling is the price index is greatly distorted. They keep fiddling with the formula to make it look as good as possible but
real inflation
, at least here in the States, in terms of the major components of what people buy to live day to day, such as groceries, gasoline and clothing, my feeling is that inflation is already at the double digits. I think it's ten percent if not more. That I think is significant but then again it's nothing compared to what I think we are going to see.
Read More @ TheDailyBell.com
"The reason there is no mention of Fannie (Mae) and Freddie (Mac) in the bill, is because it's named after two of their puppets: Dodd and Frank."
from ReasonTV :
Barron's Economics Editor Gene Epstein lays into the hypocrisy of the aforementioned Dodd-Frank bill at a Freedomfest 2012 panel titled "Too Big to Regulate," hosted by the Reason Foundation's Director of Economic Research Anthony Randazzo. The panel focused on problems with over regulation in the financial services industry, with a specific focus on the Dodd-Frank legislation.
In retrospect, the Democratic Convention highlighted a liar, Elizabeth Warren. She was hired by Harvard law school because she lied about her ethnicity to gain affirmative action benefits, exaggerated her scholarship which was shoddy, practiced law for years in Massachusetts out of her law school office without being a member of that state's bar — and possibly at the time a member of no bar at all. She gummed on before the crowd about working for the middle class hiding from the audience that she had made hundreds of thousands of dollars representing big corporations in disputes against steel workers and asbestos victims among others. This week, Professor William Jacobson exposed all of that.
But she was hardly the only world class mythomaniac from Harvard law school on the podium at that Convention, the theme of which was Obama the bold slayer of Bin Laden and destroyer of Al Qaeda, the experienced and aggressive counter terrorist expert. After all, his domestic policies, are so bad they were hardly anything about which to spike the ball so the brain trust picked international anti-terrorist hero theme.
Read More @ AmericanThinker.com
by Ludwig von Mises, Mises:
The champions of democracy in the eighteenth century argued that only monarchs and their ministers are morally depraved, injudicious, and evil. The people, however, are altogether good, pure, and noble, and have, besides, the intellectual gifts needed in order always to know and to do what is right. This is, of course, all nonsense, no less so than the flattery of the courtiers who ascribed all good and noble qualities to their princes. The people are the sum of all individual citizens; and if some individuals are not intelligent and noble, then neither are all together.
Since mankind entered the age of democracy with such high-flown expectations, it is not surprising that disillusionment should soon have set in. It was quickly discovered that the democracies committed at least as many errors as the monarchies and aristocracies had. The comparison that people drew between the men whom the democracies placed at the head of the government and those whom the emperors and kings, in the exercise of their absolute power, had elevated to that position, proved by no means favorable to the new wielders of power. The French are wont to speak of "killing with ridicule." And indeed, the statesmen representative of democracy soon rendered it everywhere ridiculous. Those of the old regime had displayed a certain aristocratic dignity, at least in their outward demeanor. The new ones, who replaced them, made themselves contemptible by their behavior.
Read More @ Mises.ca
Poetry can often achieve the same communication with
far fewer words than prose. This poem sums it up.
BUT WHAT OF TRUTH
by Hal O'Leary
For now, the loss of truth's the only known.
The truth's become old fashioned. Could this be?
With lies, we have decided to condone,
Just what the end will be, I cannot see.
The truth is now old fashioned. Could this be,
Like chastity and people you can trust?
Just what the end will be, I cannot see,
For those believing life was somehow just …
Read More @ PaulCraigRoberts.org
by Zig Lambo, Gold Seek:
While the markets have been on edge for the past year or so and have left most investors bewildered as to what to do next, portfolio manager and author John Stephenson thinks that the course is set for higher gold prices. In this exclusive interview with The Gold Report, Stephenson explains why he thinks we will avoid a worldwide economic crash and how the continuing QEs and foreign government bailouts will push more investors into the gold and mining share markets as gold moves above $2,000/ounce.
The Gold Report
: Since you last spoke with The Gold Report in January, we've had a seemingly self-feeding cycle of expectations, plans, bailouts, lack of results and back-to-the-drawing-board. Do you see any ultimate resolution to the world's economic dilemma, or will we somehow just muddle through, or have to go through an actual crash of some sort?
John Stephenson
: I think we'll basically muddle through from here. We've had several important developments over the last few weeks. The Federal Reserve's Quantitative Easing 3 (QE3) $40 billion program targeting mainly mortgage securities has the potential to move the needle. There was a big rally to risk assets when that was announced but that has faded somewhat.
Read More @ GoldSeek.com
Zionist-patsy and Israeli Prime Minister Benjamin Netanyahu is warning the UN General Assembly that the world must stop Iran from acquiring a nuclear weapon. He has become impatient with President Obama who appears to not want to join in on the Zionist endeavor to destroy the Islamic world.
To justify the need for a cybersecurity legislation that will enable the US government to spy on every American citizen without purpose other than to create a totalitarian control grid, false flag attacks are incorrectly portrayed by the Obama administration in order to scare Congress into following tail behind this globalist puppet.
I hope you read and consider these thoughts and, more importantly, I hope you direct yourself in a positive and self-fulfilling manner after pondering the bits of wisdom I have to share.
Around the world, we are seeing the same story repeated again and again, as countries crumble, economies collapse, the poor become poorer, the rich become richer and the powerful gain more power. Tens of thousands of people around the world chose today to make their voices heard.
It's not a question of "IF" TPTB will shut the internet down it's "WHEN"? The purpose of these articles it to create awareness in becoming independent of the internet and become your own beacon of news by maintaining contact through the coming difficulties.
Total Donations over the last 3 1/2 years. approx $165.00 (Thank You).
Donations will help defray the operational costs. Paypal, a leading provider of secure online money transfers, will handle the donations. Thank you for your contribution.
I'm PayPal Verified
Here...you will need one of these, for all your relatives that refused to listen to you...