by David Stockman, DailyReckoning: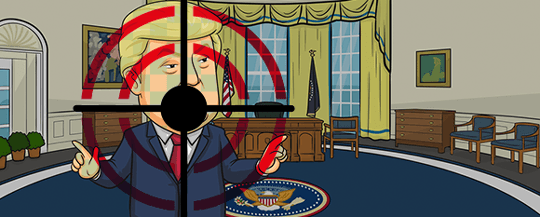 I say good riddance to Flynn because he was a shrill anti-Iranian warmonger. But let's also not be fooled about what's happened here.
The Flynn affair proves that the Deep State taps the phone calls of the President's own closest advisors as a matter of course.
This is the real scandal as Trump himself has rightly asserted.
The very idea that the already announced top national security advisor to a President-elect should be subject to old-fashion "bugging," albeit with modern day technology, overwhelmingly trumps the specious Logan Act charge at the center of the case.
Read More
IMHO...Traitor in the pockets of the media...This little
Fuck nato and Fuck the un...cut the war mongering assholes off...
by Matt Agorist, The Free Thought Project:
Santa Ana, CA — The City of Santa Ana has come up with an innovative and despotic way of keeping their homeless population in check — imprison them. The city is now party to a federal lawsuit over unreasonable seizure, false imprisonment, and due process violations.
Heading up the lawsuit on behalf of Michael Diehl, who has lived at the encampment for three years, is the ACLU of Southern California. The lawsuit demands the immediate removal of the 6-foot-tall chain-link fences penning in 75-100 people and their belongings.
"Defendants' actions have not only illegally restricted the liberty of the homeless people living in the encampment, but it has also cut them off from access to food, water, and medical care thus threatening their health and well-being," the lawsuit states.
Read More
filed under assholes... at the bottom where it belongs...
/