by Pam Martens and Russ Martens, Wall Street On Parade: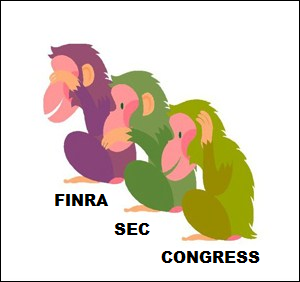 Increasingly, under the mantra of liquidity, trading activity on Wall Street that would have resulted in criminal charges in another era is yawned at by regulators.
The week that Donald Trump shocked markets around the globe by getting himself elected President of the United States, Wall Street banks like Citigroup, JPMorgan Chase, Bank of America and others traded millions of shares of each other's stocks –
as well as trading millions of shares of their own publicly traded stock
.
The trades were not directed to a regulated stock exchange like the New York Stock Exchange. Instead, the trades were conducted internally by the Wall Street bank's own Dark Pool – an entity appropriately named for its darkness and hands-off regulation.
In an effort to create the illusion that there is some element of transparency about what is going on in these Dark Pools, Wall Street's self-regulator, FINRA, began reporting three-week old trading data to the public on June 2, 2014. That's when Wall Street On Parade first made the stunning discovery that the banks were trading in their own company stock. (See related articles below.)
Read More
from X22Report:
And people wonder why california is soooooo fucked up...
Actually they're just Bat Shit Crazy...
/