Democracy at its finest...
"On Friday night, newspapers, radio stations and television networks all over the world reported on a group of masked far-right demonstrators who appeared to be reacting to this presumed state of chaos. They beat up non-Swedes and vowed to give foreign teenagers living on the streets around Stockholm Central Station the "punishment they deserve". So did I feel scared arriving back in the Swedish capital? Absolutely not."
"We expect an immediate reaction and explanations of the actions of Turkish military by NATO and the Pentagon"...
Submitted by Tyler Durden on 02/01/2016 - 15:00
"
The Fed should, given recent events, simply admit its error of pre-emptively raising rates before both its employment and inflation mandates had been met, and reduce the Federal Funds rate back to zero, pending further improvements in the economy
. Certainly, the Federal Reserve
risks its credibility by admitting an error
, but that is a far better outcome than risking recession by not doing so"
Puerto Rico has devised a scheme the island says will help put it back on the path to debt sustainability. You can read on to learn the specifics, but in essence, the commonwealth wants creditors to take a massive haircut which may or may not be ameliorated down the road.
Submitted by Tyler Durden on 02/01/2016 - 14:10
WHO SAYS ZIKA, MICROCEPHALY 'PUBLIC HEALTH EMERGENCY' - HIGHEST LEVEL OF ALERT
From the initial discovery in the
heart of Ugandan forest darkness
to
mysterious genetically-modified Mosquitoes in Brazil
, the newest threat to human health (most notably pregnant women) is the ominous-sounding Zika virus. The epidemic is spreading from its epicenter in Brazil -
threatening disaster at the Olympics
with "
female athletes to consider participation "very carefully"
", to
Colombia (with 2100 pregant women infected)
, and further north in America with
CDC confirming 6 cases in Texas
.
Submitted by Tyler Durden on 02/01/2016 - 13:30
China's mid-tier banks are piling up exposure to the riskiest subset of borrowers at a time when economic fundamentals are deteriorating on a near daily basis. Meanwhile, this exposure is being carried on a line item that allows the banks to avoid provisioning for the losses that will almost certainly materialize in the not-so-distant future. At one bank, this one line item is larger than the entire Philippine banking system.
Submitted by Tyler Durden on 02/01/2016 - 13:16
Today, none other than Bank of America's chief equity quant Savita Subramanian throws in the towel and admits that the best trade over the past several years has been precisely what we suggested several years ago:
do the opposite of what the crowd does.
Submitted by Tyler Durden on 02/01/2016 - 13:15
There will be two key themes for investors seeking to shake off the abysmal "as goes January" blues: buybacks, which are set to return in February, and central banks, which are poised to do absolutely nothing to calm investor nerves in the next 4 weeks.
Submitted by Tyler Durden on 02/01/2016 - 12:50
Escape velocity has
failed
...
Submitted by Tyler Durden on 02/01/2016 - 12:31
Amid denied rumors of production cuts (
and Goldman's dismissal
), crude oil prices have jumped "August 2015 Andy Hall squeeze style" to 3-week highs. This 'change' in trend has hedge funds calling the bottom once again
adding to bullish oil bets at the fastest pace since 2010 in the last week
. However, most ironically, it appears the
weak longs are being squeezed today as WTI crashes 6%
.
Submitted by Tyler Durden on 02/01/2016 - 12:01
Whether front-running or fear-based (or both), the actions of BoJ's Kuroda last week have driven global bond yields into freefall with
JPM's global index at 9-month lows and BofA's at 12-month lows
. Overnight saw
short-end JGBs push below the BoJ's -10bps threshold and 10Y rates push towards NIRP
to record lows. German bonds extending their epic voyage into fantasy and hit new record lows across the curve with
5Y at -32bps
.
Submitted by Tyler Durden on 02/01/2016 - 11:51
Passage of Senator Mitch McConnell's authorization for war against ISIS will not only lead to perpetual US wars across the globe,
it will also endanger our civil and economic liberties
. The measure allows the president to place troops anywhere he determines ISIS is operating. Therefore, it could be used to justify using military force against United States citizens on US territory.
It may even be used to justify imposing martial law in America.
Submitted by Tyler Durden on 02/01/2016 - 11:37
When Draghi speaks (or releases his statement), the algos obey.. and sell EURUSD. No new news at all - just a repeat of the same statements that
"QE is deemed effective' (by whom we ask)
, and a
recalibration is in order
(as the situation has changed since December). His biggest problem from what we can tell is the fact that the
banking industry's collapse augurs very badly for industrial production
and an economic recession across Europe.
filed under "white trash"
Submitted by Tyler Durden on 02/01/2016 - 11:51
"I know how you get things done. I am a progressive who wants to make progress and actually produce real results in people's lives. That's what I'm offering."
Social Security Fund loses money for the first time since 1983. The new retirement model will have you working until you fall over from a heart attack.
from MyBudget360.com: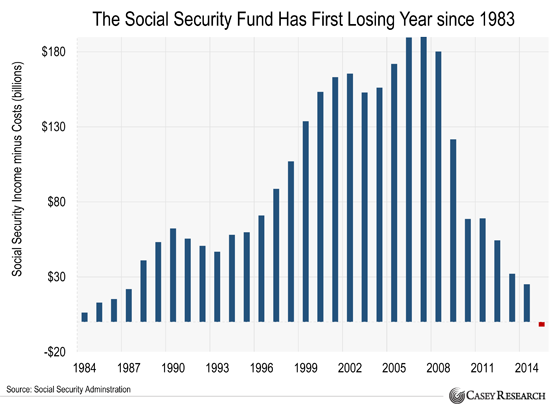 Social Security was never designed as a long-term pension. It was implemented in 1935 during the Great Depression to assist families from falling into absolute poverty. The large work force dominated by men usually meant that many would die and leave a large family behind with no financial resources. Social Security was there to protect this group. But over the generations, Social Security is now seen as a retirement fund and many depend on it for their livelihood. Recent figures highlight that 44 percent of retirees on Social Security would be in abject poverty without this support. More to the point, the number one source of income for retirees in America is Social Security funds. So it might come as a troubling surprise that the Social Security fund ran a deficit last year for the first time since 1983.
Read More
/