America has changed a lot since Super Bowl 1 in 1967 but, as
the cost of tickets, airfare, commercials, and beer have soared, real median incomes have risen just 9%
... is it any wonder the 'people' are revolting.. towards Bernie and The Donald? However, the economics of Super Bowl 50 are every bit as cloudy as the general American economy... which looks set to be
re-named "The Unicorn Bowl."
Submitted by Tyler Durden on 02/07/2016 - 19:20 Despite a collapse in yields and implicit plunge in the odds of a rate-hike anytime soon, asset-gathering, commission-taking talking-heads continue to spew unrealities about the economy and where it goes next as excuse after excuse (low oil is good, services trump manufacturing etc) are discarded. What is worse is that none other than The Fed's "owners" - the primary dealers - refuse to play along with The Fed's transitory narrative as their Treasury Bond position is the longest since 2013.

Submitted by Tyler Durden on 02/07/2016 - 18:55
A multi-decade Credit Bubble is coming to an end
. The past seven years has amounted to an incredible blow-off top and the ongoing worldwide collapse in financial stocks provides powerful support for the bursting global Bubble thesis. Few are yet willing to accept the harsh reality that the world has sunk back into crisis as
mal-investment, over-investment and associated wealth destruction remain largely concealed so long as financial asset inflation persists.
This is true as well for wealth redistribution.
The unfolding adjustment process will deflate asset prices so as to converge more closely with deteriorating underlying economic fundamentals.
by Steve St. Angelo, SRS Rocco Report: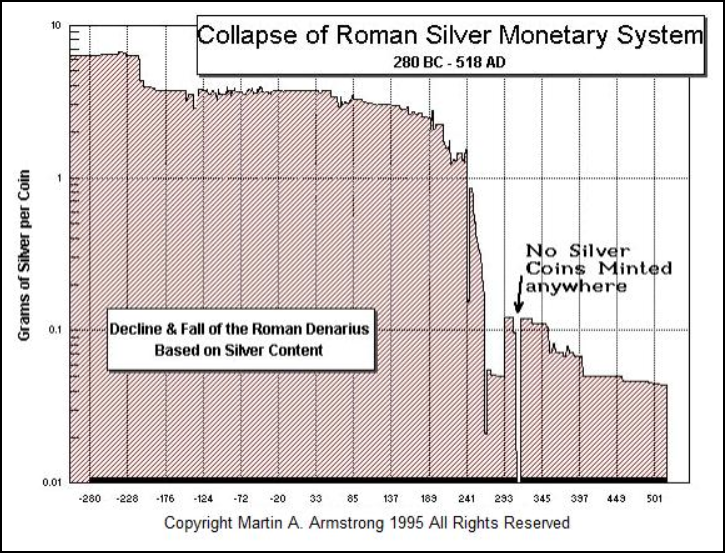 There is something seriously wrong taking place in the markets today. This is also true in the paper gold and silver markets as well. For a paper precious metals futures market to function properly, there has to be ample supplies of physical metal. However, the ongoing trend of falling precious metal inventories points to big trouble in the paper gold and silver markets.
We must remember, a collapse does not happen overnight, but the endgame does. This can be clearly seen in the collapse of the Roman Monetary System:
Read More
"Any minute now..."
Submitted by Tyler Durden on 02/07/2016 - 18:00
On the first day of this month, Google.. er, Alphabet.. turned in an impressive quarter. The stock jumped AH and just like that, Alphabet was the world's most valuable stock, surpassing Apple. Since Monday, Apple regained the top spot in terms of market cap, but given the fanfare, it's worth taking a look at how the two most valuable companies in the world stack up to the rest of the field on a variety of "trivial" things like revenue and net income.
Few charts do the topic of US citizenship renunciation justice, like the one shown below.
While 'our' President was out this week patting himself on the back and taking victory laps over the "supposed" 4.9% unemployment rate,
he forgot to mention a few important tidbits about what is really going on.
As it stands now what is really happening with the biggest risk factor to commodity, credit and capital markets, remains a mystery, and instead of getting some much needed clarity from China's January reserve number, the world's traders and investors will now have to wait for the February reserve update one month from now to learn if China has managed to slay its capital outflow demons, or if these were just getting started.
Submitted by Tyler Durden on 02/07/2016 - 15:58
We open it up to readers to determine in how many weeks will full year 2016 EPS be revised tom 4.3% as of the start of the year, to 2.2% currently, to negative,
indicating at least 7 consecutive quarters of declining EPS,
something not recorded even during the peak of the financial crisis. Incidentally, an earnings recession is
two
consecutive negative quarters of EPS: we don't know what the technical term is for
seven
...
It seems monetary policy is exhausted and the next exogenous lever to pull would be political fiscal initiatives. If/when they fail to stimulate demand, there would be only one avenue left – currency devaluation.
If/when confidence in the mightiest currency wanes, we would expect the US dollar to be devalued too - not against other fiat currencies, but against a relatively scarce Fed asset.
Ted Cruz is no libertarian,
Ron Paul rages, adding that
"You take a guy like Cruz, people are liking the Cruz - they think he's for the free market, and [in reality] he's owned by Goldman Sachs. I mean, he and Hillary have more in common than we would have..."
"Let me be clear with you. YES, it is time to worry, and it may be time to worry a lot. ...something wicked this way comes."
Someone didn't read the refugee pool rules cartoon...
The
Clinton campaign must be in full panic mode
to resort to spewing this kind of utter garbage...
Submitted by Tyler Durden on 02/07/2016 - 12:45
"The US Treasury curve is still steep by historical standards. Taken at face value, this may suggest recession odds are small. However, we argue this logic is flawed because the curve is structurally steep when the Fed Funds rate is close to zero.
When adjusted for the proximity of rates to zero, the curve may already be inverted and therefore may already be priced for a recession
.///
Implied recession odds are as high as 64% if the adjusted OIS curve is used
"
/