And so Europe bites the hand that feeds it:
EU's Juncker says that German debt level is a cause for concern according to a German newspaper - RTRS
EU's Juncker says Germany has higher debts than Spain but 'no-one wants to know about that' - RTRS
What could have possessed this pathetic bureaucrat to criticize the only strong country in Europe is beyond imagination: if this is how he hopes to get Germany nervous about its debt levels and agree to monetizing, he is about to get a pretty brutal lesson in what it means to serve Le Bic Mac at 3:15 am on Luxembourg Strasse. Needless to say the Euro is not happy. We anticipate an immediate retraction saying his words were taken out of context as this is noting short of all out war between the EU and Germany.


While it will hardly come as a surprise to many, the bitter truth that bankers are to blame for much of the inexorable plunge that Europe faces (and for that matter the rest of the Western/Keynesian world) has once again been dragged front-and-center. In an
interview on Australian TV
, a former Unicredit senior banker, Jonathan Sugarman, discusses (along with no less than everyone's favorite roulette player - Nick Leeson) how
rules are broken
(not bent) and the
'rotten culture encourages excessive risk taking'
. The former head of risk management resigned after being forced to break the law - specifically by dramatically under-reserving (or over-leveraging). These figures were not reported which means that, in Mr. Sugarman's words, he was "
100 per cent certain that Unicredit broke the law
while he was working there". The rot goes deeper though, as the interview describes, when he turned himself over to the
regulators
(blood-dripping knife in hand), they simply said "
Fine, just don't do it again
". Reflecting on the twenty years since Barings,
Leeson remarks: "The weakness is in those risk management compliance and control areas. Always has been, still is and probably always will be". Comforting?
Troubled Jefferies & Co does not have actively traded CDS referencing it, which is probably a good thing. It does, however, have cash bonds and while its equity price remains above the lows from two weeks ago, bond prices are cratering and just traded at record lows. The 8.5% of 2019s are actively trading around $92-95 (having fallen from $110 in two weeks and $120 in three months). This price represents a yield of 9.5% (or a z-spread of 823bps!). Translating the asset swap spread of 756bps from this bond into a CDS contract, we see a cumulative 65% probability of default (over the next 8 years) being priced into the market (assuming a 40% recovery).
It certainly seems like the bond market is much more nervous of JEF than the equity market for now!
*JACOB MARLEY*: Why do you doubt your senses? *SCROOGE: *Because, a little thing affects them. slight disorder of the stomach makes them cheats. You may be an undigested bit of beef, a blot of mustard, a crumb of cheese, a fragment of an underdone potato. There's more of gravy than of grave about you, whatever you are! So goes the conversation between the two former business partners in a scene from Charles Dickens', "A Christmas Carol". Of course Marley is a disembodied spirit who comes to warn Ebenezer Scrooge to change his ways while there is still time. Scrooge thinks he is ...
more »
If Greece goes, others are certain to follow. European politicians have begun to alter their discussions and tactics to allow weaker members to exit the Euro zone. The market (wolf pack) will likely force the weaker members to return to their own currencies much sooner than expected. Any decay in the EU membership increase the odds of economic isolationism (restrictive trade practices)... [[ This is a content summary only. Visit my website for full links, other content, and more! ]]
As the ECB remains the liquidity provider of last and only resort, we suspect the oh-so-transparent central bank is causing some banks to avoid it and look to the cross-currency basis swap market to fund themselves in USD as the 3 month EUR-USD swap reaches 126bps (-6bps more today). These levels are the lowest (widest and most USD desperate) since December 2008 and perhaps, away from the SMP-driven sovereign spread markets, are the cleanest and least interfered with market view of the extraordinary USD funding crisis that is occurring. These stresses are just as evident in the GC repo markets and Goldman agrees with us that this crisis is escalating and offers a primer on why the GC repo / Libor markets are dysfunctional currently.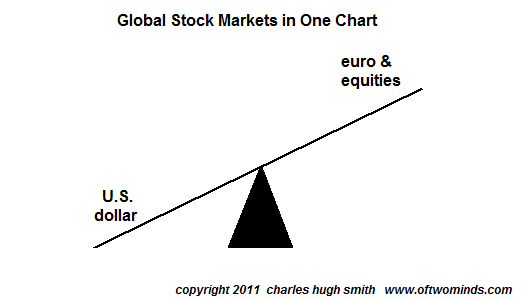 I know, I know, retail sales are up so everything's wunnerful, but the captain of Global Equities Flight 2011 just instructed the passengers to assume crash positions. It seems the captain has the distinct advantage of being able to see what's just ahead, not to mention being able to monitor the engines and fuel levels. (Hmm, did the starboard engine just conk out? Not good....). Levity aside, there are unnerving similarities between the present and the pre-crash 2008 equities market.
Rather than get distracted with how much low-quality crap gets sold at loss-leader prices on November 25, we might be better served to focus on the U.S. dollar.
As everyone knows, equities and the buck have been on a see-saw for a long time. If the dollar rises, equities drop. If the dollar rises a lot--for any reason, or no reason, it doesn't matter-- then equities crash. If the euro weakens, the dollar rises. If the dollar rises, equities weaken. If there is anything else to know about the current equity market, how much can it possibly be worth?
He who sells first sells best
. Something to ponder in the weeks ahead.
Time for some geopolitical uncertainty to add to Europe's bond yield inferno.According to AP, "France's ambassador to Syria says the government in Paris has ordered him home in the wake of recent attacks against diplomatic missions and a crackdown by Syrian President Bashar Assad's regime. Ambassador Eric Chevallier said by phone Wednesday he "was aware" that he had been ordered back but declined to provide details. He deferred all questions about the reasons to the Foreign Ministry. The ministry declined immediate comment. France, Syria's former colonial ruler, has been increasingly critical of Assad's regime in recent weeks, urging him to step down, pressing for tough international sanctions, and meeting with opposition figures." If this is indeed an indication that a Syrian "liberation" is imminent look for other ambassadors to be quietly pulled. Also, look for Iran to mobilize as any invasion or air campaign against Syria will be perceive as an assault on Iran itself. Or look for "offensive" action by Syria to invoke "retaliation." That would be precisely the false flag that the anti-Iran lobby needs to send WTI into the stratosphere. Then again it is not as if WTI needs any more reasons to surge higher today.
The man who spends 120% of his time between fixing his hair, discussing his presidential chances on CNBC and filing for bankruptcy has done it again.
TRUMP'S PANAMA OCEAN CLUB MISSES BOND INTEREST PAYMENT
It sure puts our commentary on the Donald's morning CNBC appearance into perspective.
It is oddly fitting that Goldman Sachs, which now has Europe by the short and curlies, would make the first official introduction of its puppet Italian government.
Remember that October "deflation" that was driven by energy prices dropping (as reported 5 mintues ago)? You can forget it. As of seconds ago, WTI just passed $100 for the first time since July 26. This is another $200 billion in GDP that was just taken out. The market forecast now is
global meltdowny with chance of QE3: 85/95%.
And in fundamental news, Enbridge and Enterprise announced they would reverse the direction of crude oil flow from Cushing to the US Gulf. Hardly bearish for WTI prices and will likely lead to an even faster compression between Brent and WTI.
The decoupling theme for dummies continues to be alive and well. Following yesterday's simply ridiculous economic data, today we learn that in October live got cheaper as broad inflation as determined by the CPI declined for the first time since Jun, printing at -0.1 on expectations of an unchanged reading, and down from 0.3% in September. The bulk of this drop was on the decline (?) in energy prices: ex food and energy CPI was up 0.1%. Well, with the WTI back to $100 in anticipation precisely of the QE3 loophole this report is supposed to open, we can promptly remove that "deflation" notion. Still, Fed hawks can stand down "looks like we passed a cyclical peak" says Bloomberg analyst TJ Marta. In the meantime, Year over Year inflation increased by 3.5%, or about 35% if one actually counts the things people buy and removes the hedonic adjustments due to a carton of milk now assumed to have a rearview camera, power steering and ABS brakes (as per the BLS), and costing negative money in real terms or something.
If you find useful information, please consider making a small donation, to help cover some of the labor and cost for this blog.
Thank You
I'm PayPal Verified