Submitted by Tyler Durden on 08/28/2015 - 13:51
"The PBoC's actions are equivalent to an unwind of QE, or in other words Quantitative Tightening.
The potential for more China outflows is huge [and] the bottom line is that QT has much more to go.
It is hard to become very optimistic on global risk appetite until a solution is found to China's evolving QT."
your future...
by Megan McArdle, Bloomberg View: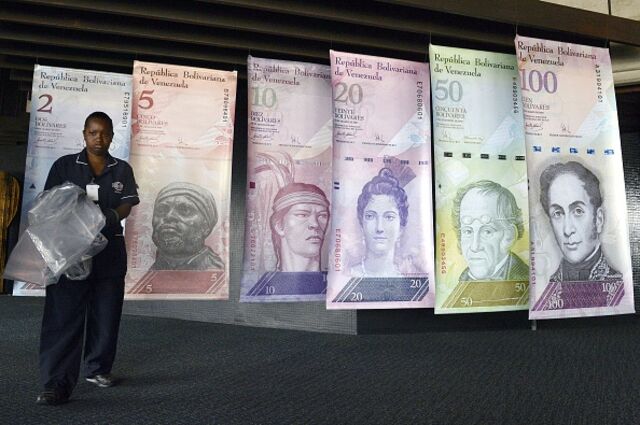 Venezuela seems to be hovering on the edge of tipping into hyperinflation
. Or perhaps it has already fallen into the abyss. Given the paucity of official data — the none-too-believable official figures were
last published in February
— it's a little hard to tell. The best guess we have at the value of a Venezuelan bolivar
comes from the Colombian village of Cucuta
, where people go to buy currency so they can smuggle subsidized fuel and other price-controlled goods out of Venezuela. As The Economist notes: "Transactions are few; the dollar rate is calculated indirectly, from the value of the Colombian peso. The result is erratic, but more realistic than the three official rates."
Using those rates, economist Steve Hanke recently
told Bloomberg
that
annual cost-of-living increases are running at about 722 percent.
To put that in some perspective, it means that a $400 monthly grocery bill would climb to $2,888 in a year. That may not approach the legendary status of Hungary's postwar inflation, which reached 41.9 quadrillion percent in a single month, but it's devastating for savers, or for people like pensioners whose incomes consist of fixed payments. It's also pretty bad for the economy.
Read More…
Submitted by Tyler Durden on 08/28/2015 - 22:55
It is undeniable;
the final collapse triggers are upon us,
triggers alternative economists have been warning about since the initial implosion of 2008. You would think that the more obvious the economic collapse becomes, the more alternative analysts will be vindicated and the more awake and aware the average person will be.
Not necessarily...
In fact, the mainstream spin machine is going into high speed the more negative data is exposed and absorbed into the markets.
If you know your history, then you know that this is a common tactic by the establishment elite to string the public along with false hopes so that they do not prepare or take alternative measures while the system crumbles around their ears.
At the onset of the Great Depression the same strategies were used.
Damian McBride is the former head of communications at the British treasury and former special adviser to Gordon Brown,
erstwhile Prime Minister of the U.K.
Yesterday he tweeted some surprising advice in response to the plunge in global equities markets....
Submitted by Tyler Durden on 08/28/2015 - 22:30
Our form of government today allows revolution (theoretically) through the ballot box rather than on the battlefield.
But nonetheless, the message for our political elites today is much the same as it was in 1776: They ignore the people's contempt at their own risk.
Submitted by Tyler Durden on 08/28/2015 - 22:00
While most of the world will be hoping the following chart never (ever) mean-reverts to its previous historically devastating highs, there is one group that is 'banking' on it...
The Military-Industrial Complex...
from TRUTHstreammedia:
Tucked away in a dark corner of one of the largest, fanciest veterans memorial cemeteries we have ever seen is a little plot of under a hundred crudely carved graves only marked with a name and a cross, no birth or death info.
These belonged to people who lived and died in The Ladd School, once an institute for the "feeble minded" during the eugenics era. Founded in 1908, the institution's forefather, Dr. Walter Fernald, "was a famous eugenicist whose doctrine was to remove the feeble-minded from society in an effort to cleanse the nation's population of inferior and 'defective' genes." It was a place they put people (and especially kids) that were deemed otherwise unfit for society to segregate them, ensure they would not reproduce, and ultimately forget about them. The developmentally disabled, promiscuous teens, unwed mothers, alcoholics, the poor, you name it… Once in, they were left there for life. It was finally shut down in 1993 following decades of scandals due to overcrowding and reports of abuse. After visiting the grounds of the now demolished school, we decided to pay our respects to those who died there at this small unmarked cemetery plot
Submitted by Tyler Durden on 08/28/2015 - 17:33
You can't say Nassim Taleb didn't warn you: the outspoken academic-philosopher, best known for his prediction that six sigma "fat tail", or black swan, events happen much more frequently than they should statistically (perhaps a main reason why there is no longer a market but a centrally-planned cesspool of academic intervention) just had a black swan land smack in the middle of the Universa hedge fund founded by ardent Ron Paul supporter Mark Spitznagel, and affiliated with Nassim Taleb. The result: a $1 billion payday, translating into a 20% YTD return, in a week when the VIX exploded from the teens to over 50, and which most other hedge funds would love to forget.
Submitted by Tyler Durden on 08/28/2015 - 21:30
...as soon as credit expansion stops, the piper must be paid, and the inevitable readjustments must liquidate the unsound overinvestments of the boom and redirect the economy. And, of course, the longer the boom is kept going, the greater the malinvestments that must be liquidated, and the more harrowing the readjustments that must be made.
Submitted by Tyler Durden on 08/28/2015 - 21:00
Late last year, Saudi Arabia "Plaxico'd" itself and the petrodollar when, in an effort to "preserve market share" and bankrupt US shale producers, the kingdom endeavored to purposefully suppress crude prices. Nine months and billions in liquidated FX reserves later, Saudi Arabia is facing a budget crisis of epic proportions.
Submitted by Tyler Durden on 08/28/2015 - 20:30
The United States lags far behind other developed countries in terms of personal, civil and economic freedoms,
according to a study released this month. Its neighbor to the north, for example, ranked 14 spots ahead of the so-called "Land of the Free."
Submitted by Tyler Durden on 08/28/2015 - 20:00
Great news -
Californians have managed to reduce water usage by 31% in July,
surpassing the mandated 25% reduction amid the worst drought in centuries. However, this dramatic reduction is in now way thanks to local government in Los Angeles, where, as Daily News reports, the
majority of LA County supervisors have their take-home cars washed two or three times a week, service records show, and actually washed them more frequently than before Governor Brown's orders
.
Once again - do as I say, not as I do!
Submitted by Tyler Durden on 08/28/2015 - 19:30
People have their hopes and dreams tied on a quarter of a percent. That's how ridiculous things have become.
People are so horrified that if money isn't absolutely free that all hell will break loose—that people are going to go broke, the market's going to crash, and that there won't be any jobs. That's a
pretty sad state of affairs,
and it is by no stretch of the imagination the foundation for a free and prosperous nation.
It is the height of central planning and it is a form of economic tyranny.
Submitted by Tyler Durden on 08/28/2015 - 19:00
"There's no flying beams of light, no 'pew! pew!' sound effects. But it is nonetheless a working laser cannon, and it will take your drone down."
Submitted by Tyler Durden on 08/28/2015 - 18:30
Recent polls indicate that, despite public outcry against his incendiary comments on women and minorities, Donald Trump is still the leading Republican candidate.
Here are some reasons Trump stays so popular with his supporters...
Submitted by Tyler Durden on 08/28/2015 - 18:00
Submitted by Tyler Durden on 08/28/2015 - 17:00
You know what they say: when it rains it pours, especially when you're the poster child for an epic emerging market unwind and you're suffering through the worst inflation-growth outcome in over a decade while trying to combat dual deficits and ward off political and social upheaval.
Submitted by Tyler Durden on 08/28/2015 - 16:30
"You take the blue pill, the story ends. You wake up in your bed and believe whatever you want to believe. You take the red pill, you stay in wonderland, and I show you how deep the rabbit hole goes."
-
Morpheus, The Matrix
Submitted by Tyler Durden on 08/28/2015 - 16:06
Submitted by RANSquawk Video on 08/28/2015 - 15:52
Submitted by Tyler Durden on 08/28/2015 - 15:50
Presented with no comment...
Submitted by Tyler Durden on 08/28/2015 - 15:30
Many were
stunned at the pace of the v-shaped recovery in US equity markets this week after Monday and Tuesday's carnage.
However, as the following chart makes very clear, there was good reason for it... Having overshot to the downside of "Fed-Balance-Sheet-Implied" levels but around 100 S&P points, the broad index ripped back higher to almost perfectly settle at "Fed Fair Value" - between 1980 and 2000.
But, there is a rather ominous event occuring in 2016 that is out of The Fed's control that implies S&P 1,800 unless QE4 is unleashed.
Submitted by Tyler Durden on 08/28/2015 - 15:08
In the midst of turmoil among asset classes, investors tend to make irrational decisions, such as panicking and liquidating at inopportune times.
Nobel Prize-winning Psychologist Daniel Kahneman helps explain ill-conceived reactions to the market with his concept of loss aversion. That's the fear and feelings of loss surpass the joy one may receive from a similarly sized potential gain.
In order to frame this discussion of volatility, we dug up old surveys of institutional and individual investors that recorded their responses to the 1987 market crash
Submitted by Tyler Durden on 08/28/2015 - 14:50
Hint: think Treasurys, oil, and renminbi...
Submitted by Tyler Durden on 08/28/2015 - 14:35
Two years ago,
when we first profiled
Japan's mysterious "Mister Watanabe" daytrader - aka CIS
- we thought it may just all be a hoax. But, as his claims this week that he
made $34 million trading the panic on Monday - "I do my best work when other people are panicking,"
Bloomberg reports,
CIS - who claims JPY20bn AUM, has become a cult figure among Japan's tight-knit community of day traders. Notorious for lines like "Not even Goldman Sachs can beat me in a trade," CIS drops some knowledge this week on how he has become so successful...
"Buy stocks that are being bought, and sell stocks that are being sold."
Just don't tell Cramer.
Submitted by Tyler Durden on 08/28/2015 - 14:26
Last night we heard the best 'excuse' yet if you are caught with an Ashley Madison account, from Dan Loeb
-
"due diligence."
Today, not to be outdone by a married hedge fund manager, Vice-President Joe Biden's son "Hunter" has unleashed his own set of excuses for member ship of the extramarital affairs website,
as Breitbart reports
-
Biden thinks international agents, possibly Russian, who objected to his board membership with a Ukrainian gas company set up a fake account to discredit him.
However, IP mapping suggests otherwise...
Submitted by Tyler Durden on 08/28/2015 - 14:23
It goes until the "big one" shows up "out of nowhere"
because everyone studiously ignores these events as if they can't possibly be what they so obviously are: continued
warnings
. It is impossible to say what the final turn will be, as you can't predict the level of "necessary" liquidations going too far because liquidity supply is totally hidden and derivative.
The fact that one central bank after another continues to fall victim to the same connecting degeneration is cause for still deeper pause and reassessment, but that isn't any fun for the bull bubble and the "easy money" mindset.
In any case, when the yen functions as the last resort bid of safety, you can pretty well assess just how messed up everything got –
and start to make some determination about just how close to the precipice.
from Truth Never Told:
from The Money GPS:
from ExperimentalVaccines:
/