by Stefan Stanford, All News Pipeline: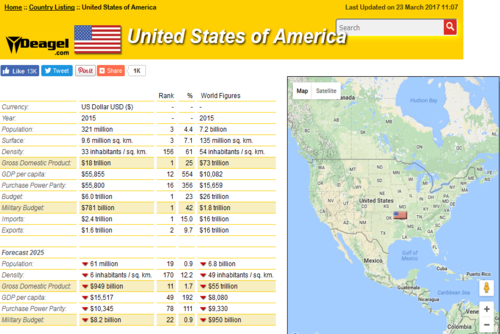 'The purchasing power of the US dollar will continue to plummet like a corrupt banker wearing cement shoes dropping to the bottom of a river as long as the Federal Reserve keeps printing money, backed by nothing, like it's toilet paper'.
Last updated on March 23rd of 2017, the 'country' page for the United States of America over at Deagel.com seen in the screenshot above still shows a forecast population for the US for the year 2025 to be 61 million people. Much more than just a 'significant' drop from the 321 million living in America in 2015, we've asked in stories on ANP time and again what they expected to happen to 260 million Americans and where they were going to go in less than 10 years.
Read More
Think they will hesitate to do the same to you? Really...Killing in YOUR NAME...
IMHO...Try this ASSHOLE for Treason...and follow the Founding Fathers Punishment for Treason...
filed under don't care...happens all the time as about 10% of the population is "BatShit Crazy"...
filed under FUNNY...
/