As expected, a whopping beat of expectations of 125,000 with 171,000 jobs added In October, and the Unemployment Rate rising modestly to 7.9%, but below the magical 8.0%. And while the U-3 rose, the U-6, or underemployment, declined from 14.7% to 14.6%. Go figure. And finally, the Birth Death adjustment came just 10K off our forecast, printing at 90K.
When summarizing yesterday's first of the month ramp,
we said
: "Should the NFP disappoint for whatever reason, today's rally will be promptly unwound. On the other hand, as the final major economic datapoint before the election,
there is a snowball's chance in hell the NFP beats at anything less than 1 standard deviation
[ZH: this was proven this morning when the NFP printed above the highest Wall Street estimate, a 3std dev beat].
The good news, for those who are sick and tired of the constantly fudged metrics, is that after next week,
we revert back to normal, and the mysterious economic push higher
(a lot of it reflexive: Why are you confident? because stock are higher. Why are stocks higher? because I am confident)
in the past 2 months will finally dissipate
." Which is why anyone looking for a reason why the futures have proceeded to slide to their day's lows, this may be it: all the good news is now fully priced in. Things to look forward to now: Fiscal Cliff, Debt ceiling debate, further collapse of Greek and potential resumption of Grexit speculation (just look at the EURUSD), Spain bailout (Spanish bonds today are very unhappy), and the prompt unwind of all "better than expected" jobs number following the election, regardless of who wins the Oscar for best presidential performance. Because now there is an alibi for not only weak future numbers, but for historical revisions. It's name is "Sandy" - get used to it: it will be the excuse for every upcoming economic data miss until January.
Today's jobs number is expected to come at 125,000, with a high estimate of 154,000 from John Hancock financial, and a low of 30,000 from Westpac Banking, and with a whisper expectation at 150,000 courtesy of yesterday's "stronger than expected" ADP re-revised print. A beat or miss at over 1 standard deviation will promptly wake the HFT algos from their deep slumber. Wait did we say miss? Hah. Anyway, just to put today's seasonally adjusted expected monthly job growth in context, below is a chart showing the average seasonal adjustment for each month of the year in the past decade. In October, seasonal adjustments
subtract just over 1 million "jobs"
(purely statistically of course, merely to smooth the underlying "noise"). This means that the final monthly print will be just over 10% of the actual X-12-ARIMA goalseeked statistical adjustment. Add to this another ~80K or so which will be "added" from the birth death adjustment, and one can see how in the grand scheme of things, the statistical error factor alone dwarfs what is the actual underlying data. To think that in this labyrinth of layered adjustments to an actual number, the BLS will somehow allow the final number to be disappointing means having a locked bid on the Alaska to Russia bridge market.
And it was shaping up to be a slow news days. From Bloomberg:
ROCHDALE SAID TO SEEK CAPITAL INJECTION AFTER TRADING ERROR
ROCHDALE EXECUTIVES SAID TO TIE CAPITAL SHORTAGE TO APPLE TRADE
ROCHDALE SECURITIES ANALYSTS INCLUDE DICK BOVE
By that logic, can one imagine the epic bailout Rochdale would need if Bank of America trades back to its rightful price well over 50% below current levels? Also, why is Rochdale trading on its own account? According to an unverified rumor, a Roch trader was supposed to be buying 125 shares every half hour, and instead bought 125,000. If correct, oops:
that's a $74 million margin call.
Finally, the question of the day:
How many more funds will claim they bought AAPL due to an "error" and now need a bailout?
Growing trend volatility and soon to be terminated game of high-stakes political poker have pushed the first reaction deeper than its predecessors (chart 1). This outcome should not be a surprise. Chart 1: London PM Fixed Gold and GLD (ETF) Total Assets WA Stochastic As always patience is the key to timing. Smart money won't start nibbling until the first of a series of... [[ This is a content summary only. Visit my website for full links, other content, and more! ]]
Another payrolls report today; another down day in the precious metals. Not much of a surprise here as that has been the norm for many a year. In one sense, it really did not matter what the number was as there was more than likely going to be bearish selling pressure no matter what. When it comes to silver, if the number was a poor one, the bears would point to the fact that the QE3 was already baked into the cake and so was a non-factor. They would then point to the fact that the poor number was sign that the economy was still muddling along without any risk of inflationary factor...
more »
The first causality of a decline Republic is the truth. The "truth" has been distorted for so many years, generations of Americans have lost their feel for the trends in place. Trends in place: Declining goods-producing sector jobs (chart 1). This includes mostly manufacturing jobs. Advancing service-producing sector jobs (chart 2). This includes jobs such as food... [[ This is a content summary only. Visit my website for full links, other content, and more! ]]
*Jim Rogers is an author, financial commentator and successful international investor. He has been frequently featured in Time, The New York Times, Barron's, Forbes, Fortune, The Wall Street Journal, The Financial Times and is a regular guest on Bloomberg and CNBC.*
I do not think it will happen right away because the politicians want to keep the Eurozone intact, but the situation in Portugal, Greece, Spain, Italy and even France is actually unsustainable in the long run because of the unfunded liabilities. So a Euro break up will probably happen sometime in future, but not for another three or five years. - *in ET* *Marc Faber is an international investor known for his uncanny predictions of the stock market and futures markets around the world.*
You cannot "reform" away the dysfunction of the Greek Status Quo without dismantling the vested interests and the ruling Elites that benefit from the Status Quo. The same can be said of the Status Quo everywhere from the U.S. to China.
You read about it here first (here and here). Now it is time for the sellside (whose products your soft dollars so generously fund) to wake up to what is happening next week.

Democracy has become a religion and anyone who criticises it is labelled a heretic.







As we first observed in February of 2012, we will not tire of repeating that when it comes to the jobs picture there are two key components: the quantitative, or the headline jobs and unemployment rate numbers everyone is fascinated by at 8:30 am each first Friday of the month, and the qualitative, or the number that gets far less attention, yet which is so very critical to Americans on those occasions they want to use their earned wages to purchase goods and services. And this is where the ugly side of today's jobs report came out. Because while the quantitative data was good, just as we and everyone else had expected from the final datapoint before the election (the good news there is that finally we will revert to reality following November 6), the qualitative data was ugly. How ugly? As the BLS reported, the average hourly earnings in October declined from $19.80 to $19.79 in September, and at $19.57 last October. This was only the fifth sequential decline in this series since the start of the Depression in December 2007. But more important was the Y/Y change in average hourly earnings. At 1.1% (down from 1.4% a month ago), this was the lowest Y/Y increase in this series, topping the collapse in real earnings which started in December 2008, and is now the lowest in history. In other words, more jobs may be added, but on a real basis, wages are not even keeping up with inflation!

Curious which sectors, according to the BLS, have been hiring in the past year? Per the Establishment survey, of the 1,949K or so jobs added in the past year, the bulk of additions have come to the Professional and Business Services sector (525K), Education and Health (414K), and Trade, Transportation and Utilities (345K). Government has actually seen a decline in total jobs in the past year.


Your support is needed...
Thank You
I'm PayPal Verified
Judging by complete lack of move in the futures since the last time we looked at them at close of US market (if not so much the EURUSD which moments ago touched its lowest level since October 10 below 1.2865), absolutely nothing has happened in the intervening 14 hours. Which wouldn't be too far from the truth. Europe reported its manufacturing PMIs, which while largely unchanged at the consolidated (Eurozone 45.4 on Exp. of 45.3, last 45.3) and core level (Germany 46.0 vs Exp. 45.7, Last 45.7; France 43.7 vs Exp. 43.5, last 43.5) showed some weakness for the one fulcrum country that everyone looks at: Spain, whose Mfg PMI dropped from 44.6 to 43.5 on Exp of 44.1. But at least the threat the ECB will buy its bonds is there. And Speaking of Spain (whose car registrations tumbled 21.7% in October), the first external condition appeared today, when EU competition commission Joaquin Almunia said seized Spanish banks must fire half their workforce, according to ABC. Finally back in the US, the Fed's Rosengren said the Fed will not stop monetizing until the jobless rate falls below 7.25%. Luckily, with the NFP report due in 90 minutes, and the labor participation rate set to tumble once more, we may just get that in today's key data highlight which everyone is waiting for.
from BBC:
Citigroup, Deutsche Bank, HSBC and JPMorgan Chase have been told by global regulators that they need to hold more extra capital than their rivals.
The four will need to hold 2.5% of common equity as a percentage of assets, on top of the new 7% buffer generally recommended.
The advice comes from the Financial Stability Board (FSB), a Group of 20 (G20) developed nations' task force.
It said recent scandals showed risks were not being covered properly.
The instruction from the FSB
comes as G20 finance ministers prepare to meet in Mexico over the weekend to consider what else needs to be done to protect taxpayers against banking excesses.
The four names are on a list of 28 banks deemed so large and complex they need a bigger buffer than smaller, less globally important banks.
Read More @ BBC.co.uk
by Howard Richman, Raymond Richman, and Jesse Richman, American Thinker:
In December 2011, a few American-made vehicles were getting over China's high 25% tariff barrier, so the Chinese government raised the barrier. According to The Guardian, China raised its tariffs on GM cars by as much as 22% and on Chrysler cars by as much as 15%:
General Motors faces the greatest impact, almost 22% extra on some sports utility vehicles (SUVs) and other cars with engine capacities above 2.5 litres. Chrysler faces a 15% penalty, while a 2% levy will be imposed on BMW, whose US plants make many of the cars it exports to China.
Existing taxes and duties already push up the cost of US imports by 25%, and the new levies make it even more expensive for Chinese consumers to buy American.
Read More @ AmericanThinker.com
by Michael Patrick Leahy, Breitbart:
Fresh off his "climate disruption"-driven
endorsement of President Obama
, New York City Mayor Michael Bloomberg has chosen to divert critical food supplies and power generators from desperate residents of Staten Island to Sunday's New York City Marathon. Gothamist reports:
[T]hose urging the city to halt the run believe that the thousands of Marathon volunteers could direct their efforts towards post-Sandy relief and cleanup, "and they also argue that the event will divert thousands of police from important hurricane-related duties." But despite petitions circulating, work started up again yesterday on the Marathon route.
A tipster, who wishes to remain anonymous, told us there were lots of workers in and out of the park today, who had "started before the storm and then came back starting yesterday." Trailers are lined up from around 71st to 66th Streets on Central Park West, a food truck was set up today, and "generators have been sitting there at least a week." The tents that were taken down prior to the storm have also been set back up, and there is a stage set up near 73rd Street.
Read More @ Breitbart.com
by William Norman Grigg, Lew Rockwell:
Confined to a barren prison camp in Washington, the displaced Paiute Indians were dying. The Interior Department had promised to send rations, but they never arrived. After being exposed to the elements during the winter of 1880, fifty-eight of them had died – including thirty children – and many more were seriously ill.
James Wilbur
, the pious fraud who
served as Indian Agent at Fort Simcoe
, wouldn't exert himself to see that his prisoners were cared for, and wouldn't permit them to migrate to more hospitable surroundings.
Sarah Winnemucca
, daughter of the renowned Paiute chief of the same name, had gone to Washington to lobby Interior Secretary Carl Schurz for relief. In May she returned with a written promise that the department would
arrange for the Paiutes to relocate to Lovelock, Nevada
, where they could at least obtain food. When she arrived in Yakima, however, Sarah was informed that Wilbur had received no instructions from Washington.
Read More @ LewRockwell.com
from BreakingTheSet:
Abby Martin speaks with Kurt Haskell, Congressional Candidate for Michigan's 7th District, about his experience on the flight with the Christmas day Underwear Bomber that completely contradicts the government's narrative, and why he chose to run for Congress.
by Beth Stebner and Emily Anne Epstein, Mail Online:
Millions of New Yorkers endured a nightmare commute into Manhattan today as the city struggled to return to normal after the devastation of superstorm Sandy.
Limited parts of the New York City subway were reopened early Thursday morning, but were inundated as commuters tried to get into work, many for the first time since the storm paralyzed the city on Monday.
Those who chose to travel by road faced widespread gridlock, despite an order by Mayor Bloomberg that vehicles crossing bridges into Manhattan must carry at least three people.
Only extremely crowded buses covered areas where subway service had not been restored, causing the storm's survivors already-short tempers to flare. Those hoping to get from Brooklyn to Manhattan could expect hour-long queues that doubled back around for blocks on end.
Read More @ dailymail.co.uk
by Michael Krieger,
Liberty Blitzkreig:
This video is mind-boggling and really puts into perspective the extent of our descent into third world/police state status. After being denied a 60 day extension from U.S. Bank regarding her eviction, Sarah Donahue of Idaho Springs, Colorado and members of local activists groups engaged in a non-violent demonstration outside of her home. They were met by a SWAT team heavily armed with assault rifles. As you watch this video you have to ask yourself; does this look more like the America we used to live in or more like a war-torn city in Afghanistan? By the way, where is John Corzine?
Read More @ LibertyBlitzkreig.com
Your support is needed...
Thank You
I'm PayPal Verified
from Euronews:
Amid the destruction and rising death toll in the aftermath of Storm Sandy in the eastern United States, there are complaints that the relief effort is failing to reach some areas.
By Michael Payne, Op Ed News:
Want to see real change come to America? Want to see its most critical problems solved? Well, that cannot happen, it will not happen unless the power of the American people is activated and energized. If that power continues to remains dormant this nation will remain in a state of lethargy and regression and will not recover.
This government, once known as a government of the people is not functioning in the way that the Founding Fathers intended or envisioned. It is failing the American people in their great time of need. We might say that it has become infested; not with ethics, honesty and integrity but, rather, with the money, power and the insidious influence of Corporatism.
Why is the current condition of this nation so very tenuous and grave with so many problems not being addressed and remaining unsolved? Something is really wrong with the way the affairs of this nation are being conducted. Nothing could illustrate this stagnant condition better than the current outdated and obsolete presidential election process. It's much too long, far too expensive, contaminated by corporate money and influence and one that, in the eyes of the world, is just plain bizarre. America's most critical problems and their solutions are either watered down or not even brought up in the nearly useless election discussions which are erroneously called debates.
Read More @ OpedNews.com
from SilverBearCafe.com:
Not a bad little docu-drama about the onset of a US dollar collapse. There are a few inconsistencies, I believe some of the fictional "market moves" depicted would not occur because gap limits would kick in and suspend the trading session. I also believe that a 1700 point drop in the DOW would trigger a banking holiday as opposed to a 2-hour trading halt.
But that said, this is the scenario nobody thinks is possible but really at the end of the day, it's not like the US can print money and live on debt forever right? So when something cannot go on forever what happens when it stops?
Read More @ SilverBearCafe.com
from CNBC:
'Negative 61,000. That is the reality. You guys can spin your reality.' – Rick Santelli
by Rick Ackerman, Rick Ackerman.com: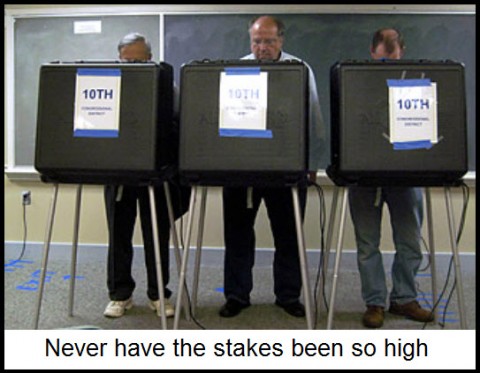 It would be easy for me to dismiss Obama supporters as mentally defective but for one inconvenient fact: my mother, sharp as a tack at 92, is voting for him. And so is my sister, a San Francisco attorney who is no slouch in the brains department. I'm not sure where my brother, a municipal employee, stands, but neither am I eager to find out. There is no bridging the political gap between us, and so we simply avoid discussing politics. The same goes for old friends, although newer ones are another matter. One of them walked out on our dinner together in a huff when an innocuous remark I'd made about Abe Lincoln evidently bruised his self-righteously liberal, morally perfect heart . Good riddance. It is far better friends than he that I am worried about. Will they draw the line when I let slip my support for the right to bear arms, even concealed? A few of my wife's closest friends are unmitigated liberals, and it's unclear how much longer we'll be able to tiptoe around the political rough edges when we get together socially.
Read More @ RickAckerman.com
Today's Items:
Hurricane Sandy made landfall days ago and there are reports of looting in hard hit areas. Ahead of the storm panic buying left grocery and hardware store shelves empty with many others demanding actions from government officials. No food, heat, gas, and tainted water supplies has that effect on people. Perhaps, with residents having to go dumpster diving for food along with fist fights over gas shortages, people may wake up to the realization that big government is ultimately useless in crisis situations.
To reduce the 25% unemployment figures, the Swedish government has taken to paying people to look for work in Norway. Any Swedish citizen, aged between 18 and 28, can volunteer to take a "Job Journey" to Oslo in hopes of finding a job. The Swedish government will pick up the 20 euro a night bill at a youth hotel in Oslo. Of course, food is not included.
North America has been experiencing a lot of unusual outages of internet traffic that are not related to Hurricane Sandy. In fact, at one point, the North American Network was only at 51% up with 18 out of the 37 monitors routers down. Many voting machines require the use of the internet and if the internet goes down, then there will be no voting. A few possible reasons for the internet going down would be.
1. Obama orders a shut down of the internet using Executive Orders.
2. NSA err… Hackers take out main network ISP routers.
3. A massive EMP event.
Using a log scale from 2000 to October 19, 2012, the price of gold in relation to the British pound, Swiss Franc, Euro, and U.S. dollar all show each currency approximates a parabolic curve upwards, meaning the currency printing presses are accelerating. In fact, we are quickly approaching the hockey stick moment where all these fiat currencies will simply collapse.
1. Changing geo-political and economic landscape.
2. Do not trust the custodian country, like the US, to keep track of the gold.
3. Foresee the need to protect the future of the country's own monetary system.
Virginia Congressman Gerry Connolly shocked his constituents by claiming that because military vets had spent so much time abroad, they are not qualified to serve in the United States Congress. I would rather have a bunch of so-called "unqualified" military vets in Congress than all of the condom puppets we currently have.
Of all the stupid, idiotic, and expected reasons to increase the speed of the U.S. money printers folks. There is talk on Wall Street of the Fed actually providing monetary accommodation for the freak storm that hit the North East. What is next? QE Christmas to get shoppers out shopping for Christmas? How about QE Hyper Report? Give me a break. Now add this little cherry on top… New York State has asked the Federal Government to cover $6 billion in damages due to the storm.
Finally, please prepare now for the escalating economic and social unrest. Good Day!
Your support is needed...
Thank You
I'm PayPal Verified