America is over $16 trillion in debt. The "official" unemployment rate still hovers around 8%. Our federal government claims the right to spy on American citizens, indefinitely detain them, and even assassinate them without trial. Domestic drones fly over the country for civilian surveillance. Twelve million fewer Americans voted in 2012 than in 2008, yet political pundits scratch their heads. It's not hard to see why, though.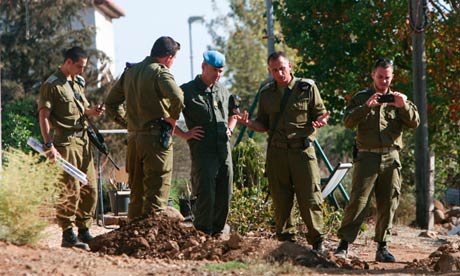 Last week, when we reported that Syria has decided to enter the Golan Heights DMZ, and "provoke" yet another pro-Western stalwart, Israel,
we said
: "Syria can't wait to start a war, hopefully one which also involves Iran, and provokes the punishment of NATO and the west." We said this because when it comes to what the "
fair and objective
" media has deemed rogue states, the theory of
rational actors
no longer applies. Such is the case now in Syria, whose regime is not only involved in a bloody civil war (whose one-sided accounts we get each and every day), but it recently did everything in its power to start a war with Turkey (which failed after it became clear time and again that this was nothing but one huge false flag provocation) and thus provoke NATO's fury which would naturally wipe Syria off the map with the UN's blessing, and start a broader Middle Eastern conflict which certainly would not end there, but has also escalated to Israel just to be certain it gets promptly retaliated against. Today, we learn that Syria has finally gotten what it so urgently desired, after Israel, for the first time since 1973 "
returned fire on Syrian military forces after Syrian shells exploded in Israeli territory.
"
Just because Jack Handey never got to manage $1+ trillion in debt...
Gross: US fiscal cliff deeper than advertised. Its a Grand Canyon. Washington will defer entitlement cuts & raise revenues only marginally.
— PIMCO (@PIMCO) November 11, 2012
from TheRealNews:
Bill Black says a group of Democrats called "The Third Way" are working with President Obama towards the "grand betrayal" on social security
by Stephen Lendman, SJLendman.Blogspot.com:
Obama's economic record includes nearly 25 million unemployed, around 23% of working age Americans without jobs, poverty, homelessness, and hunger at record levels or close to it, and the greatest wealth disparity in US history.
Privileged elites benefitted enormously on his watch. They'll get plenty more ahead. Others are enduring protracted hard times. Bipartisan complicity calls for making things worse, not better. Huge budget cuts loom. Social programs will be hit hardest. More on that below.
America's compromised progressive left hailed Obama's victory. Condemnation should have been headlined instead. Nation magazine lost its soul long ago.
Throughout its history, it pretended to have one. It scorns truth. It turns reality on its head. It ducks responsible reporting on issues mattering most.
Read More @ SJLendman.Blogspot.com

Last week's largely symbolic vote in which the Greek bailout-addicted parliament passed, by the tiniest of margins, the latest request for just one more monetary fix promising that this time it will, pinky swear, get its house in order (and maybe even collect some taxes, because all those previous promises were just rehearsals) succeeded in one thing: the coalition government from this summer's elections, crumbling well ahead of time. Which means the time for yet another parliamentary vote is fast approaching. So if a vote were held today, who would be the most represented parties in the Greek parliament? The answer, according to the latest KAPA poll, is the following...
Your support is needed...
Thank You

I'm PayPal Verified
World's second largest forex reserves holder Japan's gold and foreign reserves dropped for the first time in four months.
According to country's finance ministry, Japan's gold reserves stood at $42.29 billion as total foreign exchange reserves fell for the first time in four months to $1.274 trillion at the end of October, down USD 2.84 billion from the previous month.
As of October 31, foreign currency reserves stood at $1.196 trillion, IMF reserves at $14.57 billion, IMF special drawing rights at $19.95 billion and gold at $42.29 billion.
The drop in foreign exchange reserves was mainly due to the declining market value of its US government bond holdings and gold prices, the ministry said.
Read More @ BullionStreet.com
So both Boehner and Obama have done their post election photo ops. They have spelled out their positions on the looming fiscal cliff. No surprises at all. The Republicans are saying "No" to any increases in tax rates while Obama has said he will outright veto any bill that is presented to him that does not raise taxes on rich folks.
I was surprised by the reaction in the press to the positions set forth by these two. The headlines make it seem like B&O are ready to work together, and achieve the necessary compromises to avoid falling off a cliff. I think the press has it wrong. We're headed into a bitter fight; in part, because the President has drawn a very dangerous line in the sand.
The President has said that the recent election has shown that the majority of American's want the rich to pay more in taxes. What is the President insisting on? Is he pushing for something that would make a difference? I don't think so. More importantly, the Congressional Budget Office does not agree with the President's position.
Read More @ BruceKrasting.blogspot.com
The Stock Market Becomes Sneaky
What was notable about trading in the stock market on Thursday was the market's utter inability to muster a bounce after the big sell-off on Wednesday. There was a feeble attempt at a rebound in the first 20 minutes of trading, followed by a mild decline, then a sideways move in a tight range, another mild lurch lower, another feeble bounce attempt, more sideways trading…and then the day's losses more or less doubled in the final 20 minutes.
That is of course rarely a good sign. Most of the day actually felt rather boring, and when the small rebound from the mid day lows began to take shape, most observers probably thought that the market was about to come back after a small sell-off clearing out a few residual margin calls. The slide at the close was likely a nasty surprise, and although the overall price damage was much milder than on Wednesday, the psychological damage may actually have been greater.
Below is a two day, 5-minute chart of the DJIA illustrating the action:
Read More @ Acting-Man.com
from From the Trenches World Report:
Black Friday, the day after Thanksgiving regarded as one of the biggest shopping days of the year, may be dramatically different this year.
Organizers are planning a nationwide strike against Walmart, the largest retailer in the world, and are banking on a new strategy: online organizing.
Labor organizers are working with social action nonprofit Engage Network as well as corporate watchdog nonprofit Corporate Action Network to pull off what they are calling a "viral" — meaning national and spreading online — strike.
Walmart workers interested in joining the day of action are directed to
to this website
, either to find a store near them with an organized strike or to "adopt an event" at a store near them.
Read More @ FromtheTrenchesWorldReport.com
from Silver Vigilante:
For each action, there is an equal or opposite reaction. With all the talk of Too Big to Fail – and the lack of talk about Too Small to Survive – one would think this was not so. This silence has caused a grave misunderstanding in the regulation to-be introduced by central planners on Wall Street. As Fortune points out, "analysts, consultants and dealmakers have turned from whether Dodd-Frank will be repealed to what it means for banks now that it's likely here to stay. The overwhelming conclusion: Thousands of small banks will soon disappear."
Emmett Daly. a specialist in small bank deal making, conjectured at an industry conference sponsored by Mergermarket that the number of banks in the US would shrink from over 7,000 to just a few hundred. The head of investment banking at Bank of America Merrill Lynch supported Daly's prediction, but implied that the process would take over a decade.
Read More @ Silver Vigilante
by Soraya Sepahpour-Ulrich, Global Research:
In its latest act of blatant hypocrisy, the Obama administration has
sanctioned Iran over internet and media censorship
. The Administration's pretentious concern for the Iranian peoples' welfare is all the more offensive in light of the harsh, illegal, and life-threatening sanctions imposed on that nation, aptly described by The New England Journal of Medicine as a "war against public health" (
Gowans
). The Obama administration would have us believe that it is concerned about human rights and freedom of expression where it has no regard for life itself, much less freedom.
President Obama is not alone or the first in this contradictory policy. In one of the more recent events relating to the topic, Mr. Obama's champion during the 2012 presidential race, Bill Clinton, revealed America's lack of concern and compassion for human life during the Rwandan genocide when he refused to "neutralize" Radio Mille Collines with "counter-broadcasts". Well before the Rwanda genocide, UN officials and other non governmental officials had asserted that radio transmissions were playing a central role in inciting ethnic tension and "ethno-political" murder. Although these broadcasts were an important component of the implementation of genocide, counter-broadcasts urging the perpetrators to stop never took place.
Read More @ GlobalResearch.ca
Your support is needed...
Thank You

I'm PayPal Verified
Gold climbed despite a fall in equities, breaking away from a recent correlation with risk. All dips in Gold and Silver henceforth should be bought pretty quickly given the Global fiscal challenges that lie in wait.
from Commodity Trade Mantra via SilverBearCafe.com:
Resolving any debt issues with more debt or simply delaying them to a further date will remain highly positive for Gold, but will be better for Silver. This has been seen & experienced over the past 4 years & hold true even now. But even this can prove right to a certain extent of time, which on any scale seems to be getting over stretched. Theory and reality don't always agree & if they do so, it could last only for a certain stretch of time. There will soon come a time when even this equation collapses. Gold &
Silver
will surely rise as Global Debt levels are increased and / or postponed to a later date. Increased monetary easing will sharply spike up
Inflation
, which in turn is highly positive for
Gold and Silver
or also other metals to an extent. Nonetheless we regard pullbacks in Gold as a buying opportunity for now and hold strong to our near term forecast of $1,855. Just imagine a scenario where National Debts are High, Jobless numbers are high, Inflation is also high & strain & frustration on public is high & rising. All these will lead to riots, civic unrest & crime.
Gold
& Silver will surely get a boost but for the price rally to sustain there needs to be a continuous money supply at higher levels – Where will that come from?
Read More @ SilverBearCafe.com
from Gold Money:
Gold has been the standout
winner
following the US election. The metal's performance yesterday was particularly impressive in that it coincided with notable losses in stock markets.
The Wall Street Journal
comments that year-to-date, gold has outperformed the S&P 500 (the former up 10.6%; the latter just 10%).
This is not a huge difference, and critics of gold will be sure to note that it doesn't pay a dividend. But as Franco-Nevada Chairman Pierre Lassonde once commented: "bullion doesn't pay interest or dividends, nor does it grow or expand by itself. That's the price you pay for tranquillity." Physical gold (and other precious metals) are no one else's liability, in contrast with stocks, bonds, and currencies; given the shakiness of the financial system at the moment and the systemic risk affecting financial assets, this value is not to be sniffed at.
Read More @ GoldMoney.com
by Bruce Krasting, Bruce Krasting Blog:
The Congressional Budget Office is out with a very well timed report on what the hell should be done with debt, deficits, taxes and the economy.
There is a lot of information in the reports.
(link)
, I doubt that too many of the folks in Congress will bother to read it. I looked through it; I think the following chart is the one the deciders in D.C. will focus on:
Lots of policy options are measured in the chart. Think like a politician, and go to the bottom line. What set of proposals has the biggest bang?
-Totally junk the scheduled spending cuts for the military.
-Do away with all of the mandatory non-defense cuts (sequestration).
-Don't do anything with taxes. Roll over everything for a couple of more years.
-Extend the 2% payroll tax break for two years.
If we kick the can down the road for a few more years, what do we get?
Read More @ BruceKrasting.blogspot.com
by Joel Gehrke, The Washington Examiner:
House investigators asked Secretary of State Hillary Clinton to testify next week about the September 11 terrorist attack in Benghazi, but she declined citing a scheduling conflict.
"[Clinton] was asked to appear at House Foreign Affairs next week, and we have written back to the Chairman to say that she'll be on travel next week," State Department spokeswoman Victoria Nuland
told reporters yesterday
. "She has a commitment with the Secretary of Defense to the AUSMIN Ministerial."
Per AFP
, "AUSMIN is the highest level forum for Australia and US consultation on foreign policy, defense and strategic issues." The United States is
reportedly concerned
about Australia's plan to cut their defense spending.
Clinton has not been asked to testify at any of the other hearings next week, Nuland said.
House Foreign Affairs Committee Chairman Ileana Ros-Lehtinen, R-Fla., has been frustrated with the State Department's failure to provide information that she has requested.
Read More @ WashingtonExaminer.com
Emergency Shelters that are open, are Death Traps
from Off Grid Survival:
FEMA
, the federal agency who's responsible for responding to natural disasters and emergencies, apparently
can't figure out how to respond to anything
. Over a week after Hurricane Sandy hit the East Coast, the agency is still having trouble providing basic emergency supplies and shelter to the affected area.
And now to add insult to injury, FEMA has actually had to shut down emergency relief shelters due to a snow storm that just hit the area.
Is this really what America voted for?
We spend
billions
of dollars a year on this agency and
they can't even handle the one thing their supposed to be able to do
; respond to an emergency situation.
Read More @ OffGridSurvival.com
by Kerry Picket, The Washington Times:
Freedom Works has put together a list of companies that will be laying off employees as a result of President Barack Obama's health care law:
Welch Allyn
: a company that manufactures medical diagnostic equipment in central New York, announced in September that they would be laying off 275 employees, or roughly 10% of their workforce over the next three years. One of the major reasons discussed for the layoffs was a proactive response to the Medical Device Tax mandated by the new healthcare law.
Dana Holding Corp.
: As recently as a week ago, a global auto parts manufacturing company in Ohio known as Dana Holding Corp., warned their employees of potential layoffs, citing "$24 million over the next six years in additional U.S. health care expenses". After laying off several white collar staffers, company insiders have hinted at more to come. The company will have to cover the additional $24 million cost somehow, which will likely equate to numerous cuts in their current workforce of 25,500 worldwide.
Stryker
: One of the biggest medical device manufacturers in the world, Stryker will close their facility in Orchard Park, New York, eliminating 96 jobs in December. Worse, they plan on countering the medical device tax in Obamacare by slashing 5% of their global workforce – an estimated 1,170 positions.
Read More @ WashingtonTimes.com
MUST WATCH...Ann Barnhardt: The Economy Is Going To Implode, and you deserve to understand why..Pt.1 of 8
Dear Daily Readers...Please watch ALL parts of this video presentation

, and Forward to all your family and friends.
by SGT,
Much has been said about Ann Barnhardt. Both good and bad. Our take on Ms. Barnhardt is that despite her penchant for maligning Muslims and painting a world view with an extremely narrow brush based on her fundamentalist Christian beliefs and her post 9/11 world view, Barnhardt still manages to score points for having bigger balls than most MEN we know. Barnhardt never holds back when it comes to exposing the epic crimes of the Banksters, while her desire to warn folks about our morally and literally bankrupt financial system appears sincere.

In Ann Barnhardt's latest Power Point presentation, she outlines in detail the many reasons why we are screwed. Indeed, the economy is going to implode.
Your support is needed...
Thank You

I'm PayPal Verified