"Recently, Johnson Matthey have put 172 "bad delivery" U.S. Assay Office bars into good delivery form for account of the Deutsche Bundesbank
. These bars formed part of recent shipments by the Federal Reserve Bank to provide gold in London in repayment of swaps with the Bundesbank.
The out-turn of the re-melting showed a loss in fine ounces terms four times greater than the gross weight loss
...
No indication should, of course, be given to the Bundesbank, or any other central bank holder of U.S. bars, as to the refiner's views on them
."
May 1968
Economists the world over can take comfort that the
laws of supply and demand still largely rule the marketplace
. However, we believe there is a noted exception for a yellow, largely useless metal. A metal that just happens to have shaped the world's monetary systems for the last several thousand years. Gold's "supply" traditionally defined as global mining production is virtually meaningless in determining its' price. How can this be?
Gold, even when viewed as a commodity, is unique in that it is not consumed.
Rather than supply in the traditional sense, what drives the gold price is the percentage of the existing stock (170,000 tons) that is available for sale on any given day.
Gold, in our opinion is what is often referred to as a Giffen good.
We believe that a massive revaluation of gold denominated in dollars can happen quite suddenly, almost overnight. But not because of any sustained long term demand for gold, but simply because owners of metal simply withdraw it from sale, sending the stock to flow ratio to infinity. This is why
understanding gold's stock to flow ratio is so vital
. What happens to the "price" of gold when it ceases bidding for dollars? Zero. Or infinity. Take your pick.
The US has finally voted and the dark visions of America's future broadcast on television screens across the country — and most intensively in battleground states — have come to an end. Supporters of both Barack Obama and Mitt Romney had developed doomsday scenarios for what would happen if their candidate's opponent were to win. Four more years of Obama, the ads warned, would result in pure socialism. A Romney presidency would see the middle and lower classes brutally exploited.
Read More @ Spiegel.de
by Philip Moeller, Yahoo Finance:
As strapped state and local governments scramble for ways to balance their budgets, it's become very clear that it will be impossible for many to honor their pension promises to new employees and even current retirees. According to a recent economic study, the cost to fully fund these promises would cost taxpayers $5 trillion over a 30-year period, or nearly $1,400 a year in higher state and local taxes and fees for every household in the country.
Put another way, contributions to pay for public employees' retirement benefits now total 5.7 percent a year of all state and local taxes, fees, and other government charges. "Government contributions to state and local pension systems must rise to 14.1 percent" to produce fully funded pension systems, the study said, and it will take 30 years to get there.
Read More @ Finance.Yahoo.com
from FinancialSurvivalNetwork.com: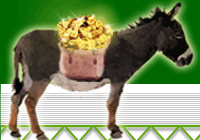 According to Jim Willie, gold, far from being a barbarous relic, is about to resume its historical role as the main pillar of the world's monetary system. China, Russia and Germany are looking forward to the day when the dollar loses its primacy and a new system is crafted to restore stability, and to facilitate world trade. Jim has numerous highly placed sources around the world's financial system. They're all telling him that a new trading system will be implemented as soon as the dollar hits its nadir. And when it comes to storing your gold, Jim believes there's only one place you should consider: Hong Kong. He feels that HK's business ethics are the world's highest, and that Mainland China is intent on keeping it free and prosperous.
CLICK HERE FOR AUDIO INTERVIEW
Sometimes, it just pays to keep it simple stupid. At some point, the dismal economic reality of our post-credit-creation-miracle boom world will reassert itself in asset prices. The catalyst may not be obvious (like a close-election reminding a nation of sheep just how divided we are as a people and implicitly as a political class - and what that means for our future fiscal probity); but it is coming. 'Cycles' cycle; the Fed has fired its bazooka; and OMT omnipotence is in doubt;and the only way we get 'moar money' from our central planners is if their hand is forced by a reversion to reality...
While
Mr. Panos
has often been used as the poster boy for the Greek people, his shortened premise is -
we will keep taking the Europeans money until they no longer want to give it to us
. In the meantime, the Greek people have suffered due to the previous largesse of their government and need for a 'reversion' to the mean of their relative wealth. The following brief clip offers some insight (or defense) of who the real man-on-the-street is in Greece. Not the media's interpretation of a
lazy, cheating, ungrateful, helpless, corrupt, violent, rude, racist, tax-evading, trouble-making thieving vandal - that lives with his mother
; but
a scapegoat for all that is wrong in Europe and remains shocked, confused, frustrated, and upset
. It's someone's fault, right? Why not Alex?
Cash equity markets closed the day very marginally in the green - ending the
worst week in over five months
. S&P 500 futures are bleeding red after-hours as we note significant volume came in after the President began speaking - from which we closed down 1%.
Cross-asset correlations were extremely high today as it seemed all about equities
(and equities were all about AAPL). Credit markets (and volatility) were not enjoying the morning party as much as stocks but by the close equities reverted back down to reality. Gold remains the week's big winner (post-election) but we note that 10Y yields fell from over 1.75% into the election to under 1.60% at their lows today.
The USD ended the week +0.6% and Treasury yields down 10-15bps
. AAPL gained 1.75% (phew) but traded extremely technically with heavy volume around VWAP into the close which helped Tech slightly outperform Financials on the week (-2.5% vs -3.1%).
A day of technical bounces and all eyes on stocks...
Anyone investing in the gold (&silver) must accept the following: The gold market is managed. There's a difference between managed and controlled. Those that cannot recognize its management should not trade it. Investing and trading gold are not the same. The message of the market is the only "truth" that matters. Everything else is assumed COMPLETE bullshit unless proven... [[ This is a content summary only. Visit my website for full links, other content, and more! ]]
Rising "confidence" is not bearish for gold long-term. Strong negative correlation between gold and consumer expectations during secular bull market phases debunks this well-traveled inference. The price of gold will accelerate to the upside when confidence finally cracks to the downside. The current setup 'smells' a lot like 1976. If you believe I'm full of it, ask Jim. He... [[ This is a content summary only. Visit my website for full links, other content, and more! ]]
*There is no reason to expect that renewed efforts at federal budget deficit reduction will result in anything more than the usual smoke and mirrors, further increasing, not reducing, long-term U.S. sovereign-solvency risk. In reality, the U.S. economy has not recovered, and no recovery is pending. Consumer liquidity remains severely impaired, and broad business activity continues to falter anew. As a result. the actual federal budget deficit going forward will be much worse than the relatively rosy numbers being used as the basis for government negotiations*- John Williams, www...
more »
from TheAlexJonesChannel:
The Central Intelligence Agency (CIA) is using drug money to fund Rafael Correa's opposition in the coming 2013 Ecuadorian elections, intelligence sources have revealed to Chilean independent media. The accusations do not stand alone. In October, former UK diplomat Craig Murray said that the CIA had tripled its budget to destabilize the government of Ecuador.
The allegations were made public by President Rafael Correa on November 3rd on national television, just days after his official visit to Chile to meet with President Sebastian Piñera.
from The Daily Bell:
Mayor Bloomberg Signs Emergency to Establish Odd-Even License Plate System for Gasoline Purchases to Reduce Wait Times … Mayor Bloomberg today signed an emergency order to establish an odd-even license plate system for gasoline and diesel purchases to reduce wait times and lines at gas stations in the five boroughs. Hurricane Sandy caused significant flooding and damage to petroleum infrastructure throughout the tri-state region – causing refineries to shutdown, pumping stations to lose electricity and terminals in the region to close. – Mike Bloomberg.com
Dominant Social Theme:
When there is a crisis, it's a good thing for the government to step in.
Free-Market Analysis:
This isn't the biggest story in the world but it is one with clear
power elite
memes
. The
dominant social theme
obviously has to do with the need for government, the larger the better. The
subdominant social theme
is that oil is in short supply generally and needs to be rationed at the first sign of a crisis.
It's always irritating to see "Mayor Mike" inflict his peculiar brand of technocratic crackpot-ism on New York City. Few realize it, but New York IS being run in a technocratic way.
Read More @ TheDailyBell.com
from Capital Account:
Bloomberg reports UK prosecutors are ready to arrest former traders and rate setters at UBS, RBS, and Barclays for questioning over their role in the Libor scandal. We ask Michael Maloney, founder of Gold-Silver.com, if the larger crime is not LIBOR manipulation, but the ongoing war against the price mechanism itself through reckless central banks and fiscally irresponsible governments.
Also, today House Speaker John Boehner and President Obama outlined plans for reducing the national debt, setting the stage for a contentious debate over the Fiscal Cliff. This morning Boehner announced "I outlined a responsible path forward to avert the fiscal cliff without raising tax rates." Meanwhile, a few hours later, Obama told reporters "If we're serious about reducing the deficit, we have to combine spending cuts with revenue. That means asking the wealthy to pay a little more in taxes." It seems politicians are nowhere near reaching a compromise anytime soon. Would it be so bad if the US fell off the Fiscal Cliff? According to a new Congressional Budget Office report the impact from going over the fiscal cliff would be recession in the US economy next year and an increase in the jobless rate from 7.9 to 9.1 percent by the end of 2013. A deal to avert this would mean a deficit of 503 billion dollars higher than it would otherwise have been in fiscal year 2013. We talk to Mike Maloney of Gold Silver about what the Fiscal Cliff would entail for the long term picture of the US economy, and if going off the cliff could at least be a wake-up call for politicians to do something at long last.
by Simon Black, Sovereign Man :
According to Google's trend analysis, keyword searches for terms like "renounce citizenship" have soared in the past week.
Is it any wonder? Millions of people are disconcerted, dismayed, or outright disgusted at President Obama's victory, and they sense a continued decline of civil liberties and economic opportunities.
The frustration and apprehension is understandable. I can't begin to tell you how many emails we've received over the last few days, mostly from US citizens who reached their breaking points, asking "where can I get a second passport?"
Read More @ SovereignMan.com
The post U.S. election recovery in the gold price is yet another sign that the 'fear trade' is beginning to impact the gold market as investors seek safe havens again.
by Lawrence Williams, MineWeb.com
Gold's price pattern since the results of the U.S. Presidential election has been an interesting one. Most analysts had predicted that gold would rise if President Obama retained his position, and now other factors have come into play – perhaps most noticeably that the post-election nervousness about the path of the U.S. economy, coupled with no end in sight to the Eurozone problems (indeed things appear to be getting worse with expectations that the Eurozone is heading for recession – including mighty Germany).
What had been surprising about the path of the gold price through the past year or so is that it often fell back on poor global economic news when the old safe haven arguments for the yellow metal might have been thought to come increasingly into play.
Read More @ MineWeb.com
Your support is needed...
Thank You

I'm PayPal Verified
by Barbara H. Peterson, Farm wars:
Look out people of planet earth, genetically engineered bugs are here. Just in case you haven't figured it out yet, our technocracy is working ever diligently on genetically engineering every last living cell on the planet – WITHOUT EXCEPTION. What does this mean for life here on earth? Ever hear the expression "soup sandwich?" Well, after these "scientific" geniuses are through with us, that is exactly what all life will be – a genetic soup sandwich, made in a lab, and stamped with a corporate logo embedded in our DNA.
If the following report from Testbiotech doesn't send chills up your spine, I don't know what will. Get ready world, because nothing will ever be the same. Ever. There is no remediation technique available to clean up genetically engineered mutations released into the wild and spread through horizontal gene transfer.
Read More @ FarmWars.info
by Dan Steinhart, Daily Reckoning.com.au:
Finally, the voters have spoken…the bastards!
The US has too much debt. This is no longer a controversial statement. Some may believe other problems are more urgent, or that we need to grow our way out rather than slash spending. But even the most spendthrift pundits acknowledge that the debt-to-GDP ratio of the US must decrease if we are to have a stable, prosperous economy.
The private sector has reacted to this over-indebted reality as you would expect: by deleveraging. Since 2008, households and businesses have extinguished 67% of their debt when measured against GDP. Some paid debt down purposefully, and others defaulted. For our purposes, it doesn't matter how the debt went away. Only that it did.
Meanwhile, the government has done the exact opposite. It has upped its own borrowing by 52% of GDP since 2008.
Read More @ DailyReckoning.com.au
by David Schectman, MilesFranklin.com:
I took Susan to see
Flight
with Denzel Washington this afternoon. It's a great movie and he is a wonderful actor. After we stopped at
Grill On The Alley
, one of our favorite restaurants here in Aventura. We sat at the bar and had dinner and a drink. Somehow, it always seems to happen because Susan is so very friendly and social, I ended up in a conversation with two older ladies, and one of them said she had all of her money in tax-free bonds. I gave her a very clear explanation of why that was not a good idea NOW. With the dollar debasement and inflation that is about to sink us, the last thing anyone needs is to have all of their money in bonds, any kind of bonds, or annuities too for that matter, if denominated in dollars. The poor old lady was frozen, like a deer in the headlights. She heard what I had to say and maybe even agreed with it, but people just refuse to change. Old habits die hard.
Then a man named Mustafa joined in. He said he taught a class on credit card and debt reduction and he was overheard what I had to say. He was educated, bright and totally misguided. He felt taking money from the rich and giving it to the poor was the right thing to do. He felt that debt doesn't matter. I asked him, "If debt doesn't matter, why doesn't the government send every American one million dollars. Wouldn't we all be better off? He had no answer.
Read More @ MilesFranklin.com