First the flood, now the freeze (and the lack of fuel and gas and heating just making it much worse). And for tens of thousands of residents of New York and New Jersey this means that as many as 40,000 will need to find alternative housing, especially ahead of Wednesday when a Nor'easter formation is expected to hit the Tristate area and bring even more freezing rain and cold to the region. From
Reuters
: "
Tens of thousands of people affected by superstorm Sandy could soon need housing
as cold weather descends on the state of New York, Governor Andrew Cuomo said on Sunday. Cuomo, in a televised press conference nearly a week after the storm hit the U.S. East Coast, said the fuel shortages are improving but problems will persist for "a number of days."" Elsewhere, and also from
Reuters
: "Victims of superstorm Sandy on the U.S. East Coast struggled against the cold early on Sunday amid fuel shortages and power outages even as officials fretted about getting voters displaced by the storm to polling stations for Tuesday's presidential election. Overnight, near-freezing temperatures gripped the U.S. northeast. At least two more victims were found in New Jersey, one dead of hypothermia, as the overall death toll from one of worst storms in U.S. history climbed to at least 112. Fuel supplies continued to rumble toward disaster zones and electricity was slowly returning to darkened neighborhoods after a storm that hit the coast last Monday. New York Mayor Michael Bloomberg said it would be days before power is fully restored and fuel shortages end."
Tired of pundits with black boxes and book deals telling you the election is a done deal because some statistically-sampling, biased,
Garbage In, Garbage Out
model "said so" (remember when the same GIGO logic made every structured piece of toxic RMBS toxic be rated AAA simply because the rating agency models couldn't account for the improbable case of real estate prices actually
going down?
) Then decide for yourselves. With 48 hours left until polls close, below are the 512 permutating paths available to the two candidates on their way to the White House throne (assuming the other states vote the way they are "expected"). And with the election having crossed far beyond mere theatrical tragicomedy and now well into NCAA finals knock out fever, one can see why Florida and Ohio are really all the matter.
Mitt Romney's policy statements have this far been quite hawkish
on both the approach to 'dealling' with adversaries and on the funding of the military (growing DoD by 2,5% per year).
President Obama on the other hand wants to build consensus
and have us move in tandem with our allies. As such, he wants to keep our military spending relatively flat and encourage our allies to spend more. For everything you wanted to know about their policy and budget differences, but were afraid to even contemplate, as well as
fiscal and threat realities
, these four charts are critical. No matter the winner,
the next President faces difficult fiscal realities given the $1T+ deficits of the day. He'll also face a threat environment that includes a potentially "nuclear" Iran, an emerging China, an unstable middle-East, a frosty Russia, and a growing concern over cyber security.
Back in the summer of 2010, when the SEC was still desperate to (laughably) scapegoat the May 6 Flash Crash on Waddell and Reed, in an attempt to telegraph to the public that it was
in control
of the HFT takeover of the stock market (an attempt which has since failed miserably as days in which there are
no
occult trading phenomena have become the outlier and have resulted in the wholesale dereliction of stock trading by retail investors), we
first
presented and
endorsed the Nanex proposal
that the flash crash was an "on demand" (either on purpose or by mistake) event, one which occurred as a result of massive quote stuffing which prevented regular way trading from occuring and resulting in a 1000 DJIA point plunge in minutes (the
audio track to which
is still a must hear for anyone who harbor any doubt the market is "safe"). It turns out that in the nearly 3 years since that fateful market crash, not only has nothing been done to repair the market (ostensibly broken beyond repair and only another wholesale crash, this time without DKed trades, and bailed out banks, could possible do something to change the status quo) but the Denial of Service (DoS) attacks that HFT algos launch, for whatever reason,
have become a daily occurrence as the following demonstrations from Nanex confirm beyond a shadow of a doubt
.
To us, the ECB's superficial, amusing take on BitCoin was merely a
source of (Friday) humor
. To others, such as Tuur Demeester, the ECB's report on "Virtual Currency Schemes" which was merely a confused attempt to validate the Euro by bashing a prototype
electronic currency that others
have written far more informed articles on, has far more profound insights into central banker mentality. We are skeptical: the ECB has far more existential issues to worry about than whether people will be paying for that house in Calabria with BitCoin (they won't; at least not any time soon), such as how fast until Spain and Greece run out of rehypothecatable and repoable assets, that allow the ECB to continue creating its own version of electronic money (in this case named Euro) out of thin air. But for those seeking more than what meets the central-planner's eye (because what better ploy than to divert attention from where it truly needs to be focused: such as Spanish bonds for example getting a 0% haircut instead of 5%), here are some answers to the question whether "the CB's toolbox have what it takes to contain a private, decentralised cryptocurrency? Or: Bitcoin seen through the eyes of a central banker."
Mario Draghi has reassured the world that no matter how much 'crap' collateral is taken on to the ECB's balance sheet, their risk management process is rigorous and ensures the safety of the entity's capital thanks to well-devised haircuts and collateral. Once again, it appears from a report in
Die Welt
(
via Bloomberg
),
Draghi lied
, as the ECB is now checking terms on some lending to Spanish banks that may have already contravened the ECB's mandate allowing
overly generous terms to be offered on the Spanish banks' collateral
. As Bloomberg notes, the issue surrounds
EUR80bn relatively short-dated T-Bills
which were
wrongly classified as rated 'A' instead of the 'B'
that agencies - except DBRS! - had assigned (a vast difference) - which would imply (if the ECB re-assigns the correct rating) the
affected Spanish banks would have to produce up to EUR16.6bn in additional collateral
(cash or quality collateral that is non-existent in Europe). This of course "casts doubt on the quality of the ECB's risk management" and merely serves to confirm the Juncker-ian lies we have come to expect from Europe's leaders (economic and political). As Die Welt notes: "
Critical observers ask: who actually controls the ECB?"
A week ago
we reported
that as part of the surge in the Italian anti-austerity movement, the time had come for none other than that forced exile (courtesy of the ECB's bond yield tactics) whose political career ended prematurely precisely one year ago, Silvio Berlusconi, to announce not only his political ambitions, but his desire for vengeance when he made it clear he is willing and ready to scuttle Mario Monti's cabinet. It appears that in the April elections, Silvio may now be challenged by none other than Ferrari head, Luca de Montezomolo, boss of the Scuderia, who Ansa reports "has hinted he might rethink his recent No to stepping into the political ring after April elections."
Your support is needed...
Thank You
I'm PayPal Verified
In the aftermath of yesterday's better than expected jobs number there have been many analyses in the media on both sides of the aisle, either attacking or defending Obama's track record in creating jobs. All have come up with arguments which according to their authors, are solid and defensible. There is one analysis, however, which is missing, and that is a follow up of what we showed yesterday in "
Chart Of The Day: America's Geriatric Work F(a)rce
." In it we demonstrated the very much
"under the radar"
schism of America's workforce since the NBER-defined official end of the recession in June 2009 into the "
haves
", or those above 55, who
have
been able to get a job since the end of the recession, and the "
have nots
", or all those in the labor force who have
not
been able to find a job. So how does this data look when extended to the beginning of Obama's term, or the 46 full months starting with his inauguration in January 2009, and continuing through the latest, October 2012 data point. The chart is presented below; you decide.
Joe Joseph talks about Proposition 37: GMO Food Labeling. Raj Shah, John Diaz, and Howard Vlieger talk about their mission to get Proposition 37 passed in the state of California.
by M. Frank Drover, The Daily Sheeple:
With Hurricane Sandy victims unable to find food, gas, and clean water, and freezing temperatures rolling in, the hunt for resources is on.
This weekend, gas spiked to $25 per gallon in New Jersey.
I waited in line for 2 hours to fill up a 5 Gallon gas container.
I'm willing to sell it for the right price and will deliver!
$25 per Gallon OR Shoot us your best offer!!
Read More @ TheDailySheeple.com
by George Washington via Zero Hedge:
Romania has
demanded
for many years that Russia return its gold.
Last year, Venezuela
demanded the return
of 90 tons of gold from the Bank of England.
The German high court recently ruled that Germany must audit its gold reserves held in foreign countries such as the U.S., England and France. And German inspectors will actually travel to the New York Federal Reserve Bank's gold depository and the Bank of England to inspect their gold.
Germany will also repatriate 150 tons of gold in order to test it for purity.
As Zero Hedge
notes
(quoting Bloomberg):
Ecuador's government wants the nation's banks to repatriate about one third of their foreign holdings to support national growth, the head of the country's tax agency said.

Carlos Carrasco, director of the tax agency known as the SRI, said today that Ecuador's lenders could repatriate about $1.7 billion and still fulfill obligations to international clients.
Read More @ Zero Hedge
from TruthNeverTold :
by Staff Report The Daily Bell:
Navy Seals furious with
Obama
says Brad Nagel, 20 year Navy veteran and former SEAL. Newly released emails indicate that the Obama White House KNEW WITHIN 30 MINUTES of the initial uprising that the American Embassy in Benghazi was under full terrorist attack. An American drone reportedly sent the State Department situation room real time footage of the jihadist assault. As State Department officials watched the bloody, clearly pre-planned and well organized attack unfold; our Commander in Chief refused to take action. It has been further reported that instead of staying in the situation room, the President retired to his quarters for an early bed time, leaving horrified State Department personnel alone with the live feed horrors from Benghazi. – TeaPartyorg.ning.com
Dominant Social Theme:
Thank goodness the SEALS are speaking out.
Free-Market Analysis:
All over the US news are reports about what really happened in Benghazi and how the treacherous Obama administration declined to act.
But if you listen closely, you can hear a number of
power elite
memes
being reinforced. The
dominant social theme
in this case is that there is always treachery at high levels of government and that fortunately, the demos is self-correcting.
Read More @ TheDailyBell.com
by Adrian Ash, Bullion Street:
Deleveraging, like Hamlet's nothing, is only good or bad when you come to think about it.
And what view you choose speaks to your moral view of the world too, and so to your economic theory as well, whether or not you know it. Because for every "liquidationist" saying the debt must be paid down, and savings must be built up before a new cycle can begin, there is another economist urging government and central banks to take on releveraging themselves, so the net effect is nil. Otherwise we're doomed to a permanent depression.
UK households care little for such chatter, however. By September 2008, their net debt – their total savings minus their borrowings – were equal to 20% of the UK's annual economy. People owed the banks 300bn pounds more than the banks owed to them.
How things change! Banks won't lend, and people won't borrow even at 0% interest rates. Net result?
Read More @ BullionStreet.com
by Bionic Mosquito, Lew Rockwell:
Many look to the time 1898 as the beginning or commencement of the American drive for imperialism; empire. The Spanish – American War, involving the United States in Cuba and the Philippines, is seen as this point – when America began on the road to empire (at least by those willing to recognize the imperial nature of the U.S. Many are not.).
The drive to empire began much earlier than 1898. Justin Raimondo recently wrote an essay on the War of 1812, "
1812: The War Party's First 'Success'
," in which he describes the war in terms both neocon and imperial:
The two-hundredth anniversary of the beginning of the War of 1812 is upon us, and I'm shocked and surprised the War Party hasn't planned a celebration: after all, as Jefferson Morley points out in Salon, this was the first neocon war, i.e. an unnecessary war of choice.
Read More @ LewRockwell.com
by Anthony Cherniawski, The Market Oracle: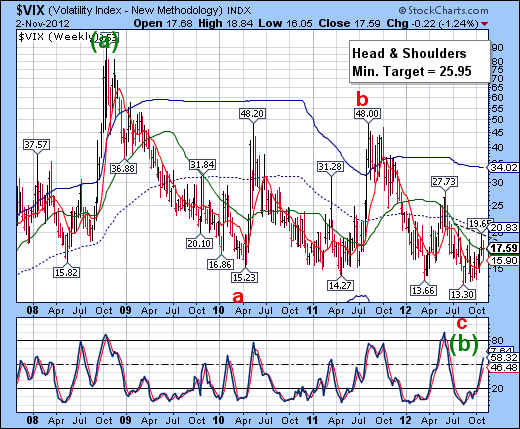 The VIX bounced from its 10-week moving average to complete a minor retracement, then closed above its 40-week support at 17.43 this week. A breakout above the inverted Head & Shoulders neckline and mid-Cycle support/resistance at 20.83 announces that a Third Wave is underway with substantially higher targets. Once the initial target is met, VIX has a shot at Cycle Top resistance at 34.02 and possibly much higher.
- SPX broke through its Ending Diagonal trendline at 1418.00 late this week, after retesting it on Friday. This is where the excitement begins. The next possible support is the 40-week moving average at 1383.51. Technicians are beginning to wake up to the fact that a major key support has been broken. The Broadening Top formations lies just beneath, suggesting the decline may be much faster and deeper than normal. There are four potential Broadening Wedges nested within each other that may cause a "pancake effect" as the decline breaks the supports of these formations, one after another. In addition, the extended rallies are delaying major cycle lows that are now long overdue. This could have the effect of compressing an already significant decline into an intense panic situation.
Read More @ TheMarketOracle.co.uk
With the exception of Goldcorp, third quarter results from the big five global gold miners are looking pretty dire.
by Lawrence Williams, MineWeb.com
This doesn't look like being a good quarter for the world's top five gold miners, with only
Goldcorp
the exception. Both
Barrick
and Newmont have published figures for the quarter which will have seriously disappointed analysts, while South Africa's two top producers have of course been suffering badly from the wave of worker dissent in their main country of production which followed on from the platinum mine strikes and the Marikana massacre.
Let's consider the major miners individually:
Barrick Gold,
the world's largest gold miner, not only saw third quarter earnings fall by 55% compared with a year ago – but also had to report yet another increased capital cost estimate for its massive Pascua Lama project straddling the Argentinean/Chilean border. The project cost now stands at an enormous $8-$8.5 billion, effectively $1billion more than the previous figures only re-estimated a quarter earlier, and getting on for three times the original cost estimate of only three years ago.
Read More @ MineWeb.com
Your support is needed...
Thank You
I'm PayPal Verified
by Staff Report Narco News:
When Hosni Mubarak Shut Off Cell Phones and the Internet in January 2011 Was the Moment When More Egyptians than Ever Went Out into the Streets
In March 2011, just weeks after the Egyptian Revolution brought the fall of the dictator Hosni Mubarak, the Narco News School of Authentic Journalism went to Cairo to interview key participants about their direct lived experience during those historic moments.
We asked each of them these questions:
On Friday January 28 the regime turned off the Internet. Did that change your experience of the revolution?
If you are someone who had spent a lot of time online before then, how did you spend those newly free hours during the four or five days that there was no Internet?
And what do you think about claims by some international media that the Egypt resistance was a "Twitter revolution" or "Facebook revolution"?

Did the shut down of the Internet hurt the cause or did it help? Why or why not?
Read More @ NarcoNews.com