For weeks, the US was rumored to plan a "freedom of navigation" exercise in the contested Spratly islands which, as we've pointed out several times this month, amounts to sailing by China's man-made outposts just to see if the PLA will shoot.
Moments ago, the wires lit up with news that President Obama has green-lighted the exercise. The USS Lassen, a guided-missile destroyer, is now set to sail within 24 hours.
Submitted by Tyler Durden on 10/26/2015 - 17:40
Accounting fraud remains at the heart of the fix
instituted by Ben Bernanke and the ploy has been copied by authorities throughout the global financial system, including the central banks of China, Japan, and the European Community. That it seemed to work for the past seven years in propping up global finance has
given too many people the dangerous conviction that reality is optional in economic relations.
The recovery of equity markets from the disturbances of August has apparently convinced the market players that stocks are invincible.
Complacency reigns at epic levels. Few are ready for what is coming.
Submitted by Tyler Durden on 10/26/2015 - 18:55
Having previously explained
President Obama's recovery in charts
, we thought words and pictures would be a better indicator of the dire situation facing so many Americans that get missed by the business media's spotlight.
With 9.4 million more Americans below the poverty line than before the crisis
, as
The LA Times reports,
it's disturbing to see so many people so destitute - even if they're working - that they've resorted to selling body fluids to make ends meet
. The going rate for plasma donation, which can take a couple of hours, is about $25 or $30. But Octapharma is offering $50 for the first five visits,
"when you get that $50, you feel good," one plasma 'seller' said, "I paid my gas bill."
If this is indeed a rerun of the post-LTCM/pre first tech bubble days, then oil is about to soar by 150%
"Red meat, under which the IARC includes beef, lamb and pork, was classified as a 'probable' carcinogen in its group 2A list that also contains glyphosate, the active ingredient in many weedkillers."
Submitted by Tyler Durden on 10/26/2015 - 17:15
Why is the deal particularly notable? Because Zell has traditionally had a very keen nose about such things as "market peaks":
the 74 years old is credited with calling the top of the real-estate market in 2007, when he sold another of his companies, Equity Office Properties Trust, to Blackstone for $23 billion.
Soon after, the commercial-property market crashed as prices fell and debt defaults surged when it became apparent that
subprime was not contained
.
Submitted by Tyler Durden on 10/26/2015 - 16:50
The inherent problem of "eternal bullishness" is the "wilfull blindness" to the underlying data in an effort to chase short-term returns.
This leads to the unfortunate problem of being
"all-in"
on every hand which has a devastating consequence when a mean reverting event occurs. In the end, it does not matter IF you are "bullish" or "bearish." The reality is that both "bulls" and "bears" are owned by the "broken clock" syndrome during the full-market cycle. However,
what is grossly important in achieving long-term investment success is not necessarily being "right" during the first half of the cycle, but by not being "wrong" during the second half.
With 1998/99 analogs abounding, we thought it worth looking at a more ominous similarity.
The breadth of the US equity market is "narrowing" dramatically
; and bad breadth was a big flashing red feature of 1999.
It was only a couple of months ago that a rapidly rising dollar was pushing the global economy closer to a new crisis. It seems unlikely that the conditions that made a rapidly rising dollar a problem in August have all been resolved by October.
Those who bought stocks last week in response to hints of more easing from Draghi – and the rate cut in China – may find themselves in the same position as Pavlov's dogs, wondering why no meal follows the ringing of the bell.
Polling for the GOP presidential primary has begun to stretch even the most flexible limits of reality and credibility.
Submitted by Tyler Durden on 10/26/2015 - 15:05
Distillate storage utilization in the US and Europe is nearing historically high levels,
following near record refinery utilization, only modest demand growth (especially relative to gasoline), and increased imports from the East on refinery expansion and Chinese exports. As Goldman warns, this raises the spectre of 1998/2009 when distillate storage hit capacity, pushing runs and crude oil prices sharply lower. This also raises the question of
whether today's oil market can rebalance through financial stress
– prices remaining near their current low level through 2016 –
or
if operational stress
– breaching storage capacity and forcing prices below cash costs –
is unavoidable
.
Submitted by Tyler Durden on 10/26/2015 - 14:50
"The nightmare for the Riksbank board is maybe something like this: they are gathered in the south of Sweden, looking out over the Baltic Sea, when they see a giant wave of money coming in from the euro zone and try to fight it with a hose."
by Michael Snyder, End of the American Dream: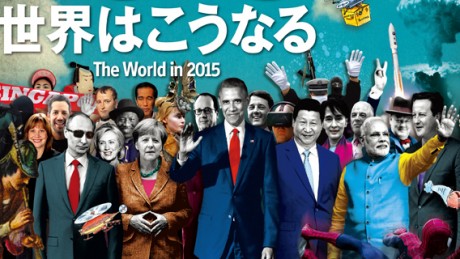 Have the elite warned us that November 3rd and November 5th will be particularly important dates? The Economist has very close ties to the Rothschild banking dynasty of Europe, and it has been a well-known mouthpiece for the global elite for decades. That is why all of the weird imagery that was used on the cover of the January 2015 issue made so many headlines when it first came out. The elite often like to foreshadow what they intend to do in advance, and many were trying to decipher what many of the cryptic symbols might mean. For those that have not seen it yet, here is the full cover…
For months, much of the speculation focused on other symbols on the cover, but now there is renewed interest in this cover based on the two arrows that are stuck in the ground in the lower right hand corner.
Read More…
from Fox Business:
from TheHealthRanger:
/