by Michael Snyder, End of the American Dream: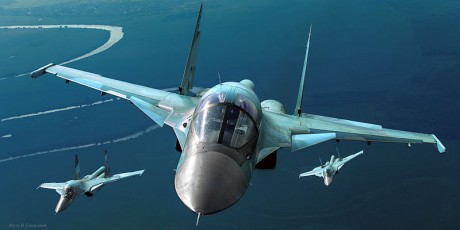 The Russians have unleashed their own version of "shock and awe" in Syria, and the brutal efficiency of their airstrikes against ISIS targets has stunned many observers around the globe. For more than a year, the Obama administration has claimed that its bombing campaign in Syria has been a "success", and yet ISIS has continued to grow stronger and gain more territory. But now just over a few days the tide of the conflict appears to have turned. The whole world has gotten a chance to see what a global superpower can truly do to a bunch of radical Islamic terrorists when it is focused and determined. The images that we have seen of hardened ISIS command centers being wiped off the face of the map by Russian bombs are truly impressive. But why did those targets still exist in the first place? Was the U.S. military unable to identify them previously? Or could it be possible that the Obama administration did not want to hit them?
Read More…
by Patrick Goodenough, CNSnews:
An emerging coalition currently comprising Russia, Iran, Iraq and Syria is needed to save the Middle East, Syrian President Bashar al-Assad told Iranian television Sunday, charging that the U.S. and its allies are using terrorism as an instrument to subjugate the region.
This new coalition "must succeed," he said. "Otherwise the whole region, not only one or two countries, will be destroyed. We have full confidence in this."
In his first media interview since Russia began to launch airstrikes in Syria in support of his regime, Assad suggested to Iran's state-run Khabar TV that a year-long airstrike campaign by a U.S.-led coalition has been ineffective against the Islamic State of Iraq and Syria (ISIS/ISIL) because the West does not really want to defeat the terrorists.
Read More
Submitted by Tyler Durden on 10/06/2015 - 09:05
"The closest has been within a handful of miles
of our remotely piloted aircraft"...
Submitted by Tyler Durden on 10/06/2015 - 10:15
"In response to today's trade data, we have lowered our Q3 real GDP growth forecast to 1.7% from 3.0% previously, and our forecast for Q4 real GDP growth has been trimmed from 3.0% to 2.3%. This has the effect of lowering 2015 real GDP growth, as measured on a Q4 over Q4 basis, from 2.6% to 2.1%."
Submitted by Tyler Durden on 10/06/2015 - 09:53
Heroic efforts are being made to cloak the stagnation of the U.S. economy.
One of these is to shift the unemployed work force from the negative-sounding
jobless
category to the benign-sounding
Not in the Labor Force (NILF)
category.
But re-labeling stagnation does not magically transform a stagnant economy.
To get a sense of long-term stagnation, let's look at the data going back 38 years, to 1977.
Submitted by Tyler Durden on 10/06/2015 - 09:32
"Suddenly, good news is busting out all over, and we can't not talk about them. I have been bearish for a while now, but if the facts change, I have to change with them,
" the "Mad Money" host said.
Submitted by Tyler Durden on 10/06/2015 - 08:46
As was previewed last week in the advance release of international trade data which showed a big drop in the US deficit, moments ago the BEA confirms as much, when it reported that in August the US trade deficit blew out from $41.8 billion to a whopping $48.3 billion, an increase of 15.6%, as a result of a $3.7 billion drop in exports, offset by a $2.8 billion increase in imports. The August deficit, driven in major part by the surge in the US deficit with China which shot out to a whopping $32.9 billion, was the worst monthly print since March, and the second worst trade data read going back to early 2012.
Submitted by Tyler Durden on 10/06/2015 - 08:21
Overnight Barclays looked at the link between the current state of corporate profits, plunging by 60bps, and the broader economic cycle. It used data set stretching to the last seven business cycles, dating back to 1973, and found that on 5 out of 6 occasions, such a drop in margins resulted in a recession. In Barclays' own words: "
the results are not enc
Submitted by Tyler Durden on 10/06/2015 - 08:15
While Reverse QE, or QT, or whatever one wants to call it has become traditionally associated with Emerging Markets and petroleum exporters, nobody had linked it with one of the most advanced Developed Markets in the world which
also
happens to be an oil exporter, the market with the largest sovereign wealth fun in the world: Norway. That is about to change because as Bloomberg report, "the future may already be here", a future in which Norway's gargantuan $830 billion sovereign wealth fund, the product of two decades of capital accumulation courtesy of Norway's vast petroleum reserves and oil trade,
is forced to begin liquidating its vast assets.
Submitted by Tyler Durden on 10/06/2015 - 07:48
"The data are positive for the probability of the yuan getting into the SDR basket. It shows that the so-called devaluation in August, which wasn't massive in value, hasn't driven people away from using the yuan."
Submitted by Tyler Durden on 10/06/2015 - 06:56
The best headline to summarize what happened in the early part of the overnight session was the following from Bloomberg: "
Asian stocks extend global rally on stimulus bets
." And following the abysmal data releases from the past three days confirming that the latest centrally-planned attempt to kickstart the global economy has failed, overnight we got even more bad data, first in the form of Australia's trade deficit, and then Germany's factory orders which bombed, and which as Goldman said "
seems to reflect genuine weakness in China and emerging markets in general and this will weigh on the German manufacturing sector.
"
Submitted by Tyler Durden on 10/06/2015 - 04:06
After 5 days of CEO-confidence-inspired BTFD-ing (a la Bear Stearns), following the 30% collapse at the start of last week,
Glencore's stock price is tumbling 7.7% in the early European trading
. Following a deep plunge off the open yesterday (which was rallied back to the highs) and
extreme volume atthe close
, Tuesday's early weakness has pushed the stock to the biggest loss since last Monday's carnage...
Submitted by Tyler Durden on 10/05/2015 - 23:14
Earlier today the US decided to jump right on it,
and as CNN reported
, accordint to the latest U.S. assessment of Moscow's activity in western Syria, "
Russia has moved several ground combat weapons and troops into the area to potentially back up Syrian forces in the field planning to attack anti-regime forces, according to two U.S. defense officials.
"
Submitted by Tyler Durden on 10/05/2015 - 22:30
Baldly stated, the United States government is the greatest danger to peace and freedom the world has ever known.
This is true precisely because it has held aloft the torch of liberty for so long, an example to the world of what a society based on individual freedom can achieve
. That is the great paradox of American power.
As we abandon our libertarian heritage – even as we retain the forms of a constitutional republic – we destroy what made our power possible.
The process is reversible: we can restore our old republic – but only if we give up the mirage of empire.
Submitted by Tyler Durden on 10/05/2015 - 22:00
Just as was evidenced after the 2007 shootings at Virginia Tech, after Columbine and Tucson in 2011, and following the theater shootings in Aurora, Colorado in 2012,
US gun sales have soared following the mass-shooting at Umpqua Community College in Oregon,
which killed 10 people and injured seven others.
As The FT reports
,
gun sales this year could surpass the record set in 2013, when gun purchases surged after the December 2012 Sandy Hook murders
.
filed under Dumb (unt
from financeandliberty:
from WhyGoldandSilver:
from BPEarthWatch:
/