from Greg Hunter:
from Bloomberg Business:
from EFF: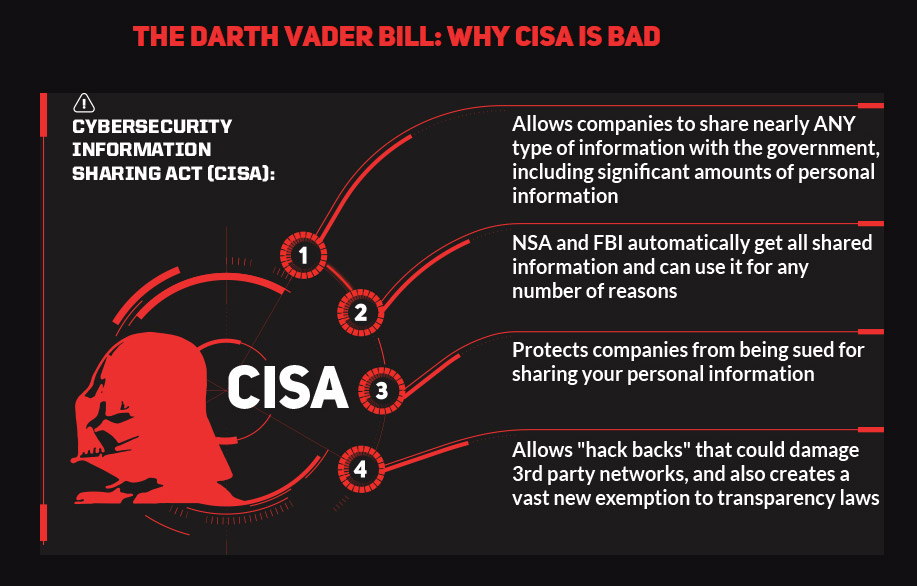 CISA passed the Senate today in a 74-21 vote. The bill is
fundamentally flawed
due to its broad immunity clauses, vague definitions, and aggressive spying authorities. The bill now moves to a conference committee despite its inability to address problems that caused recent highly publicized computer data breaches, like
unencrypted files
,
poor computer architecture
,
un-updated servers
, and
employees (or contractors) clicking malware links
.
The conference committee between the House of Representatives and the Senate will determine the bill's final language. But no amount of changes in conference could fix the fact that CISA doesn't address the real cybersecurity problems that caused computer data breaches like Target and the
U.S. Office of Personnel Managemen
t (OPM).
Read More…
from X22Report:
filed under (unt
See the new smoke stacks in the distance...
In the latest, and perhaps most unexpected, twist in Europe's refugee crisis, at least seven hundred of the roughly 4,000 asylum-seekers who had initially been accomodated by the German state of Lower Saxony have "mysteriously disappeared" according to a survey in the
Neue Osnabrücker Zeitung (NOZ
).
Did someone leak the Fed statement (again)?
Submitted by Tyler Durden on 10/28/2015 - 09:33
Earlier today, Ferrari reported a great quarter. There was just one problem: Ferrari announced that while sales across the rest of the world were solid, rising by 114 and 159 units in Europe and America, to 815 and 682 units respectively,
unexpectedly sales in China tumbled by 24% in the third quarter, or down 50 units Y/Y to 157
It has been a while since Icahn, who is still looking for a $200+ print on AAPL stock courtesy of corporate buybacks, issued a "no brainer" investment alert. He did that moments ago, when he revealed a "large position" in AIG, whom he is now urging to follow John Paulson's advise in order to hit a $100/share price, by doing two things: "Pursue tax free separations of both its life and mortgage insurance subsidiaries to create three independent public companies" and to "embark on a much needed cost control program to close the gap with peers."
First it was wildfires, then it was unprecedented flooding, and
now it is earthquakes.
In the past two weeks alone,
more than 400 earthquakes have shaken San Ramon
– a small city that sits approximately 45 miles east of San Francisco.
Never before have so many earthquakes been recorded in that area in such a short span of time
.
With EURUSD having crashed to a 1.09 handle, some would say Draghi's work is done (in terms of crushing US corporate revenues) but there is a bigger problem for the ECB head. The
market has already entirely priced-in a cut in the ECB Deposit Rate (in fact is already pricing in even more - at -35bps, from -20bps)
which may be an issue as
two ECB governors have come out today, jawboning investors not to expect more easing soon
. This has sparked a reversal in EURUSD and risk assets are rolling over...
Submitted by Tyler Durden on 10/28/2015 - 08:38
With a 4.5% chance of rate hike priced into the markets at today's FOMC meeting, it is unlikely that anything exciting will happen today. However, with China outflows, BoJ easing expectations, and Draghi still promising moar, it appears precious metals are once again bid.
Both Gold & Silver have broken back above their 200-day moving-averages this morning
...
Fearing the size of Mario Draghi's bazooka (so to speak), Sweden's Riksbank has just expanded QE by SEK65 billion, marking the fourth expansion in nine months and serving notice that the beggar-thy-neighbor, monetary madness gripping DM central banks isn't likely to dissipate anytime soon.
Submitted by Tyler Durden on 10/28/2015 - 07:00
We would say today's main event is the culmination of the Fed's two-day meeting and the announcement slated for 2 pm this afternoon, however with the 90 economists polled by Bloomberg
all expecting no rate hike
, today's Fed decision also happens to be the least anticipated in years (which may be just the time for the Fed to prove it is not driven by market considerations and shock everybody, alas that will not happen). And considering how bad the economic data has gone in recent months, not to mention the recent easing, hints of easing, and outright return to currency war by other banks, the Fed is once again trapped and may not be able to hike in December or perhaps ever, now that the USD is again surging not due to
its
actions but due to what
other
central banks are doing.
from TheMoneyGPS:
from Truth Stream Media:
from RT:
from europarl:
/