Dear CIGAs,
Calling your attention to two recent stories, the debate over the debt limit http://hosted.ap.org/dynamic/stories/U/US_CONGRESS_BUDGET?SITE=AP&SECTION=HOME&TEMPLATE=DEFAULT&CTIME=2015-10-26-12-34-27 and Russia's new moves into the Middle East http://www.zerohedge.com/news/2015-10-26/russias-mid-east-takeover-continues-afghanistan-requests-military-assistance-Moscow, are they mutually exclusive or are they somehow connected?
Looking at the debt ceiling first, we are yet again living the lunacy where the U.S. tells its people and the rest of the world "see, we are not broke"! In a sense this is true because when all is said and done, the U.S. can incur any amount of debt required or desired because dollar bills (FRN's) can be printed or issued to pay for the debt and its service. From a practical point however, this is not true. Should the ceiling be raised to $19.6 trillion and promptly funded to that amount, we will be poking our heads over the 110% debt to GDP level.
Please don't tell me I am nuts …because the true debt, unfunded liabilities and promises amount to more than $200 trillion …and the GDP number of close to $18 trillion "may" include a bit of "double counting". Just assuming the official numbers are real at 110% of debt to GDP poses a problem. The problem is this, as previously mentioned 100% debt to GDP is the doorway to becoming a banana republic. And yes, there are "worse" (particularly Japan over 300%) but, we are talking about the issuer of the world's reserve currency. How can they walk through the banana republic door and still expect any respect from the rest of the world?
Moving on to the next story, a mere month after Russia began aid to Syria's Assad, Afghanistan is now asking Moscow for aid …and they very well may receive it! But why? And why now? First, "why" is simple, the U.S. has acted like a mob owned cop enforcing only what they wanted and actually stirring the pot so that calm and peace have had no chance in the Middle East. Why now is also simple, the U.S. was scheduled to pull 9,000 of the remaining 10,000 troops put of Afghanistan over the next year. This would have left a void the Afghani government could not fill. This exodus has since been called off, maybe "harvest" season came to mind?
These two stories I do believe have some commonality. They both illustrate "power" slipping from the grasp of the U.S.. The two big sticks, the dollar and military are being seen as weakening. Can you imagine five years ago …or especially 10-20 years ago the Russians militarily entering the Middle East? Or the Chinese importing the current tonnage of "blasphemous gold" or worse, setting up an alternative to the SWIFT clearing system?
I mention these two latest developments and ask you to look back in time because prior, it would be UNBELIEVABLE. Yet now after being in a pot of heated water, we are being boiled while people don't even question it. It's like business as usual and no one cares …in the U.S. that is. I assure you many foreigners see this far differently than most Americans! Many foreigners see exactly what is happening, why, how and how it will end. We have gone morally, socially and financially broke slowly to this point …now we await the "then all at once" part.
To finish, the U.S. is being respected like a banana republic who issues hollow threats. The most recent, and we still need to see the outcome are U.S. naval vessels being sent to the South Sea Islands. China has already publicly said "what in the world can the Americans be thinking?" Yesterday president Obama ordered the USS. Lassen to sail within the 12 mile international limit http://www.zerohedge.com/news/2015-10-27/furious-china-slams-obama-decision-threaten-peace-warship-challenge
I hate to say the following but it is obvious. China is the largest creditor to the U.S.. Should they become irritated and angry enough, they could simply sell Treasury securities and cripple our debt markets. For those of you who will surely write me saying "China will never do this and even if they did, the Fed will just buy all the Treasuries sold", I say this …and what if China sells just a relatively small amount of U.S. Treasuries …and uses that capital to bid for every ounce of gold the West has to offer? Can the Fed "print" tonnage for delivery? How much would this operation take? $5 billion? $10 billion? Does it really matter as China can surely bid for every single Western ounce many times over with money to spare? Do not laugh at this potential as I am sure it has crossed more than one Eastern mind years ago!
Standing watch.
Bill Holter
Holter-Sinclair collaboration
Comments welcome, bholter@hotmail.com

from X22Report:
Submitted by Tyler Durden on 10/27/2015 - 18:40
As CNN reports, "the U.S. is considering increasing its attacks on ISIS through more ground action and airstrikes,
Defense Secretary Ashton Carter said Tuesday. Carter told the Senate Armed Services Committee that the U.S. 'won't hold back' from supporting partners carrying out such attacks or from 'conducting such missions directly, whether by strikes from the air or direct action on the ground.'"
Submitted by Tyler Durden on 10/27/2015 - 21:45
Impunity has been the norm.
The reason there have been no efforts made to criminally investigate is obvious. Former banking regulator and current securities Professor Bill Black told Bill Moyers that
"Timothy Geithner, then Secretary of the Treasury, and others in the administration, with the banks, are engaged in a cover up to keep us from knowing what went wrong."
Submitted by Tyler Durden on 10/27/2015 - 21:21
Following
Marc Faber's reality check on China recently
, Hayman Capital's
Kyle Bass took a swing tonight noting that "China's 7% GDP growth is a farce,"
and adding that, just
as we detailed previously, China's credit cycle has begun and non-performing loans will rise rapidly
leading to an
emerging Asia banking crisis ahead
. Japanese markets continue to entertain with
"someone" insta-ramping NKY Futs 100 points at the open
only to give it all back as USDJPY slides back towards 120.00 (and
10Y JGB yields drop below 30bps for the first time in 6 months
).
Submitted by Tyler Durden on 10/27/2015 - 20:46
Sorry Fed, here is why your attempt at terminal reflation was doomed from day one.
Submitted by Tyler Durden on 10/27/2015 - 20:20
At the heart of the European Commission's philosophy is the implicit acceptance that investors' rights take precedence over the public's rights -- in this case, those concerning the environment. Everything in the leaked sustainable chapter is couched in terms of aspirations -- the US and EU are encouraged to do the right thing as far as sustainable development is concerned, but there are few, if any, obligations or enforcement mechanisms. When it comes to protecting investors, on the other hand, everything is compulsory, backed up by supranational tribunals that can impose arbitrarily large fines, payable by the public. Although it is true that governments are given the "right" to legislate as they wish when it comes to the environment, investors are given the "right" to sue those governments black and blue if they attempt to do so.
Submitted by Tyler Durden on 10/27/2015 - 19:45
Former head of the NSA, Keith Alexander, has been a busy guy since he left government. Having avoided any accountability whatsoever despite systematically using the U.S. Constitution as toilet paper, Mr.
Alexander is doing what every government official does upon leaving office. He's trying to grab as much money as possible.
Submitted by Tyler Durden on 10/27/2015 - 19:15
Over the course of the past four weeks, Russia has captured the world's attention with Moscow's "unexpected" intervention in Syria's protracted civil war. For those interested, we present the following infographic which endeavors to outline "everything we know" about Russia's deployment in Syria from sorties flown out of Latakia, to overflight denials, to cruise missile strikes.
Submitted by Tyler Durden on 10/27/2015 - 19:14
"In face of the US harassment, Beijing should deal with Washington tactfully and prepare for the worst. This can convince the White House that China, despite its unwillingness, is not frightened to fight a war with the US in the region, and is determined to safeguard its national interests and dignity. Beijing ought to carry out anti-harassment operations. We should first track the US warships. If
they, instead of passing by, stop for further actions, it is necessary for us to launch electronic interventions, and even send out warships, lock them by fire-control radar and fly over the US vessels.
"
Submitted by Tyler Durden on 10/27/2015 - 18:45
What's refreshing about Trump is the directness with which he expresses his psychopathy.
For example, candidates such as Hillary Clinton sugar-coat their
psychopathy
, or even find ways to get their interviewers
to join eagerly in their expressions of it (camaraderie with power-holders)
, but they don't say such blatant things as (to paraphrase Trump here),
"After we raped them — which we shouldn't have done — we should have stolen from them, and we should still be stealing from them."
Submitted by Tyler Durden on 10/27/2015 - 18:15
"... if you look at what is supporting equity prices - how much of that support is coming from real economic activity versus from using stock buybacks, using cash on balance sheet for stock buybacks, or mergers and acquisitions, to reduced competition in the marketplace. These are the sort of stories that if there were a small increase in interest rates, you would temper some of that frothiness. Eliminating the incentive to engage in that kind of activity seems to me to be a good idea... There would be a proportion of the population that would have less capital gains - but they've been enjoying very big capital gains, and it is a narrow segment of the population."
Submitted by Tyler Durden on 10/27/2015 - 17:15
The weakness seen in world economic activity is partly the result of the lack of a real purge of the financial system in 2008.
It has become unimaginable to let entire parts of the system collapse, and the titling of some financial institutions as "systemic" is part of this logic. Policymakers attempting to keep unhealthy economic and financial institutions alive are making a mistake. The very essence of capitalism lies in the process of creative destruction.
What we see here is not a way out of the crisis. Instead, we are on the edge of a new financial disaster.
Submitted by Tyler Durden on 10/27/2015 - 16:52
Submitted by Tyler Durden on 10/27/2015 - 16:43
While lower than last week's levels, API reported a still considerable
4.1 million barrel crude inventory build
last week. This is the
5th consecutive inventory build
. However, despite the size of the overall build, crude prices are rising (extending gains off NYMEX Close ramp) which may be related to a
748k draw on crude stocks at Cushing
.
Submitted by Tyler Durden on 10/27/2015 - 16:32
1,426.
That's the number of Americans who renounced their US citizenship last quarter according to the US government's report just released this morning.
That's a record high for a single quarter, easily beating the last record high set earlier this year, which beat the previous record high set in 2013.
from The Daily Bell:
Yes, the Civil War was about Slavery. Get over it. Stone Mountain can keep its memorial, but it needs a reboot … Yesterday I wrote a piece about how it's time for the Georgia legislature to stop honoring slavery, and it seems people have taken it way out of context. The first line of that post was "Is it time to put away the war between the states? Yes, it is. It's way past time." But some people can't put the Civil War away. I'm not sure if it just haunts their dreams, or if they've got a great-great-grandfather who fought at Antietam, but these people—typically Southerners—can't rest until they prove that the South was the victim. The Civil War was primarily, and at its root, about slavery. This should be obvious to anyone looking objectively at history. –
Redstate
Dominant Social Theme:
Lincoln was a hero and saved the union so that the
Patriot Act
could provide further luster to our freedoms.
Free-Market Analysis:
We don't mean to pick on the author of this article because we chose it simply as a representative text. In the past months, Northern revisionism regarding the
Civil War
has been powerfully promoted by the mainstream media.
Read More
by Marshall Swing, Silver Doctors: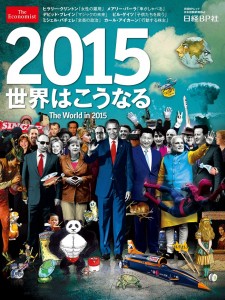 If you have read my article on the magazine cover of the year for The Economist, January 2015, then you know there is a range of Global Economic Crash dates linked to the magazine cover: http://bit.ly/1M6L5xj
Here is the cover image (pictured).
The first date, October 23, 2015 has come and gone with no crash. That was my first choice of the most likely date for the Crash, for several reasons, mostly prophetic.
Read More
/