by Pam Martens and Russ Martens, Wall St On Parade: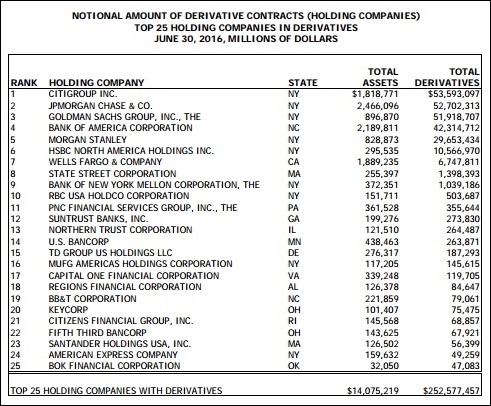 Each quarter the Office of the Comptroller of the Currency (OCC)
releases a detailed report
showing the exposure to derivatives at U.S. banks. The most recent report for the quarter ending June 30, 2016 indicates that U.S. bank holding companies have a total notional amount (face amount) of derivatives of $252.6
trillion
. Of that total, just five Wall Street banks hold $230
trillion
or 91 percent, underscoring how massively concentrated this high risk game has become. Those five banks are: Citigroup, JPMorgan Chase, Goldman Sachs Group, Bank of America and Morgan Stanley.
There are numerous U.S. units of foreign banks on the derivatives list of bank holding companies but one name is conspicuously missing: the German giant, Deutsche Bank. Without knowing how much potential exposure U.S. banks have to Deutsche Bank in the derivatives arena, the U.S. public is left completely in the dark on just how dangerously exposed our banks are, once again, to the potential failure of a systemically interconnected counterparty. Here's what we do know – no thanks to the OCC's copious reports.
Read More
/