from Gregory Mannarino:
from The Next News Network:
by Pam Martens and Russ Martens, Wall St On Parade: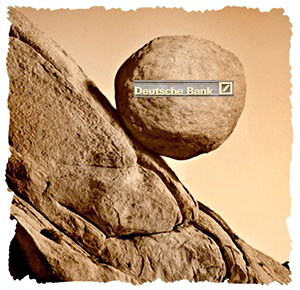 Typically, it takes two to settle bank fraud charges – the bank committing the fraud and the law enforcement agency bringing the charges. But in the case of the announcement late last Thursday evening that Deutsche Bank and the U.S. Justice Department had reached an agreement to settle claims against the bank for allegedly swindling investors in the sale of toxic residential mortgage backed securities, all that could be heard was the sound of one hand clapping in a press release issued by the defendant, Deutsche Bank. Nowhere to be found was a statement of particulars on what the bank was admitting to or a man behind a podium bearing the seal of the U.S. Justice Department in a press briefing room, as typically occurs in a real settlement.
The lack of substantive details to this "settlement" and no confirmation from the Justice Department that an agreement actually existed did not hamper expensive media real estate from running with the story. The New York Times plopped the story on the front page of its business section on Friday, December 23 – the last trading day before Christmas – under the decidedly declarative headline: "Deutsche Bank to Settle U.S. Inquiry Into Mortgages for $7.2 Billion."
Read More
/