by Szu Ping Chan, The Telegraph:
Mr Asmussen said that the ECB could not lengthen the time period for loans to Greece or lower interest rates as "both concessions would be a form of debt forgiveness and therefore a direct financial support for the Greek state.
"That would not be allowed under the law governing the ECB," he said.
He also said that it would be wrong for Greece to say it needed more time but not more money.
"A temporary extension of fiscal targets automatically means that Greece needs more financial assistance from abroad."
he told German newspaper Bild am Sonntag
.
"It is logically quite wrong to say: we need more time, but not more money."
Read More @ Telegraph.co.uk
Not only is Ron Paul not endorsing Romney, he's not voting for him either.
from silver investor.com:
With the S&P 500 once again testing multi-year highs, forward P/Es over 14 in a
real-rate environment which suggests single-digit P/Es
,
abnormal micro-structure
(mega-caps outperforming and high-beta fading in an up-tape), and a buy-the-f$$king-'dream' mentality soaking in everywhere, we take a close-up view of the earnings season reality that is about to come crashing down on multiple-expansion hopes. Following on from the
five most ridiculous charts in US equity markets
,
these five 'facts' will be assuaged by every long-only manager as 'priced-in' - we suspect otherwise.
[Ed. Note: If you listened to the MSM you would think that only about 6,000 people have been showing up for the protests in Madrid. Not only are there multiples of 6k showing up, Liberty is remembering how to stand up.]
from Public Intelligence: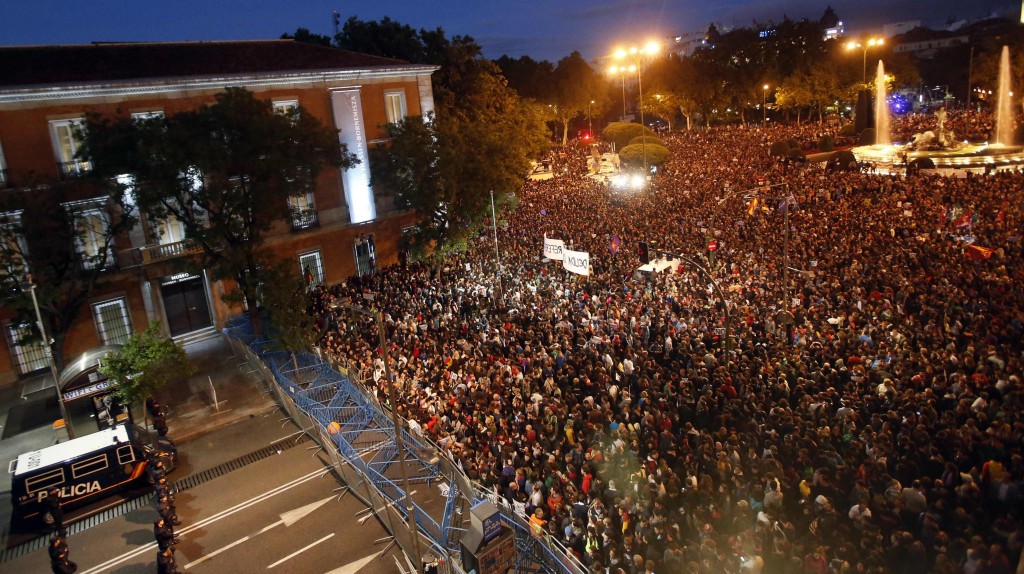 CLICK HERE TO SEE ALL THE PHOTOS
Ueli Maurer, the Swiss defense minister, has been making coy statements about the European crisis getting ugly – as in really ugly, like needing armed troops to deal with it. This sounds more like Greece, where the rioting is regular and increasingly scary, than anything in Central Europe, but where the whole EU furball is headed does seem less than clear of late. The Swiss are famous for preparing for everything and having an absolutely huge army, relative to their population, to deal with any eventuality. It's easy to dismiss the Swiss, since they are a tiny country whose military hasn't actually fought anybody in a couple centuries. On the other hand, they managed to stay out of both of Europe's catastrophic World Wars precisely though preparing for eventualities and maintaining a strong defensive capability. They're clearly on to something.
Whether it is a fringe-blog pointing out the statistical un-possibility (
here
and
here
), or a
previously
well-respected 'elite' pointing out the suspiciousness (
here
), most of the general public (or their media-based oracles) prefer not to swallow the red pill of reality with regard Friday's data SNAFU. However, given the political (and economic) consequence of a single-number,
Gallup
has decided to weigh in on reality as they note
"even though the Household survey tends to be very volatile, this decline seems to lack face-validity, particularly after the prior month's numbers"
as they analyse why the household results should be discounted heavily. Critically, they, like us, suggest the 'unemployment rate' needs to be replaced as a measure of joblessness, suggesting a far simpler (and more transparent) measure - Payroll-to-Population - would avoid the 'adjustments' and 'biases' that are inherent in the BLS's bafflement. The Gallup measure suggests, as one would perceive using common-sense, that the real jobs situation was essentially unchanged last month.
"Detroit is America's most violent city; its homicide rate is the highest in the country." Detroit Police department's "Enter At Your Own Risk" warning to citizens came at a rally yesterday as they fear under-staffing in the midst of what CBS reports as "the explosion in violent crime" leaves police in "deplorable, dangerous, and war-like conditions." While the union presses for more staff - or higher wages to compensate for the risk - we are sure Snake Plissken can be relied upon to rescue GM's CEO if he needs it.
by Bruce Krasting, Bruce Krasting Blog:
Both Mitt and Barack spoke about Social Security (SS) in their debate. For political reasons, they took the same approach. They indicated their continuing support for this busted program. They agreed that some "tweeks" might be necessary, but there would be no fundamental changes to America's largest entitlement program.
I wish that one or the other of the candidates had spoken the truth about SS. The fact is it is a terrible program for the vast majority of workers who are forced to contribute to it in order to keep this dog alive.
Fortunately, the Congressional Budget Office has provided the information necessary to look at SS and evaluate how various income groups will fare over their lifetimes. The bottom line is as ugly as it can get. The fact is that SS is stiffing 80% of American workers.
Read More @ BruceKrasting.blogspot.com
Please Donate
Donations will help defray the operational costs. Paypal, a leading provider of secure online money transfers, will handle the donations. Thank you for your contribution.
I'm PayPal Verified
David Cameron personally intervened in the bidding process for the West Coast Main Line and asked the Cabinet Secretary, Sir Jeremy Heywood, to investigate the matter after a private appeal from Sir Richard Branson.
by Patrick Hennessy, and Kamal Ahmed, The Telegraph:
In an interview with The Sunday Telegraph
, Mr Cameron revealed that Sir Jeremy's inquiry failed to uncover any of the problems revealed just weeks later by the Department for Transport.
Last week, Patrick McLoughlin, the Transport Secretary, admitted that the department's civil service had blundered in its calculations before awarding the contract to
FirstGroup
. The process was suspended and bids will have to re-submitted.
Sir Richard Branson's Virgin Trains, which had held the franchise to run the lucrative service but lost the bid battle,
took legal action after claiming the process was flawed
. It is now believed that DfT mistakes included conflating actual and estimated financial figures and that some numbers had been counted twice.
Read More @ Telegraph.co.uk
by Pater Tenebrarum, Acting-Man.com:
ECB Decision – No Change
The ECB decided not to do anything at yesterday's meeting – the terse press release reads as follows:
"At today's meeting, which was held in Brdo pri Kranju, the Governing Council of the ECB decided that the interest rate on the main refinancing operations and the interest rates on the marginal lending facility and the deposit facility will remain unchanged at 0.75%, 1.50% and 0.00% respectively."
A webcast of the subsequent press conference can be
watched here
. Mario Draghi once again underscored his unhappiness with the 'broken transmission mechanism' and the 'convertibility premium' haunting peripheral sovereign bond markets, but again stressed that his hands remain tied until applications for aid are filed.
Read More @ Acting-Man.com
Please Donate
Donations will help defray the operational costs. Paypal, a leading provider of secure online money transfers, will handle the donations. Thank you for your contribution.
I'm PayPal Verified