Submitted by Tyler Durden on 03/05/2016 - 10:27
Does this mean the short squeeze - whether ordinary course of business or engineered by banks to push the price of both the S&P and oil higher so that energy companies can sell equity and repay secured bank loans (as we speculated last week) - is over? According to JPM, not just yet, even though by now the weakest hands have clearly tapped out. In fact, since there has been virtually no rotation into ETFs, the most brutal part of the squeeze may be just ahead. Here's why:
Submitted by Tyler Durden on 03/05/2016 - 15:20
It is important to remember that
in bear markets the strength is to the downside, the violence is to the upside,
with counter-trend rallies in bear markets often being the most painful. Markets simply do not go down (or up) in straight lines.
The over-reach of central bankers and their failed policies is not news to me. What is news to us, especially after the BOJ's easing in January, is that markets are now either at or very close to losing all confidence in the post-GFC policy response crafted by the Fed/ECB/BOJ et al much earlier in 2016 than even we had expected.
"What's scary about this huge balance sheet expansion, is that it's not having a bigger impact (although we don't have a counterfactual). Indeed, the Nikkei is down -11% ytd and the yen has strengthened +6%."
Submitted by Tyler Durden on 03/05/2016 - 12:40
The
cracks
are starting to appear in the 'paper' gold market.
by Steve St. Angelo, SRSrocco Report: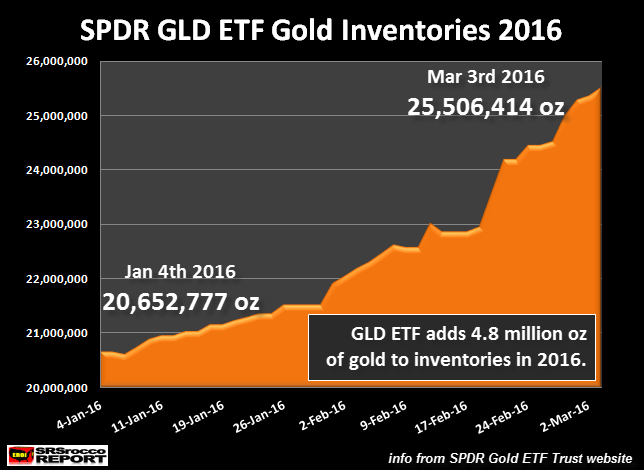 The Death of the paper gold market picked up speed today as Blackrock announced that issuance of new Gold IAU ETF shares was suspended. However, it's much worse than the information in news release when we factor in the total supply and demand situation.
According to the article on Zerohedge,
BlackRock Suspends ETF Issuance Due To "Surging Demand For Gold"
:
BlackRock's Gold ETF (IAU) has seen fund inflows every day in 2016 (no outflows at all) and with the stock trading above its NAV for most of the year, the world's largest asset manager has made a significant decision:
Read More
Submitted by Tyler Durden on 03/05/2016 - 14:00
While it may not be the
traditional
signal,
CBOE's Russell Rhoads
points out that the so-called 'fear index'
VIX has just signalled the first Death Cross since its apocalyptic warning in November 2007
. With VIX having plunged to 2016 lows, VIX volatility at post-QE3 lows (signalling extreme complacency), and VIX having decoupled once again from credit risk, the 'death cross' may be worth paying attention to once again as the ides of March strike.
Submitted by Tyler Durden on 03/05/2016 - 13:20
Everything happening today is in some ways interconnected
:
popularity of 'non-establishment' political candidates; ineffectiveness of central bank policy in lifting inflation; economic pessimism; weak capital spending (from handcuffed capitalism); and angst due to perceptions of inequality.
Let us explain...
Filed under "IDIOTS"
Submitted by Tyler Durden on 03/05/2016 - 11:20
Famous. Last. Words. "... but I think it's going to be so simple that you pretty soon realize that this is a lot easier and better than having cash"
Submitted by Tyler Durden on 03/04/2016 - 18:20
This is the email that David Little, Chairman and CEO of Houston-based
DXP Enterprises
sent to his employees to explain why, "due to bank obligations and to continue a positive cash flow profile" the company has to freeze 401(k), why it is cutting pay in some cases as much as 60% and why many employees are about to lose their jobs in the middle of what is an "
oil and gas depression."
It is a disturbing read.
Submitted by Tyler Durden on 03/05/2016 - 12:03 "If you're voting for Donald Trump, you might be getting something very good or very bad. If you're voting for Hillary Clinton, you're going to get the same thing.

Do you want the same thing?

"
Submitted by Tyler Durden on 03/05/2016 - 09:20
There were hopes that China would announce a raft of fscal stimulus measures at the much ballyhooed NPC aimed boosting growth and taking some of the pressure off of montary policy. No such luck. The budget deficit came in at just 3%, an expansion from last year's 2.3%,
but well below the 4% some analyasts were hoping for.
Submitted by Tyler Durden on 03/05/2016 - 08:19
Overnight both freedom of press, and democracy officially died in Turkey, with time of death just before midnight, when Turkish authorities stormed the Zaman daily, a newspaper staunchly opposed to president Recep Tayyip Erdogan, and after using tear gas and water cannon they seized its headquarters in a dramatic raid that raised fresh alarm over declining media freedoms.
Submitted by Tyler Durden on 03/04/2016 - 22:25
"Realistically, Assad is not going to be overthrown. This becomes more clear with every day that passes. Western analysts have been indulging in wishful thinking for 5 years; it's time to get real, we owe it to the Syrian people to be much more realistic and hard headed about this. The West has to stop propping up the so-called 'moderate opposition', which is not moderate at all."
Submitted by Tyler Durden on 03/04/2016 - 21:50
/