by Jim Hift, The Gateway Pundit:
A recent
leaked email
posted by Wikileaks revealed Hillary's staff even contacted the NFL to ask about her "cracked head."
She's clearly suffering and has
taken much of the last month off
to rest.
Today Trump challenged Hillary Clinton to release her detailed medical records.
Don't hold your breath, Donald.
Read More
by Matthew Boyle, Breitbart: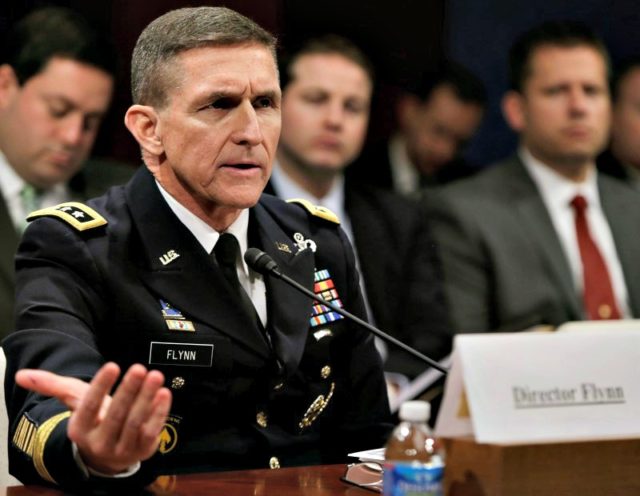 NEW YORK CITY, New York — Retired Lt. Gen. Mike Flynn, who served for more than two years as the director of President Barack Obama's Defense Intelligence Agency (DIA), leveled explosive charges against the President and his former Secretary of State Hillary Clinton in an exclusive hour-long interview with Breitbart News Daily on Friday.
Specifically, during an exclusive interview about his book The Field of Fight, Flynn said that Obama and Clinton were not interested in hearing intelligence that did not fit their "happy talk" narrative about the Middle East. In fact, he alleged the administration actively scrubbed training manuals and purged from the military ranks any thinking about the concept of radical Islamism. Flynn argued that this effort by Obama, Clinton and others to reduce the intelligence community to gathering only facts that the senior administration officials wanted to hear—rather than what they needed to hear—helped the enemy fester and grow, while weakening the United States on the world stage.
Read More
from InfoWars:
The Huffington Post has sensationally censored an article pertaining to questions about Hillary Clinton's health and banned the journalist who wrote it from posting on their website altogether.
David Seaman penned a commentary piece discussing questions surrounding Hillary's health problems on Sunday. The story included a link to my viral video about the subject, which now has over 3.5 million views.
Read More
Neither of these WEINERS deserve respect or privacy...
/