Submitted by Tyler Durden on 01/24/2016 - 18:50
Despite the best efforts of European cartoonists, some refugees apparently didn't get the message about proper pool behavior because according to "reports," some asylum seekers were caught on closed circuit TV doing some rather lewd things at the Johannisbad baths in Zwickau.
Submitted by Tyler Durden on 01/24/2016 - 16:46
We hope that after they see the following chart,
which shows not only DM net liquidity injections (i.e., q-easing), but also EM net liquidity outflows (i.e., quantitative tightening)
and which explains not only the recent selloff, but also shows how to trade global central bank and sovereign wealth fund and reserve manager flows, all confusion and denial will end.
Submitted by Tyler Durden on 01/24/2016 - 22:25
What would the world look like the day following a "truth bomb" dropped by Mr. Putin and the Chinese.
Submitted by Tyler Durden on 01/24/2016 - 21:50
Having recently explained his "greatest investment opportunity for the next 3 to 5 years,"
Kyle Bass expands on his China discussions to focus on Emerging Markets more broadly and specifically The BRICs.
As
Benzinga summed up
, Bass Warns
"we still have three tough innings to go, maybe four," he warning that emerging markets will "see a lot more pain before things are okay."
Submitted by Tyler Durden on 01/24/2016 - 21:15 China matters...

Submitted by Tyler Durden on 01/24/2016 - 21:07 Earlier today we showed an amazing schematic courtesy of Citi's Matt King: if one includes the reserve liquidation by various EMs and SWF, and nets it against liquidity injections by DM central banks (and the PBOC), one gets a perfect quantitative, not just qualitative, walk thru on how to trade markets: in other words one can measure, using high frequency data in real-time, just where markets should trade based on liquidity flows and promptly profit from any arbitrage opportunities. But aside from the potential for substantial profits, there are more profound implications. Matt King lays them out as follows..

Submitted by Tyler Durden on 01/24/2016 - 14:20
The deterioration of the indicators highlighted below point to a
downside break
for the late-stage cyclical bull market from 2009, according to BofAML. Should 1,867 decisively give way, the 1820 (October 2014 low) provides additional support but the
bigger risk is a top that projects down to 1,600-1,575
; and derspite the last 2 days' bounce, volume and breadth
suggest a market under distribution or selling pressure
, not primed for new highs.
Submitted by Tyler Durden on 01/24/2016 - 19:59
In China, the government reported 4Q GDP growth of 6.8%.
However, during the same time period our China CAI (Current Activity Indicator) expanded at an average of just 4.5%, 230 bp slower than the official measure
. Earlier this week our December CAI reading suggested China economic growth has decelerated to just 4.2%.
by Brandon Turbeville, Activist Post:
Much has been made of the
questionable actions and connections
held by Clinton's foundation enterprise over the last year.[1] Many allegations have been made but what is entirely undebatable is the fact that the Bill, Hillary, and Chelsea Clinton Foundation works closely with Wall Street banks and is also heavily funded by them.
As Ellen Simon of Investopedia sums up
,
Bill Clinton started a public health non-profit in 2002 that has since grown into The Bill, Hillary & Chelsea Clinton Foundation. The Clinton Global Initiative, which holds forums for international leaders, was separately incorporated from the foundation in 2010 at the request of the Obama Administration while Hillary Clinton was Secretary of State.[2] After she stepped down as secretary of state, the two funds were reunited.[3]
Read More…
Submitted by Tyler Durden on 01/24/2016 - 19:20
The game is simple:
we know that macroeconomics is a fiction from top to bottom, the challenge is to expose it as such.
Here are some apparently innocent questions to ask of economists, journalists, financial commentators and central bankers, which are designed to expose the contradictions in their economic beliefs.
A pretence of economic ignorance by the questioner is best, because it is most disarming.
Submitted by Tyler Durden on 01/24/2016 - 18:20
While China's ghost cities are now a well-known occurrence - massive empty spaces built "Fields of Dream" style for when 'they' come from the countryside - the following massive 500,000 square meters of 'Ghost Pentagon' surely takes the proverbial biscuit when it comes to mal-investment mania.
As The BBC reports,
the Pentagonal Mart - a shopping mall in Shanghai built in 2009 - inspired by the Pentagon in the United States
- has now gained the dubious title of China's largest empty building.
Submitted by Tyler Durden on 01/24/2016 - 17:50
When Sunday's Democratic presidential debate turned to world affairs, the NBC correspondents and both Sen. Sanders and ex-Secretary Clinton fell in line behind "group thinks" about Syria, Iran and Russia that lack evidentiary support. The two possibilities for such behavior are both scary:
either these people, including prospective presidents, believe the propaganda or that they are so cynical and cowardly that they won't demand proof of serious charges that could lead the United States and the world into more war and devastation.
Submitted by Tyler Durden on 01/24/2016 - 17:45 "There are so many

dangers

and

disadvantages

associated with cash, we have concluded that it should be phased out..."
Submitted by Tyler Durden on 01/24/2016 - 17:27
The People's Bank of China is reluctant to further reduce the required reserve ratio for fear of such a move resulting in the weakening of the yuan,
according to a leaked document
. The information, reportedly leaked from minutes of Tuesday's meeting between the central bank and commercial lenders,
was shared widely after it was published on major mainland online portals including Sina.com and Netease.com.
Submitted by Tyler Durden on 01/24/2016 - 17:20
Is "The Bear" back from the dead...
Submitted by Tyler Durden on 01/24/2016 - 16:23
As we put it on Friday, "the Texas recession is only in its early innings," because we are just now beginning to witness the bankruptcies and shut-ins that will soon become endemic and sweep across the entire US oil patch as revolvers are reigned in and Wall Street suddenly refuses to finance uneconomic producers' funding gaps. So how bad can things get in Texas, you ask? Goldman has ventured a guess.
Submitted by Tyler Durden on 01/24/2016 - 15:50
What is currently transpiring in the markets today is exactly what the "everything is awesome" crowd stated wouldn't happen – and exactly what many others argued – was inevitable. And, suddenly it is they who are finding out
the rarefied air of "brilliance" The Fed enabled them to breathe has indeed been shut off – and all that's left to inhale is their own exhaust fumes.
Submitted by Tyler Durden on 01/24/2016 - 15:20
The largest restructuring in muni market history fell apart on Friday when Puerto Rican lawmakers failed to approve a deal to rework some $9 billion in liabilities for the island's beleaguered power utility. "This is incredible. Our power plants look like the cars in Cuba."
Go Fish...
PUBLIC NOTICE
from Supreme Court Case:
The Union is the collective of the 50 respective commonwealths united by and under authority of the
Constitution
, and the geographic area they occupy.
There is no provision of the Constitution that grants Congress power of
territorial
or
personal legislation
anywhere within the Union—only
subject-matter legislation
over certain things (
Article 1 § 8(1-16)
).
This means that
Congress have no legislative power over property located anywhere within the Union or any American residing there, a limitation confirmed by the Supreme Court
:
Read More…
Establishment "conservatives" are threatened by Trump, much like how Russia's intelligentsia are skeptical of their country's own populist, Vladimir Putin
by Gilbert Doctorow, Russia-insider:
Hats off to Donald Trump for his disparaging remarks about
The National Review
and
their pitiful attempt at a demo job
on his campaign in their latest issue.
TNR
has assembled a collection of testimonials from personalities reputed to be "conservative" and all laying into The Donald.
We are defined by our enemies, and the editorial board of
The National Review
, in defending what it calls the conservatives' "ideological consensus" has highlighted just what is wrong with the party's establishment.
Read More…
from MyBudget360.com: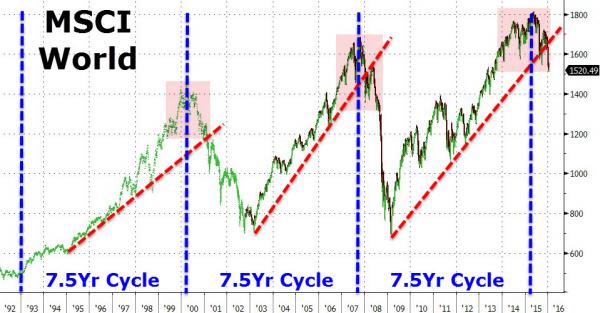 Americans are already in the process of having their wallets devoured by
shadow inflation
and a system that is gutting the middle class like a turkey being stuffed for the oven. We've been in recovery according to various money oracles since 2009 but all we got was a drop in the homeownership rate, stagnant incomes, and a
middle class that is now a minority
. The central banking experiment has simply funneled more money into the non-productive financier class. Regular working families continue on a downward spiral of working poverty and living on the edge of a paycheck to paycheck existence.
Read More
/