Submitted by Tyler Durden on 09/14/2015 - 16:25
The real risk for the Federal Reserve is keeping interest rates at zero and the deflationary feedback from the collapse in commodity prices, and the Chinese economy trips the U.S. into a recession.
Given that "QE" programs have no real effect on boosting economic growth, the Fed would be left with virtually no "effective" monetary policy tools with which to stabilize the economy.
For the Fed, this is the worse possible outcome.
Submitted by Tyler Durden on 09/14/2015 - 13:17
48 hours -
that's how long it took Citi's chief economist Willem Buiter to issue a report which was just as dire as Daiwa's, but because Citigroup is much more reliant on keeping it traditionally bullish clients as happy as possible, one had to read between the lines to get to the bottom line. This is Citi's punchline: "
A global recession starting in 2016, led by China is now our Global Economics team's main scenario. Uncertainty remains, but the likelihood of a timely and effective policy response seems to be diminishing.
"
Submitted by Tyler Durden on 09/14/2015 - 16:50
The VIX term structure has been
inverted (spot higher than 3rd futures) for 17 days
- that is the longest period of backwardation since August 2011, when uncertainty soared around the USA credit rating downgrade. In fact,
much of the VIX term structure is higher today than it was at the peak of the crisis on Black Monday
as both government shutdown and Fed rate hike fears dominate the forward curve...
Submitted by Tyler Durden on 09/14/2015 - 12:42
First it was Deutsche Bank, and now UniCredit.
"Italy's biggest bank by assets, is planning to cut around 10,000 jobs, or 7 percent of its workforce,
as it seeks to slash costs and boost profits, a source at the bank told Reuters on Monday," Reuters reports.
Submitted by Tyler Durden on 09/14/2015 - 16:03
Submitted by Tyler Durden on 09/14/2015 - 13:35
As thousands of refugees pour into Europe to escape the horrors of war, with many dying along the way,
a different sort of tragedy has played out in many of the European Union's newest member states.
The states known collectively as "Eastern Europe," including my native Poland, have revealed themselves to be intolerant, illiberal, xenophobic, and
incapable of remembering the spirit of solidarity that carried them to freedom a quarter-century ago.
Submitted by Tyler Durden on 09/14/2015 - 15:25 It appears that the Fed no longer cares about doing the right thing for a very simple reason - the Fed no longer is worried about losing credibility. As the following chart showing the results of a survey of 150 institutional RBS clients and investors confirms, two -thirds already believe the Fed has lost credibility.
Looking at the 4 horsemen of middle class destruction. Student debt, household income, low wage jobs, and FIRE economy dominance.
from MyBudget360.com: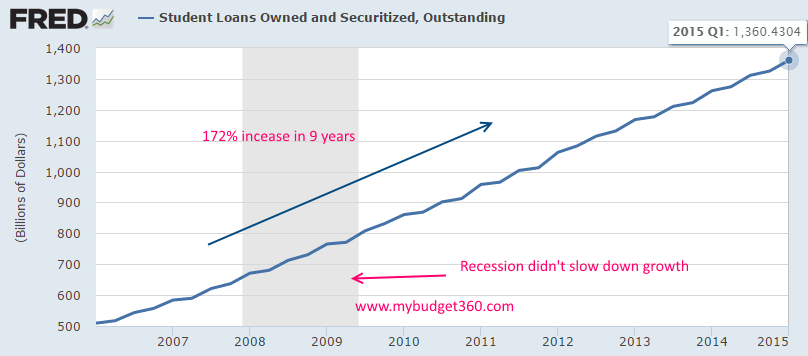 The angst that is being manifested in the political arena is largely being brought on by economic uncertainty. There is a general underlying anxiety of living in a United States with a weakened and invisible middle class. We are heading directly into that scenario with both eyes fully wide open. Many of the new jobs added since the Great Recession ended have come in the form of
low wage employment
.
Low wage jobs
are largely made up by lower wages of course but also, a lack of employment security and rising healthcare costs are forcing families to shoulder a larger financial burden as employers shift costs directly onto them. The problem with rising costs is reflected by stagnant income growth for households.
Adjusting for inflation
, American families are making what they did in the 1980s. Our young workers looking for better opportunities go to college but then leave with an
insurmountable level of student loans
. This debt burden delays household formation and puts a clamp on consumer spending. Finally, it would seem for the last couple of decades, the only segment of the economy thriving is that of the financial and banking sector. In other words, the American Dream that once rewarded hard work in mass is becoming a mere mirage in the midst of crony capitalism and financial speculation.
Read More
filed under (unt
Submitted by Tyler Durden on 09/14/2015 - 13:55
The massively-funded Hillary Clinton campaign to run for President goes from worse to worserer. As The Hill reports,
Clinton's support has fallen 21 points since July, from 63 to 42%
, according to a
Washington Post/ABC News poll released Monday
,
dropping below 50% for the first time
.
Submitted by Tyler Durden on 09/14/2015 - 14:15
One of these days, the people of main street will rediscover their torches and pitchforks.
But until they do, Goldman has apparently invented still another ruse to keep the Fed doing Wall Street's bidding, and to thereby keep its wretched jihad against savers fully in force.
Submitted by Tyler Durden on 09/14/2015 - 14:32
For the first time in over two years, without
and with
the contribution of AAPL, the IT sector will post a year over year decline in EPS. As for earnings excluding AAPL, forget it: "the estimated earnings decline for the Information Technology sector is -0.4%. Excluding Apple, the sector would report a year-over-year decline in earnings of -5.9%."
Submitted by Tyler Durden on 09/14/2015 - 14:55
"It's the whole disgusting circus parade of identity politics, and PC witch-hunting, and trans-sex drum-beating, and girl-lugging-a-mattress-around-campus idiocy, and blame-it-all-on-Whitey whinging, and drone-strike-du-jour warfare, and out-of-control NSA surveillance monkey business, plus throw in the outrageous scams of "civil forfeiture" under a president who was supposedly a professor of constitutional law — the list of Democratic-sponsored absurdities and turpitudes gives me the vapors."
Submitted by Tyler Durden on 09/14/2015 - 12:50
"The tourist group of 22 had parked their four four-by-four vehicles off road for a barbecue near the Bahariya oasis,
a tourist site in the western desert, when army aircraft suddenly began shelling them from above"...
Just send a bunch of prostitutes (mostly young men) to the White House and Capitol Hill and the problems will disappear...
Submitted by Tyler Durden on 09/14/2015 - 19:15
On the heels of a painful S&P downgrade, Brazil now says it plans to enact some BRL26 billion in primary spending cuts for the 2016 budget on the way to achieving in a primary surplus that amounts to 0.7% of GDP.
Submitted by Tyler Durden on 09/14/2015 - 19:15
In short, activist Fed policy is both ineffective and reckless
(and the historical data bears this out), and that the Federal Reserve has
pushed the financial markets to a precipice from which no gentle retreat is ultimately likely.
Similar precipices, such as 1929 and 2000, and even lesser precipices like 1906, 1937, 1973 and 2007 have always had unfortunate endings.
A quarter-point hike will not cause anything. The causes are already baked in the cake.
A rate hike may be a trigger with respect to timing, but that's all.
History suggests we should place our attention on valuations and market internals in any event.
Submitted by Tyler Durden on 09/14/2015 - 18:45
Never go full Krugman...
Submitted by Tyler Durden on 09/14/2015 - 18:15
Major depressions do not occur overnight. They go in downward waves, interrupted at intervals by false recovery waves.
But the collapse will continue, unstoppably. Like any house of cards, once it begins to actually fall, no further Band-Aids will stop the inevitable.
So, what might that trigger be?
Submitted by Tyler Durden on 09/14/2015 - 17:45
Maybe it is
'different'
this time...
Submitted by Tyler Durden on 09/14/2015 - 17:15
There is no "war on police" happening in America today.
What is happening is a growing movement of people who want police accountability, profess a desire to reform the justice system so that we stop incarcerating people for the oxymoron of "victimless crimes," and an end to the widespread thieving of the public without due process via a practice known as civil asset forfeiture.
Submitted by Tyler Durden on 09/14/2015 - 17:04
Everything is so wonderful that a rate hike would equate to saying the Fed has won. Seven years of ZIRP and a few selling periods when the Fed stopped POMO's and QE injections, we can easily say with extreme confidence that the Fed won. And by won we mean didn't ruin the system entirely. Except they did.
from The Money GPS:
/